Three Ceramic Legends
Kamoda Shoji, Okabe Mineo, Tsuji Seimei

By ROBERT YELLIN
for Daruma Magazine, #38, Spring 2003

In this brief article I'd like to introduce three ceramic artists that have had a major influence on contemporary Japanese ceramic art -- two have passed on and one now only concentrates on chawan (tea bowls). All Japanese ceramic aficionados should be, or become, familiar with their work. They are:


KAMODA SHOJI
When most people think of Mashiko, Hamada Shoji's name instantly pops into mind. But Kamoda Shoji is also thought of as a "great Shoji" in Mashiko, even though he never made Mingei-style pots. Kamoda first moved to Mashiko in 1959 after studying with Tomimoto Kenkichi at the Kyoto City University of Art and then did a brief stint with Oomika Ceramics, making gift items for Hitachi.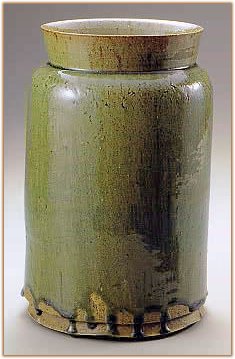 In the beginning, Kamoda was interested in creating ash-glazed pieces reminiscent of Sue wares made in the Nara and Heian periods. These were high-fired stonewares with a gray body and a beautiful green glaze. In order to do this he had to build an anagama (tunnel kiln) which creates a reduction firing, and thus gives the wares the clear, emerald glaze. He completed the kiln in 1962.

His first kiln opening was a complete failure. The pine branches piled up quickly, raising the temperature too rapidly, which in turn caused the pots to crack. Seeking advice from Tokoname potter Issei Ezaki (one of the greatest natural ash-glaze specialists of this century), he modified the kiln's structure and achieved success.

It was these ash-glazed pieces that first brought Kamoda recognition in major exhibitions such as the 1964 Traditional Crafts Exhibition, his first one-man show in Tokyo in 1965, and in 1966 when he won the Japan Ceramics Association Award for breathing new life into Sue-style wares. Kamoda's career was in full bloom.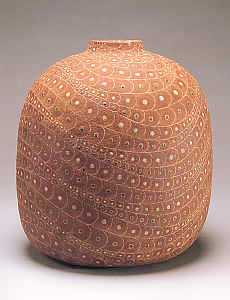 An interesting side note is that when Kamoda opened his first kiln in Mashiko no retailers were willing to buy his works. It was only after Hamada stated that he liked Kamoda's work that the "beauty blind" dealers opened up their wallets.

After 1966, it was Kamoda who could turn them away. He'd built up his reputation as well as his clientele. The peak of his acceptance in the art world was when he received the Kotaro Takamura Award, which had up until then only been given for achievements in the worlds of poetry and sculpture. Kamoda was the first potter ever to receive it.

Yet in the latter half of 1966, a noticeable change occurred, and there were no longer any ash-glazed pieces shown but works which were left slightly bare, in order to show the beauty and directness of form and clay. This was also one of Kamoda's lasting influences on so many potters -- his unwillingness to make the same thing twice, much to the chagrin of his dealers and fans. He found that creating similar works robbed him of his creative energies.

"It is often said that a potter stops working with true seriousness once his/her works start to sell," he once remarked. "Financial security seems to have a detrimental effect on the work."

Success for Kamoda did bring the financial independence that he had desired in his struggling beginning years, but it also brought a stream of visitors who constantly interrupted his work. He needed to find a location where he could devote himself in solitude to his creative desires. Driving around the Tohoku region, he eventually settled on the town of Tono in Iwate Prefecture. Hamada said of Kamoda's move, "Kamoda is running away from Mashiko because he is pure in heart. I can understand why he wants to go to Tono. Mashiko is now corrupted."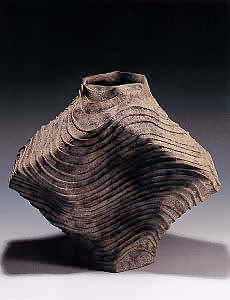 Tono was known as a place for roof-tile manufacturing, and had a very coarse clay full of silica grains, which was to prove pivotal in reshaping Kamoda's career. The clay was unsuitable for throwing on a wheel, so Kamoda started to make hand-built pots that lost the sharp, tense lines of his earlier works but had more freedom in the unconventional contours of the body.

The main focus of this period is faceted works, in flat bodies or the faces of polyhedrons, which show the earthiness of the Tono clay. Other artistic switches involved playing with the surface using iron oxides, incised lines and brushing on aluminum phosphate to give it a feeling of yohen, natural ash-glazed works. But in fact it was a conscious effort to bring out the beauty of the clay using techniques Kamoda himself invented.

Kamoda moved on to many other styles for he found that creation was life-giving energy. His ability to blend coarse Tono clay with elegant inlaid designs invigorated the whole Japanese ceramic scene and continues to inspire ceramists today.

LEARN MORE ABOUT KAMODA SHOJI




Catfish chawan
by Tsuji Seimei

TSUJI SEIMEI
Tsuji Seimei also seeks to bring out the beauty of clay, in his case, the beauty of Shigaraki clay. Tsuji started his clay journey quite young: He first turned a te-rokuro (hand-turned potter's wheel) at the age of 10. His father was an antique collector and Tsuji was handling antique pots and listening to their secrets from early childhood (he says he could tell a good antique from a bad one when he was 5).

When he was 13 he formed the Tsuji Ceramic Research Institute in Setagaya, working there during the day and attending junior high classes at night. As a teenager, he worked with porcelain and visited masters such as Itaya Hazan, Tomimoto Kenkichi and Hamada Shoji to get their opinions about his work.

Itaya told him, "This is a very modern form, something I haven't seen before. Take out some of the lines here and it will be much better." Tomimoto gave similar advice. I'm not sure what modern forms they were referring to, though, because so much of Tsuji's work is traditional.

Tsuji fires mostly Shigaraki-yaki (he thinks it's the purest form of Japanese pottery) and Karatsu at his kiln Renkoji in Tama-shi -- yes, that's right, he's based in Tokyo. Shigaraki is the name of a small town in Shiga Prefecture and of the pottery made from the precious clay taken from its hills; Tsuji uses Shigaraki clay and his style is known as "Tokyo-Shigaraki."

In 1955 he built one of the first noborigama (climbing kilns) in Tokyo to fire the unglazed, high-fired stoneware. In the early days his neighbors thought that a conflagration had broken out when Tsuji fired his noborigama and some even called the fire department. Luckily, the hoses never extinguished the kiln fire, although there were a few close calls. Wood for the kiln was carted in by horse.

Tsuji says that it's the warmth of the gritty Shigaraki clay and the "twilight" colors of the fired works that attract him to it. His work enraptures the senses like a sunset sky, and all in natural simplicity. His chawan (tea bowls) are not fancy looking in their basic shapes. It's the masterful throwing and the rhythm (particularly the rhythm) that make them special.

"I use a te-rokuro which I rotate with a stick to give my work the rhythm of my soul," he comments. "With an electric wheel all is too precise and mechanized."

I have seen some Tsuji chawan, vases, and tokkuri (sake flasks) that I can only describe as symphonies in clay; the rhythm is the same. Tsuji has also essayed Shigaraki objets including cans (complete with half-opened lids), large boxes, Chaplin-like bowler hats and walking canes, and spiral- or wavy-lined impressed platters.
Still, it's the basic forms that Tsuji has worked with most: chaire (tea caddies), tokkuri and guinomi (sake cups), leaf-shaped plates, and hachi (serving bowls). For Tsuji, the basics are all important.

"Pottery uses the five elements that give this planet life: clay, water, fire, wind and sky, along with the potter's hand working in harmony," he says. "Thus beauty is born."

Tsuji refers to his Shigaraki as having a feeling of akarui (light) sabi, which contrasts with the dark and lonely feeling usually associated with this crucial term in tea aesthetics. He has studied cha-no-yu for years and has a wonderful chashitsu (tea house) in his garden.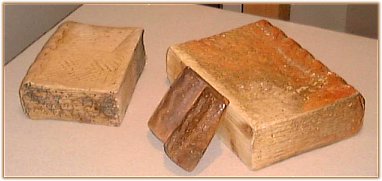 Books by Tsuji Seimei (Shigaraki)
"I will focus on tea utensils from now on," Tsuji vows. "The world of cha-no-yu is so deep and spiritual that I have only scratched the surface. I'm not interested in the superficial way that tea is served today."

Known for being a heavy sake drinker, he was once dubbed the "yokozuna sake-guzzler of the east" (the late Bizen potter Ken Fujiwara was his counterpart in the west). Now, though, it's the frothy tea that he enjoys.

In Taiyo magazine's series "Nihon no Kokoro (The Spirit of Japan)," an issue was solely devoted to Tsuji; the only other ceramist ever to have the same honor was Rosanjin. In it he poses with his own chawan and some antique ones. Tsuji's antique collection served as an inspiration in his work over a 50-year period. In 1987, he transformed an old farmhouse in Nagano Prefecture to store the 2,000-piece collection. Then, in 1990, disaster struck: The whole building burned to the ground, with the treasured collection in it. It took years for Tsuji to recover his inward strength.

Yet, the inner world of the chawan is a source of inspiration and sinew for Tsuji and he continues the keep the te-rokuro spinning in the shadows of Tokyo.

For another story about Tsuji Seimei, please click here.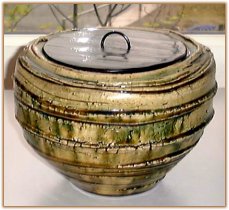 OKABE MINEO
Okabe Mineo was born the first son of Kato Tokuro but the relationship basically ended there. It was his grandfather, wife, and potter-scholar Koyama Fujio who were to be the main figures in his life. Okabe was born Kano but changed his name to Kato in 1927. He later changed his name to Okabe in order to honor his wife for the support she gave him during his troubled and impoverished life. Here's what happened in a nutshell.

Okabe was always around clay and learned much from his grandfather about tools, kilns and clay; the grandfather being a trailblazing force in the pottery tool business. The pottery tool making skills helped him to make Jomon pattern pots that were his masterpieces dating from the 1950s.

In 1928, Tokuro moved the family to Ichirizuka in Seto . The move was the beginning of Mineo's hardship, leaving beloved his grandparents and being absolutely dirt poor (no pun intended). This was about the time he began to learn pottery making on a wheel.


In 1937, he graduated from the Aichi Prefecture Seto Ceramics School and returned to his parents and worked there for a year. But in order to leave the family problems behind, he moved to Tokyo and entered the Tokyo Physics School as well as studying oil painting in another school. His life in Tokyo did not last long as he had no funds to support himself. Also, his parents often requested that he return home and assist with the pottery. One time he was told to fire his family kiln, and he went back hoping to earn some money. Yet when he arrived home, there weren't even any works to be fired! He had to start from scratch and make everything. On top that, he noticed that his skills were being taken advantage of, so in 1940, disgusted, he destroyed an anagama that he had improved on and joined the army. He fought in the Philippines, was taken prisoner and returned to Japan in 1947; during that time his grandfather passed away. Broke, he settled in Hiradobashi (current Toyoda city), Aichi prefecture and began making pottery. He fired Shino, Ido, Karatsu, Hakeme, Hidasuki. However, the economy was in shambles and people couldn't afford high quality ceramics. Even so, Mineo insisted that, "At one time in the past, I decided not to be a potter. But, while I was detained in a prison camp in Manila and after much soul-searching, I decided to devote my life to pottery. I was forced to be in the situation where I had to work since I was a child. As a result I became good on the wheel and firing.

His wife was his only supporter than and they decided to stay in Hiradobashi instead of moving back to Seto.

After that, he made Setoguro, Kiseto, Shino, Oribe, Beni-Shino, Mishima, Kohiki-de, Karatsu, Irabo, Totoya, and Bizen.

Beni-Shino was Okabe's original style; it is a kind of Shino with a thinly covered red clay and white clay covered with a thin Shino glaze. It became quite popular and fakes starting appearing on the market, he thus ceased producing this style.

Okabe's financial worries continued though and he was struggling to pay back money from his wedding and to raise his two daughters. Tragically, his son died a week after birth in 1950.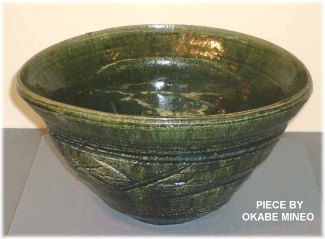 In 1953, he met the influential potter-scholar Koyama Fujio who became Okabe's guiding light. On Koyama's introduction, Mineo's work was bought by the Ministry of Foreign Affairs and the Japanese Ambassador's office in San Paulo, Brazil. The same year, Mineo's Ao-Oribe Jomon Tsubo received the Hokuto Award at the prestigious Nitten exhibition. The work was bought by the Ministry of Foreign Affairs to be placed at the Japanese Embassy in Paris.

He then started looking back thousands of years to Jomon pottery for inspiration. Okabe's revolutionary Jomon technique took him half a year from developing the idea to completing it. He used it most effectively on bold Oribe jars and fired in a way that no other potter had done before-this resulted in brilliant greens and brought him much acclaim. Yet, his money troubles continued, especially since taxes were high. In order to live, he sold cheap food utensils to support his family and created big works for exhibitions. In 1956, rumor had it that some potters would be allowed to pay tax for only sold pieces. Those potters would be the ones who received the Tokusen and Hokuto Awards more than twice. Okabe hardly cared about awards before, now he became obsessed.

The same year he exhibited an Ao-Oribe Jomon-hei (bottle) at Nitten . It was a dynamic and great work, yet did not receive the Tokusen. Okabe found out later that there had been a secret deal going on with the judges deciding that from that Nitten on, Okabe's would never receive the Tokusen. Okabe gave up on Nitten. Ironically, the same work was exhibited at the opening of Tokyo's National Museum of Museum Art, Craft Gallery in 1977

His Jomon works did fit in with the Japan Traditional Arts and Crafts Exhibition either, so he had no place to exhibit his Jomon works and stopped making them altogether.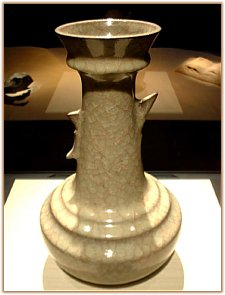 In 1960 when life began moving smoothly, Mineo became ill and doctors found a hole the size of an egg in his right lung. Then came the "Einin incident." Basically, Okabe's Kamakura period Seto heishi copies were designated as Important Cultural Properties by some who thought they were the real things -- so skillful was Okabe. Yet, his father claimed to have made them and that was the final straw -- Okabe turned his back on his family forever.

Starting in 1963 he devoted the rest of his life to making celadon (see photo at right). His breathtaking results stunned the Japanese pottery world and as one magazine put it, "they are sophisticated, mysterious masterpieces."

Okabe passed away in 1990.


References:
Kamoda Shoji: A Prominent Figure in Contemporary Ceramics, Crafts Gallery, The National Museum of Modern Art, Tokyo, 1987

Form in Aggresion: Formative Uprising of the 1960s, Crafts Gallery, The National Museum of Modern Art, Tokyo, 1987

Okabe Mineo Exhibition, Takashimaya, Tokyo, Nagoya, 1981

Tsuji Seimei Exhibition, Seibu, Tokyo, 1982

Modern Japanese Ceramics in American Collections, Baekeland, Japan Society, New York, 1993

Honoho Geijutsu issues 22 (1988) and 47 (1996)

.