The Potter Who Set the Scene on Fire
Story by Robert Yellin
for The Japan Times, Nov. 27, 1999
In a brief span of time a few decades ago one Japanese potter set the ceramic scene on fire and as quickly as a brilliant meteor shooting across a night sky, disappeared. Yet his name and influence still circle the wheel that spins in most potters studios; his immense impact on contemporary ceramics has yet, and will likely never, be extinguished.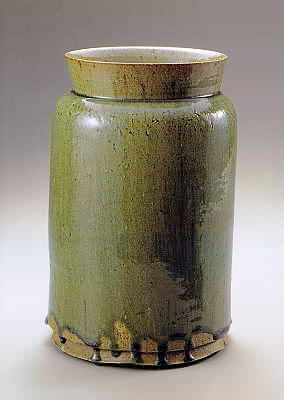 Kamoda Shoji (1933-1983) is a name known mostly only by museum curators, ceramic connoisseurs and quite disappointingly by few else.

Yet this is true with most great talent, the general public, content to live with plastic and neon, hardly take notice of genius and consumes mediocre products with enthusiastic glee.

Luckily for Kamoda, or as we'll see a hindrance, he didn't have to die to be noticed; he had great success and it pains me to speculate what he could have done if the Muses had favored him a bit longer.

When most people think of Mashiko it's hard not to have Hamada Shoji's name instantly pop into ones mind. But Kamoda Shoji is also thought of as a "great Shoji" in Mashiko even though he never made mingei style pots.

He first moved to Mashiko in 1959 after studying with Tomimoto Kenkichi at the Kyoto City University of Art and then a brief stint with Oomika Ceramics making gift items for Hitachi.

In the beginning Kamoda was interested in creating ash glazed pieces reminiscent of Sue wares made in the Nara and Heian periods. These were high-fired stonewares with a gray body and a beautiful green glaze.

In order to do this he had to build an anagama (tunnel kiln) which creates a reduction firing and thus gives the wares the clear emerald glaze. He completed the kiln in 1962.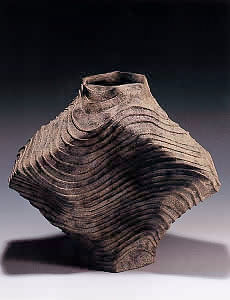 His first kiln opening was a complete failure. The pine branches piled up quickly raising the temperature too rapidly which in turn caused the pots to crack. Seeking advice from Tokoname potter Issei Ezaki (one of the greatest natural ash glaze specialists of this century), he modified the kiln's structure and achieved success. In the current exhibition about a dozen works have the splendid ash glaze that looks like a sparkling gem. In particular, a large platter (no. 9) has a depth and luster that captivates the senses. The finely potted piece has a slightly raised base and sharp lines that showcase Kamoda's command of the wheel. Some of the pieces require the viewer to squat down and take notice of the foot and how the ash flows. Commenting on his interest in Sue wares, which have clearly defined tense forms, he said, "In my pottery, lines are dominant. So much tension in them. I'm very conscious of that." One piece, Hai-yu kabin (ash-glazed vase) is the only direct replica of a Sue style shape for one of Kamoda's greatest impacts on the potting world is his originality in shapes and design.

It was these ash glazed pieces that first brought Kamoda recognition in major exhibitions such as the 1964 Traditional Crafts Exhibition, his first one-man show in Tokyo in 1965, and in 1966 when he won the Japan Ceramics Association Award for breathing new life into Sue style wares.

Kamoda's career was in full bloom.

One interesting side note is that when Kamoda opened his first kiln in Mashiko no retailers were willing to buy. It was only after Hamada stated that he liked Kamoda's work that the "beauty blind" dealers opened up their wallets. But after 1966, it was Kamoda who could now turn them away -- he'd built up his reputation as well as his clientele. The peak of his acceptance in the art world was when he received the Koutarou Takamura award which had up until then only been given for achievements in the worlds of poetry and sculpture. Kamoda was the first potter ever to receive it.

Yet in the latter half of 1966, a noticeable change occurs and we no longer see any ash glazed pieces but more works which are left slightly bare in order to show the beauty and directness of form and clay. This was also one of Kamoda's lasting influences on so many potters; his unwillingness to make the same thing twice, much to the chagrin of his dealers and fans.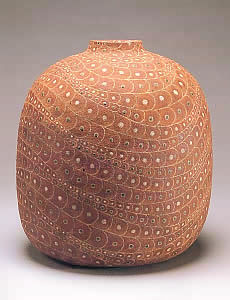 He remarked, "It is often said that a potter stops working with true seriousness once his/her works start to sell. Financial security seems to have a detrimental effect on the work." There was always an inner conflict in Kamoda which never allowed him to become complacent and thus stagnate. What is also amazing about Kamoda is that he produced masterpieces of so many styles during only a twenty year time frame.

Success for Kamoda did bring the financial independence that he had desired in his struggling beginning years but it also brought a stream of visitors who constantly interrupted his work.

He needed to find a location where he could devote himself in solitude to his creative desires. Driving around the Tohoku region, he settled on the town of Touno in Iwate prefecture.

Touno was known as a place where roof tiles were made and had a very coarse clay full of silica grains and this clay was to prove pivotal in reshaping his career.

The clay was unsuitable for throwing on a wheel so Kamoda started to make hand built pots which lost the sharp, tense lines of his earlier works but had more freedom in the unconventional contours of the body. The main focus of this period is faceted works, in flat bodies or the faces of polyhedrons, which show the earthiness of the Touno clay. Another artistic switch was to playing with the surface using iron oxides, incised lines, and brushing on aluminum phosphate to give it a feeling of yohen or natural ash glazed works. But in fact it was a conscious effort to bring out the beauty of the clay using techniques invented by Kamoda.

Kamoda says of his work, "I don't believe I can ever improve my art. But I continue to struggle in order to keep the work fresh to me."
Robert Yellin
Story first appeared in The Japan Times, Nov. 27, 1999


LEARN MORE