Click here for
index to all
Yellin stories for
The Japan Times

LEARN MORE
Modern Tea Forms
Mino Guidebook
Yunomi & Tea Terms




Yellin's gallery
sells pieces from
the kilns of Japan's
finest potters

Interview with Hosokawa Morihiro
Former Prime Minister Finds New Career in Ceramics

By ROBERT YELLIN
for the Japan Times, Feb. 16, 2005

Hosokawa Morihiro
sitting in chashitsu

Two of his chawan bowls
Above photo courtesy of
Mitsukoshi Dept. Store



"On sunny days I go to the fields and when it rains I read, simple enough isn't it." Sounds like the words from a cute obachan out in the countryside, yet not so. Former Prime Minister Hosokawa Morihiro now leads a quiet life, a life he refers to as kankyo (secluded). What's even more surprising is that when he's not in the fields or reading books, Hosokawa is at his studio -- a pottery studio that is. This former reformer, and man who hails from the great Hosokawa family, is now turning the wheel to create simple and deep chawan -- a tea bowl fit for a daimyo. I met up with him in early February 2005 in the hills of Yugawara.

Yellin: When was your first encounter with ceramic arts (yakimono)?

Hosokawa: Six years ago, after I quit politics, I returned here to Yugawara. A friend of mine who's a potter was having an exhibition in Ginza and I went to see it. This potter is related to Shirasu Masako. When I was viewing the works I thought, "I bet making these pieces is quite enjoyable." Up until that point I admired yakimono from afar and had always thought making pottery was a difficult thing to do, such as firing a noborigama (multi-chambered wood-fueled climbing kiln). Yet at the exhibition my friend told me, "Look, it really isn't that difficult." So soon thereafter I ventured off to his studio and discovered he fired in an electric kiln and I felt making yakimono maybe was not as difficult as I had thought. I then pictured my home and realized I had enough space to create a workshop. That was the first time I ever thought about becoming a potter.

Y: Up until that time you had contact with the Tea world and such vessels, didn't you?

H: Actually, not at all. After I visited his studio I went out and bought lots of ceramic art magazines and searched within them for a contemporary potter making works that I too would like to create. That's when I discovered Tsujimura Shiro. As a matter of fact, I wanted to make works inspired from the Momoyama period and Korean Choson dynasty, and I searched for potters whose works were closest to those periods in ceramic art. For Choson-inspired wares I found the potter Kobayashi Togo. Without hesitation I decided to call Tsujimura. I heard that Tsujimura walked to a different drummer and didn't take in apprentices, so I just asked if I could visit and see his works. He agreed and picked me up at Yakushiji in Nara. When I first saw him I thought he was a yakuza driving up in his Porsche! (laughs). As it turns out I did become his apprentice and stayed there for a year and a half.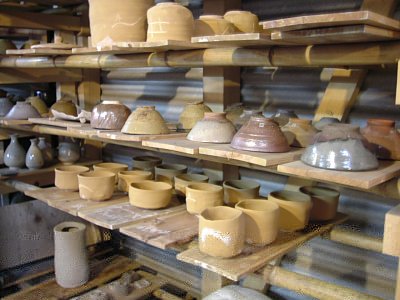 Various Chawan by Hosokawa Morihiro
Y: What were the important things you learned there?

H: I sat next to Tsujimura at another wheel each day and watched him throw from six in the morning until seven at night. I did as well. His studio is really quite dirty! For example, he had a hand rag he hadn't washed for years and it was black as night. He would nonchalantly dip it into a bucket of stagnant slimy pond water and wipe his face; he led a wild life. After 18 months there, one morning I woke up and said to myself, "Enough of this" and I received my diploma.

Y: Yet you learned much there over that period?

H: Oh yes, I learned more than I thought I could. If I had gone to another potter they would have felt obliged to treat this former prime minister with flattery and useless criticism. They would have treated me all too well and even if I had made a lousy piece they would have said, "My gosh, this is really good." Yet Tsujimura is not that type of person at all, he's very rough with simple tastes. He would see my work and shout, "This won't do!" or "You stupid old man!" Not many people have called me that before (laughs). People who know Tsujimura were quite surprised that I lasted as long as I did. It was tough though, as his house is also self-built and at night bats would fly in!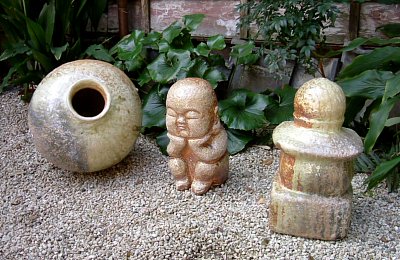 Garden pieces by Hosokawa Morihiro
Y: Quite a different world compared to Nagata-cho.

H: (Laughs) Oh yes, yet, it was there I discovered the joy of using a wheel and creating works.

Y: After your time there did you study under anyone else?

H: No, I didn't, I mean, I went to other potters, but I would stay just for a night or so. My study was mainly with Tsujimura. I did some Raku with Sugimoto Sadamitsu in Shigaraki and I learned about Korai chawan (Korean-style) from Kobayashi Togo, but not about throwing techniques. I already had basic wheel skills so I went to these other potters simply to learn about glazes and how to fire different kilns. I also went to Kanazawa for that purpose.

Y: At present you are basically making Tea wares, correct?

H: Yes, I simply love Chatou (Tea pottery). In fact, I also make sake flasks, teacups and plates, but I mean to make them within the range of tea utensils used in a kaiseki meal (the small meal that precedes a Way of Tea gathering).

Y: It's important to study the great chawan of the past in order to understand this grand tradition. It's said the greatest chawan were made by Koetsu Hon'ami (1558-1637) and Chojiro (?-1589, the first Raku potter); what do you think of their chawan?

H: I'm actually aiming for Koetsu and Chijiro as models. In fact, I've been making many Raku chawan and I don't call them "Raku" but "kuro (black)" or "aka (red) chawan in order to separate the distinction from Raku. I don't care for the second-generation-chawans (meaning the 2nd Raku potter; the Raku family is now in its 15th generation). They tend to have this extra gloss about them. I love Chojiro's worn-out matt-textured chawan. I'm actually trying to surpass Chojiro! Besides that, I like Shino, which sold quite well at my Mitsukoshi exhibition, along with my Ido chawan.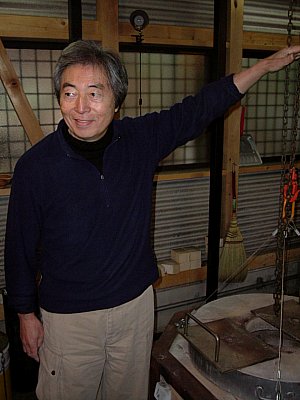 Hosokawa Morihiro in front of Raku Kiln showing flame height
Y: What emotions or feelings are important in your work as you aim for the classic styles just mentioned?

H: I think potters in the Momoyama and Edo periods, like Koetsu and Chojiro, really had keen minds and a positive way of thinking/living toward their surroundings. Koetsu, for example, was from a wealthy family but he really had a simple life, rejecting luxurious living. The early Momoyama-period works reflect the humble and modest attitudes of potters and that really impressed me. I've been trying to make chawan like those and that has been my ceramic path these past six years.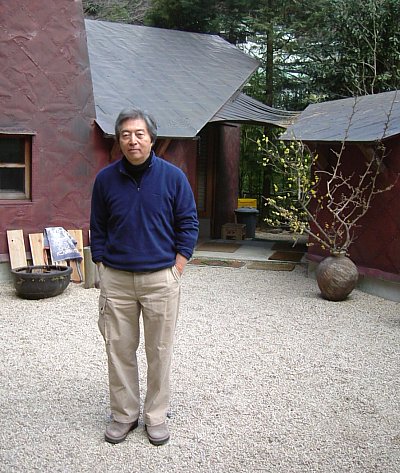 Hosokawa Morihiro standing in front of his studio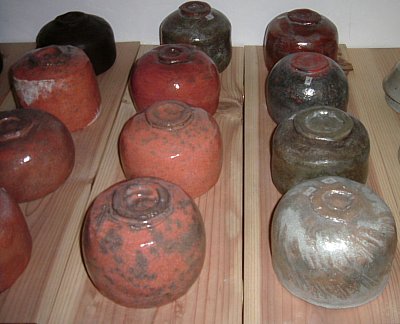 Raku chawan by Hosokawa Morihiro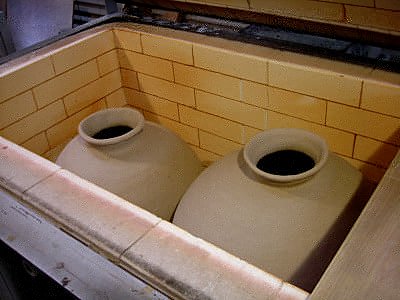 Hosokawa tsubo waiting to be fired
---


It's quite a story, this former PM now a humble potter. The wisdom contained within the Tea world not only relates to the actual "ceremony" itself, it also teaches us how to live with beauty and grace. Hosokawa can share these teachings through his chatou with the world (he had an exhibition in France and plans more overseas someday). His ceramic art is not only a positive image for Japan, it has the power to bring a small portion of humanity closer together, one sip at a time.

In Japan, Hosokawa's exhibition schedule is:
March 17 - 22, 2005
Matsue-shi, Ichibata Department Store's sixth floor gallery

March 26 - April 17, 2005
Chado Shiryokan Urasenke Center, Horikawa-dori Teranouchi-agaru, Kamigyo-ku, TEL: 075-431-6474, Open 9:30 to 16:00, closed on Mondays, admission 800 yen

May 24 - 28, 2005
Nihonbashi Kochukyo Gallery, Chuo-ku, Nihonbashi 3-8-5

The Japan Times: Feb. 16, 2005
(C) All rights reserved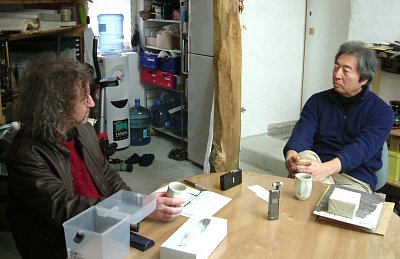 Hosokawa Morihiro and Robert Yellin
LEARN MORE