The Work of Kobayashi Togo
No Man Is An Island, Even Kobayashi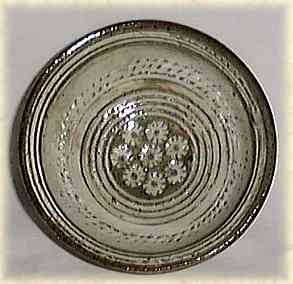 Guinomi by Kobayashi Togo
Japanese ceramist Togo Kobayashi (1935 to Present) wants to be left alone, so much in fact that he established his Taishu kiln on Tsushima in 1981, a remote island in Nagasaki prefecture, so that he could devote himself to his art -- finding the spirit of Korean Yi Dynasty (1392-1910) ceramics. Yet his ideal peaceful setting soon turned into a parade of visitors seeking to obtain a piece of his prized ceramics. Now he refuses callers and solely concentrates on clay.

Korean Yi dynasty ceramics have moved the hearts of many collectors, the most famous probably being Yanagi Soetsu, the founder of the Mingeikan Museum. He felt a warmth, an approachability, in them lacking in aristocratic Chinese wares, as most Yi dynasty wares were actually pheasant crockery. These ceramics lacked pretension and had a relaxed harmony -- a humble character. It is this way with Kobayashi also, although he is a Renaissance man, a master of calligraphy (sho), seal carving (tenkoku), Chinese classical poetry (kanshi), and ceramics. He has the presence of a man unaffected by his skill. He is a modern day enlightened Zen artist.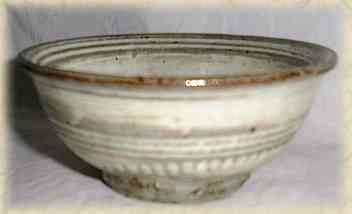 Guinomi by Kobayashi Togo
Kobayashi was born in Kyoto and studied under his father Undohnin (Cloud Path Person), a man famous for his Indian ink drawings as well as his strict character -- he was a devout practitioner of Zen. The young Kobayashi was greatly influenced by his father in his studies and progressed so much that even the stern Undohnin gave his son his stamp of approval. With his training in classical art finished, Kobayashi left refined Kyoto and headed off for Korea to study ceramics. He went through numerous trials and ordeals there and eventually overcame those obstacles (language, finding land, firings) to have a one-man show in Seoul in 1976 showing the works he made deep in the Korean countryside.

Many a ceramist is capable of copying ancient wares but few have gone through the hardships to penetrate into the soul of those pieces -- Kobayashi has. The former director of the Osaka Museum of Oriental Art, Ikutaro Ito, says "There are many who copy the appearance of Yi dynasty wares but few who enter into the soul of the era, yet without soul all art is empty. Kobayashi's ceramics are soulful."

When looking at Kobayashi's graceful Ido tea bowls (chawan) we can see a naivety -- something commonplace, like old Ido bowls -- yet there is an elegance that warms the senses. Or in his robust black jars one can detect an unevenness of potting, but that is intentional and it's hard to have the technique to be imperfectly perfect and pull it off with style.

Other styles include Irabo, Kohiki (a style based on Yi dynasty Punch'ong wares), Hakeme (white slip brushed on), Mishima (designs carved off a white slip), and iron-underglaze wares.



LEARN MORE
To learn more about the various styles
mentioned above, please see our Styles Guidebook.