ORIBE GOES TO L.A.
The Work of Suzuki Goro
(25 Photos Below)

Story by Robert Yellin
for The Japan Times, July 9, 2003
Wrapped in flickering candlelight, koto master Tamiko Asai spoke to the audience in a hushed voice:
"We don't know the countless solitary hours of thought and work that went into these ceramic works. The hardships that were overcome to bring a spirited chawan into our hands were many. I envy these ceramic works for they will outlive me. I will play a song for you and when it is finished, it is gone. I hope it lingers in your hearts, though, such as these ceramic works we see here tonight." She then energetically plucked the strings and the music sent a shiver down my spine.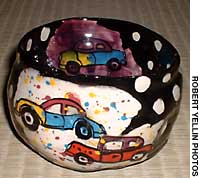 Los Angeles Oribe Chawan
by Suzuki Goro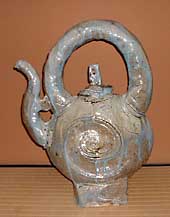 Large Dobin
by Suzuki Goro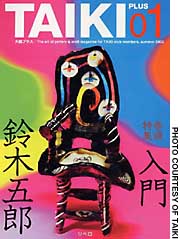 Cover, Inaugural Edition
Chair by Suzuki Goro

TAIKI is a Japanese-language quarterly; 1,920 yen per issue, 7,200 yen per year; contact the publishers (03) 3341-7183 to subscribe.

The same can be said for the ceramic works Asai spoke of, those of Suzuki Goro. Suzuki is one of those "once in 500 years" type of artists. He blends traditions, a carefree and abandoned skill, knowledge, decades of work, sincerity, humor, finesse and passion into the clay he spins, which evolves into shapes and designs that tug at the heartstrings -- something that few potters have ever done in all Japan's long ceramic history.

Saying that, Suzuki's work is highly individualistic and belongs not at all to the realm of folk craft, but is more in tune with the world of fine arts.

In the recent inaugural issue of TAIKI (Big Vessels), a pottery and craft magazine, the director of the Menard Museum, Koichi Ishikawa, compares Suzuki to other artists in the museum's collection. Not just any artists, but the likes of Van Gogh, Picasso and Monet.

I don't think Ishikawa is far off the mark. Suzuki's clay masterpieces are as varied as Picasso's canvas output and are characterized by the same serious "artistic play" that only true masters can attain.

TAIKI also thinks so, as the magazine put a rather outrageous, wobbly Suzuki chair on the cover of the "Introduction to Goro Suzuki (Suzuki Goro Nyumon)" issue. It's a Los Angeles Oribe chair. "What?" you say -- "Los Angeles Oribe!" Indeed. The design is a Suzuki original and was born from a visit to L.A. in 1969. Suzuki went to the city seeking, he said, to "create a new self." In the United States he was amazed at the vitality of some artists and concluded, "I guess it's all right to do work this way, as well."

The launch issue of TAIKI magazine focuses on Suzuki's work.

He has carried that frontier spirit into his works ever since, even though his ceramic styles are based on those of the Momoyama Period (1568-1715) and Edo Period (1603-1867). These styles are mostly from the Mino traditions and include Shino, Oribe, Ki-Seto (yellow Seto), Setoguro (black Seto) and Karatsu. (For further explanation of these styles, see our online Pottery Guidebook.)

With his Los Angeles Oribe, Suzuki is actually continuing the assimilation of foreign influences into Japanese ceramics, a trend that was particularly pronounced in the Momoyama Period.

Another delight of Suzuki's work is that even though he is a master of the wheel, he is also masterful with his brush. He wields it with delicacy and artfulness, whipping up unusual as well as traditional motifs. We often find crows on his works -- he had a pet crow as a youngster -- as well as nudes (these adorning even the smallest of his sake cups).

Now, there are many potters today working in the above-mentioned styles, but most are merely turning out copies of the great Momoyama and Edo prototypes. I would even point the finger at some of the biggest potting names in Mino today for their reliance on the "brand goods" association that equates quality with a big name. There's nothing in much of this Mino-produced work that touches the spirit, even though a piece may cost a few million yen.

Rather a chawan -- even one going for a pittance -- should be a kokoro-utuswa, a "place" in which to discover oneself, a vessel to hold your spirit. A chawan must have sublime grace and depth, being a visible (and invisible) expression of the potter's understanding of chado, the Way of Tea.

Suzuki imbues all his chawan with such a feeling. Even the ones that at first appear uninviting, with spiraling pointed spurs or deeply pinched grooves, offer up untold delights when handled.

And that's the purpose of a chawan. On the surface, the chawan is a receptacle from which to drink tea. But if that were the only purpose, why not use a paper cup? The true chawan, like Suzuki's, hints at the connections between space, time and the divine. It brings art into our hands and touches us in profound ways. The very best arouse a silent wonder that permeates the skin-encapsulated ego we call "I."

Suzuki also makes incredibly large dobin (tea pots), fanciful kiseru (smoking pipes), stacked boxes that reach the ceiling, huge plates (some as large as 1.1 meters in diameter!) and enormous jars. The latter are painted inside as well as outside and the potter uses a forklift and ladder to get into them.

He likens making large works to "sumo-wrestling with my wheel." As a teenager, he once expressed the desire to make no less than 1,000 teacups -- all in little more than a day's work time. He updated an old grafting technique known as yobitsugi. For Suzuki, this involves breaking a newly formed pot into shards and firing them with various glazes. The pieces are then soldered together with gold, creating a patchwork appearance.

I was moved to write about Suzuki after attending a tea party in Nagoya at the wonderful ryotei Shiratama -- the party at which Asai played the koto and Suzuki's chawan so thrilled us all. I do not think that Ishikawa's judgment is at all overboard. Suzuki is a world-class artist and it is a privilege to be alive at the same time as such a creative talent. Shiratama is located in Kami-iida 2-36, Kita-ku, Nagoya; tel. (052) 981-6868.

The Japan Times: July 9, 2003
(C) All rights reserved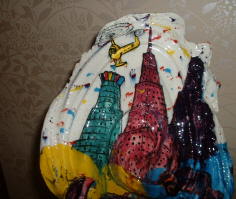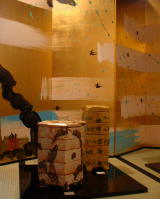 (L) Building painting on chair (R) Byobu and Jubako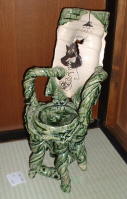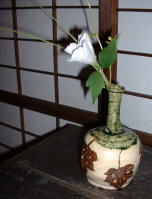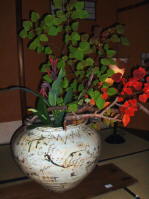 (L) Chair (M) Oribe Vase (R) Tsubo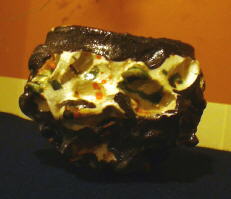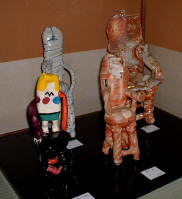 (L) Pinched chawan (R) Four Chairs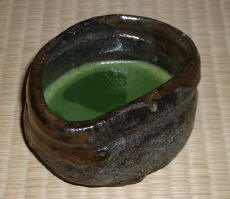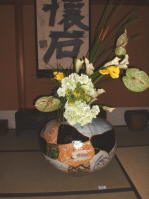 (L) Setoguro Chawan filled with tea (R) Tsubo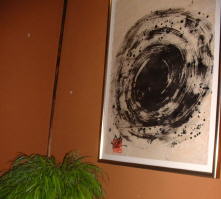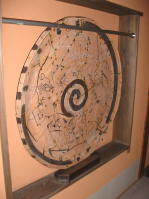 (L) Ink painting (R) Huge Plate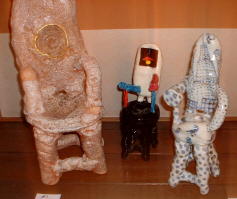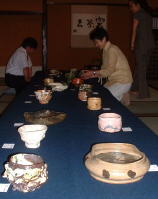 (L) Three chairs (R) Various works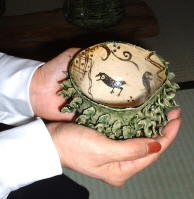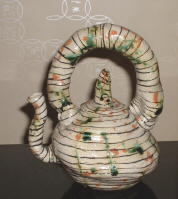 (L) Oribe Chawan (R) Yashichida Oribe Dobin
LEARN MORE ABOUT SUZUKI GORO
.