Award Ceremony and Exhibition
at Wako Hall in Ginza (Tokyo)
Suzuki-Mori Exhibition, Oct. 22 to 29, 2002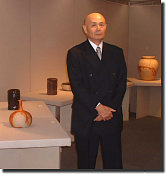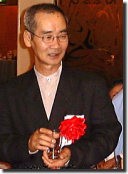 (L) Mori Togaku (R) Suzuki Goro
Two very important ceramic artists were presented with the 2001 Japan Ceramic Society Prize and Gold Prize in Tokyo this week. Mino ceramic artist Suzuki Goro was awarded the JCS Prize, while Bizen's herculean Mori Togaku was presented with the JCS's prestigious Gold Prize -- the first Bizen potter ever to be honored. Both artists won the awards in 2001. Mori first won the JCSP in 1969 when he was just 32 years young. For Suzuki, one of Mino's most gifted potters, the award comes relatively late as he is over sixty. I'm not alone in thinking Suzuki should have been honored years ago -- but so be it, Suzuki himself didn't seem to mind.

The award ceremony and commemorative exhibition were held at Wako Hall in Ginza from October 22 to 29, 2002. Wako Hall is one of Tokyo's best department store exhibition spaces. The room has moveable partitions, which create a unique stage for each exhibition. The Suzuki-Mori exhibition was no exception.

Mori had some earlier works on display dating back to his first award. In fact, a large saimon doki (colorful earthenware) tsubo by Mori was on display in the show window (see photo at right). All of Suzuki's works were recent. (photo4).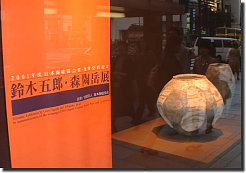 Display window, with tsubo by Mori Togaku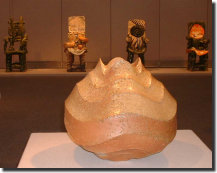 Wavy tsubo by Mori Togaku; pieces at back by Suzuki Goro
The award ceremony was quite a scene, and most likely nothing like this ever happens outside of Japan for ceramic artists. First, there was a press conference with some of Japan's larger newspapers and television crews in attendance. Then for the award ceremony a member of the Imperial Family arrived and was given a private tour by Suzuki and Mori, along with some of the most noted scholars in the ceramic arts field.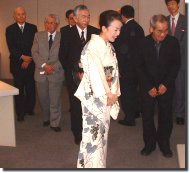 Suzuki Goro giving tour to imperial guest
Mori was the more subdued of the two saying how this was a great honor and such an important award. Suzuki said he was thankful and would just continue on at his pace. The pace for Mori is not as productive as Suzuki, for most of Mori's energy is going into the creation of his 90-meter anagama! The kiln will be the first of its kind since the medieval period and the first to be built by a private individual; all the past large kilns were guild efforts.

There were dozens of works on display, most for sale, by both. I must admit I prefer Suzuki's work of about five years ago or earlier than to what he's doing now. This holds mostly true for his chawan and shuki (sake vessels). Indeed, his chawan are a joy to view -- but what a load to hold; bulky, heavy, and with huge kodai that look like flattened donuts. I must say I've never tried drinking from one and my mind may change upon doing so, yet for the time being my preference is with his chawan of some years back. The below yashichida (a lively Oribe style) chawan is a case in point.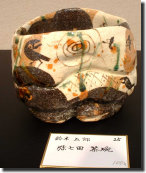 Yashichida chawan by Suzuki Goro
What a creative mind at work here. The form and decoration are spectacular, but the weight. Not to be disrespectful here but two of these would make a nice lifting set. And at one million yen each it's not an easy purchase. The same can be said for his guinomi that are delightful cups but, here's that but again, most of them have excessive clay in the base and only very small interiors for sake. I have a few works from about ten years ago, which are in my mind far better than these. The cost of any guinomi was one hundred thousand yen.
Suzuki's chairs stood out as highlights of the exhibition as did some of his large platters.
Mori's work is much more restrained, as is Mori himself. Some of his forms speak more than do the Bizen kiln effects, with some pieces showing little or no natural ash decorations from the kiln. Actually, one lady stood before this piece (see below photo) and asked herself "Was that actually fired?" I had to agree for it was just milky white. I thought it was as if the piece taunted and tricked the kiln, and Mori, as it defied the fire and came out like an angel. Of course, though, that's how Mori planned it.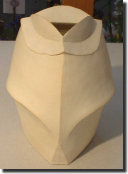 Milky white piece by Mori Togaku
Other works though had stunning natural effects that show just how much of a master Mori is. The goma ("sesame" ash glaze) and hidasuki (scarlet red fire cord markings) on some works were the best I've ever seen and produced largely due to Mori's huge kiln and his understanding of placement and firing.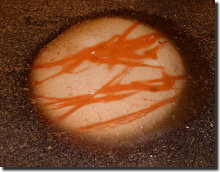 Bizen plate with Hidasuki Markings, by Mori Togaku
Here is an up-shot of a mizusashi (fresh water jars), a kuro (black) Bizen chawan and an up-close view of a tokkuri (sake flask).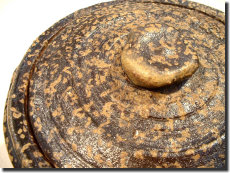 Upper view of mizusashi by Mori Togaku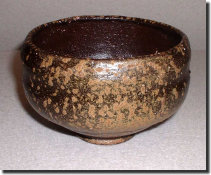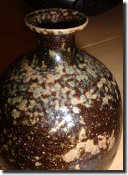 (L) Black Bizen chawan and (R) Tokkuri by Mori Togaku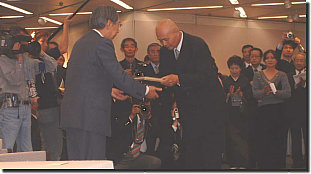 Mori accepted his award with deep humility
Much of the Japanese ceramic world looks forward to Mori's creations from his ogama (large kiln) and I'll be sure to give an insight into the results a few years from now. Suzuki will continue on each day with his artistic Mino wares and I do hope he "lightens up" a bit.

To each greatly deserving artist, I too say congratulations and many thanks for sharing your work with us.

LEARN MORE