ABOUT THESE
SERIAL STORIES
Written by Robert
Yellin, these serial stories about Sake
Drinking Vessels
first appeared
in Honoho Geijutsu
between 1997 & 2001
(# 49 thru # 68).

In 2002,
the series was
picked up by
Yakimono.net, our
Japanese language
sister site.



Sake Vessels
Shapes Guide
A photo tour of
sake cups/flasks




Yellin's gallery
sells pieces from
the kilns of Japan's
finest potters







Sake Vessels Series (August 2003)
First published at Yakimono.net

"Suzuki Goro's Yashichida Oribe Gunomi"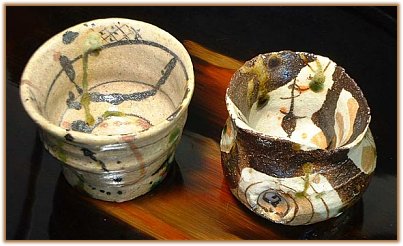 Work by Suzuki Goro

One of the most interesting and delightful styles of Japanese pottery ever has to be Yashichida Oribe. Produced during the Momoyama through early Edo periods, Yashichida wares have influenced countless artists throughout the ages. We can find the influence from Nonomura Ninsei all the way to Joan Miro. Most of Yashichida wares are quite light and thinly potted, so it was a real shock when I picked up one of these Yashichida guinomi by Suzuki Goro; it weighs a ton!



Of course being the master thrower Suzuki-sensei is, obviously he did this on purpose. What is he trying to tell us? Is it like Tokuro saying a difficult to drink from chawan is good? I wonder if Goro wants people to have a workout when they drink from this. I mean, come on, most people don't exercise enough anyway and I tell you by picking up this guinomi a few times ones forearms and hands will almost feel sore.

The base is solid and chunky like a boulder and the amount of space inside for sake is quite limited. One would need to keep refilling it and thus get a good workout before getting drunk; good idea! The weightiness of the piece is offset by the delicately thin lip. The weight also reminds me of the oppressive summer humidity outside as I write this.

And then there are those playful Yashichida designs on both of these guinomi. I can only think of one other ceramic artist whose brush is as lively as Suzuki's. First the thick iron lines meander over the heavy cup like a river, or massive tree trunk. We also find cross hatch markings, tender lines attached to pine needles(?), a spiral emerging from a dimple and an outline of another dimple. This dimple, more of a deep finger impression, has the illusion of being half of a glass wind chime or water-filled balloon. A creamy white slip acts as a canvas with orange and green action painting splashes. A bird darts across "the sky" on one side while a lone crow is found cawing on the base. Such a lonely creature he appears to be never seeing "the light of day." Well, maybe the light does shine down below when the cup is tipped skyward for a drink. That's when 'ol Mr. Crow is the happiest -- yet a fleeting happiness at that. The guinomi is slightly elliptical so if fits snuggly in the curve of one's hand between the forefinger and thumb.

The other one is more in a fat cylindrical shape with sparser abstract drawings. It's as light as a feather compared to Mr.Fatty. The throwing grooves spiral up the cup and it also fits quite nicely in the hands. Suzuki Goro is a true Mino master.

If you haven't seen the new ceramic magazine TAIKI you should if you also happen to be a Goro fan. One the psychedelic cover is another Goro original, a Los Angeles Oribe chair. A large part of the issue is about Goro -- it's a Suzuki Goro nyumon or "Suzuki Goro 101." What other potter, besides Rosanjin and Tokuro maybe, have had a nyumon devoted to them. Goro is certainly in a class by himself, in my opinion for the Mino world and has my vote for the first Yashichida Oribe living national treasure.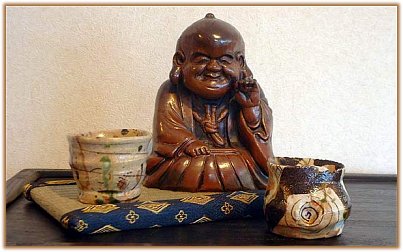 Guinomi by Suzuki Goro
LEARN MORE