ENGLISH SLIPWARE
You are always on my mind

Until March 28, 2004
Mingeikan TEL: (03) 3467-4527
Click here for directions

By ROBERT YELLIN
for the Japan Times, Feb. 11, 2004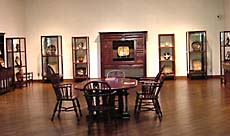 The Mingeikan is showcasing
beautiful English slipware
collected by Soetsu Yanagi.
ROBERT YELLIN PHOTOS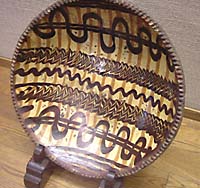 Slipware on display
at the Mingeikan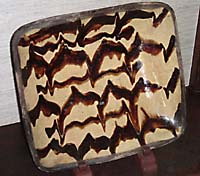 Slipware on display
at the Mingeikan

Familiarity with an object or place can dampen the senses. It may not necessarily breed contempt, but it often leads to indifference. We see it all too frequently, as in the simple case of not visiting wonderful places in our own neighborhood, or the attitude folk here in Shizuoka have toward Mount Fuji: "Oh, that mountain." It takes a penetrating and intuitive mind to not merely look at such things each day, but to actually see, to understand, in one's heart, the value of even an unassuming item and the "nourishment" it gives.

One of the greatest men ever to realize this was the founder of the Mingei craft movement, the late Soetsu Yanagi (1889-1961). In his classic book "The Unknown Craftsman," he writes:

To "see" is to go direct to the core; to know the facts about an object of beauty is to go around the periphery. Intellectual discrimination is less essential to an understanding of beauty than the power of intuition that precedes it.

Yanagi has given the world much to ponder in his writings, and much beauty to see in the collection he assembled at the Mingeikan (Japan Folk Crafts Museum) in Tokyo. The current exhibition at the Mingeikan, showing until March 28, is a fine example of the beauty of the everyday. It is a glorious look at common crockery: English slipware plates.

British may find it difficult to recognize the beauty within these works, for they were common serving dishes of a type called zakki in Japanese. However, Yanagi's pure and boundless eye often caused him to be moved by beautiful, wholesome objects, to the extent that he became like a man possessed. It was in this way that he first discovered slipware plates, glimpsed in a book in 1923.

Many years were to pass before he actually held a slipware plate. It was a momentous experience. He wrote:
"I cannot forget the dumbfounded exhilaration we [Yanagi, Shoji Hamada and Kanjiro Kawai] experienced as we unwrapped the dishes at Kawai's. The encounter was truly wonderful. The form was sound, the glaze was beautiful and the motifs had a freedom and spontaneity, with lovely taste."
Right on the mark, Yanagi was. I felt the same way as I walked through the Mingeikan exhibition.

Slipware plates are large and were used for cooking as well as serving. Designed to be put into an oven, they are unglazed on the base. The designs inside the dishes are free-flowing and quite jazzy. Most have a dark brown or creamy yellow background, onto which the designs were drawn. The artisan worked quickly, slip-trailing liquid clay over the glazed body. We find pieces decorated with zigzags, squiggly lines, checkered patterns, birds, and even dates -- 1769 or 1790 for example. (Most slipware plates date from the 18th and 19th centuries.)

On their travels to Britain in 1929, Yanagi and Hamada "had slipware on our minds," as Yanagi wrote. They are solely responsible for introducing these stunning examples of folk craft to Japan. Upon their return to Japan they exhibited their slipware finds at Kyukodo, a gallery in Ginza, Tokyo, which created quite a sensation for these "quaint old English pots" (as Charles J. Lomax put it in his 1909 book of the same name).

A number of ceramic collectors purchased plates shown at Kyukodo and cherished them for many a moon. The curators of this exhibition contacted the families of the original purchasers, and some of Yanagi's well-traveled plates have been reunited for this exhibition. It is a wonderful homecoming and a rare chance to see how one style of British pottery influenced a whole generation of legendary Japanese potters.



A special lecture, titled "British Arts and Crafts and Japanese Mingei," will be delivered by Tanya Harrod (visiting professor from the Royal College of Art, London) at the Mingeikan on March 6, 6-7:30 p.m.




---
The Beauty of English Slipware
Beautiful catalog with essays accompany exhibition, price 3,700 yen.
Until March 28, 2004
Japan Folk Crafts Museum (Mingeikan, Tokyo)
TEL: 03-3467-4527

After That:
June 1 to August 29, 2004
Toyoda City Folk Crafts Museum
Aichi Prefecture
Tel: 0565-45-4039

DIRECTIONS TO THE MINGEIKAN
THE JAPAN FOLK CRAFTS MUSEUM
To get to the Mingeikan, take the Inokashira Line from Shibuya Station (do not get on an express train). Get off at the second stop, Komaba Todaimae. Walk out the station, under the tracks, and then turn left. Follow road until it curves to the right; about a seven-minute walk. The Mingeikan is on your right.
Admission 1,000 yen, college/high school students 500 yen, and middle/elementary school students 200 yen.
Open daily except Mondays 10 am to 5 pm.
The Japan Times: Feb. 11, 2004
(C) All rights reserved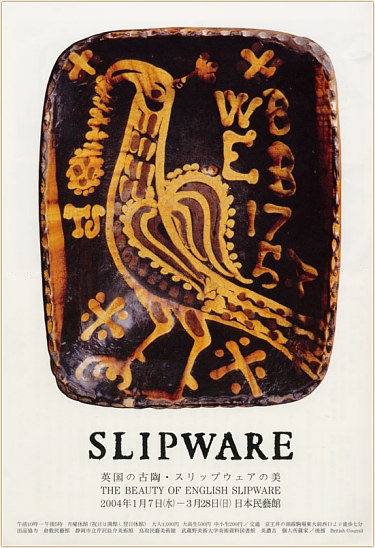 LEARN MORE