Simple Beauty from Unknown Craftsmen
Japan Folk Crafts Museum in Komaba, Tokyo

By ROBERT YELLIN
for The Japan Times, Feb. 12, 2000
Dotted throughout Japan are the potting centers of the common people, makers of wholesome, durable and utilitarian pots. In contrast with tea-ceremony utensils and porcelain which were reserved for nobility, the wealthy or export, these folk kilns made zakki or ordinary crockery that met the needs of the populace during the Edo Period and Meiji Era.
These lowly pots sat unappreciated in dusty cupboards until Jan. 10, 1926, when the Mingei (folk art) movement was formed (and the word "mingei" coined) by Soetsu Yanagi (1889-1961) along with potters Hamada Shoji (1894-1978) and Kawai Kanjiro (1890-1966). They, especially Yanagi, went around Japan and rescued those crocks from oblivion.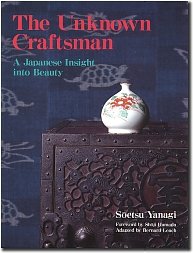 Volumes have been written on Yanagi and his mission, and I highly recommend that you read his classic book The Unknown Craftsman (as translated by his English collaborator Bernard Leach). It certainly changed my life, as it has many another's.
Yet I don't want to focus this article on Yanagi's movement, but rather on the wonderful collection that he amassed, part of which is on display now at the Mingeikan, also known as the Japan Folk Crafts Museum, in Komaba, Tokyo. The show, on until March 26, 2000, includes 200 Mingei pots and another 120 works by Mingei founders Hamada, Kawai, Leach and their apprentices.
As one enters the Mingeikan, which first opened its doors in 1936, one cannot help but feel the warmth of the wooden interior. A large staircase is flanked by two glass cases where the first glimpse of pottery is seen-- a small, rounded Karatsu salt-cellar decorated with reeds in underglaze iron and a Tanba tokkuri are the standouts in the left case, while the right case has a large 18th-century Futagawa mixing basin which was fired near its more famous neighbor Arita in what is now Saga Prefecture.
Proceed up the well-traveled staircase and turn left into the large gallery in the back right. Entering the largest display room, one meets an eyeful of Tanba, Shigaraki, Onta, Seto, Takeo, Hizen, Shodai, Mashiko, Akashi, Tsuboya, Ushinoto, Naeshirogawa, Mujina, Aizu Hongo, Ryumonji and Imari styles (among others!) that will delight any pottery enthusiast.
These were all made by anonymous potters. Some were farmers who made pots in the off season. Their work has a charm and vitality that is the hallmark of Mingei around the world.
On the wall are silk screens made by Living National Treasure textile designer and dyer Keisuke Serizawa (1895-1976), showing the locales of the various kilns. Serizawa was another champion of the Mingei movement.
In one of the cases on the left is a brilliant Onta plate from Oita Prefecture that shows a technique known as tobigana (chattermarks), enlivened by a white slip that forms a mandalalike center. Two large, lidded Shigaraki teapots in the back of the room have alternating vertical bands of green and white over the body, while a natural ash-glazed Tanba jar sits solemnly between the towering forms.
Small sake flasks in the shape of a candle (rosoku) from Tanba and another with a spouted pouring lip (karakara) from Okinawa are almost lost among the bulging forms that surround them -- but do keep an eye out for their graceful shapes.
Also from the Okinawa Tsuboya kilns is a painted dachibin (hip flask), used by field workers whenever they wanted a nip of awamori, and a jiishigame (funerary urn). A lotus-design knob rests on top of the lid. In some display cases large, thickly potted Seto ishizara (stoneware plates) are at rest after years of service in roadside restaurants. These ishizara were the crockery or getemono that was used at taverns from Kyoto to Edo. Ishizara often have motifs painted upon them in a free and inspired hand that shows the nonartistic attitude of the painter. After all, these plates were meant to hold oden and other peasant foods, not tea ceremony sweets.
In the current exhibition a crane flies across a cream-colored plate while another shows a mountain landscape with a small temple; both use a local cobalt known as sunae-gosu and oni-ita, a black iron pigment. Another popular Seto pattern was uma-no-me (horse's eye), concentric oval underglaze-iron lines painted in a circle around the rim. These too were common among the inns and pubs on the old Tokaido Road.
Not to be missed as one leaves the first room is a rare large Imari plate with a Chinese-inspired landscape and a garden fence surrounded by flowers. Its designs are redolent of Yuzen-dyed kimono; many potters took motifs from the textile world.
One of the treasures of the Mingeikan is in the glass case on the left outside the entrance as you leave the room: a small shallow plate with a ripe millet design showing an economy of lines against a crackled white feldspar glaze. It dates from the Momoyama Period (1568-1615).
The second floor of the Mingeikan also has three other rooms to explore, one of which is a permanent display of Korean Yi Dynasty (1392-1910) ceramics that were sources of inspiration for Yanagi throughout his life. Another room has lacquer wares and carved wooden pieces. A self-portrait sculpture by Mokujiki (1728-1810) brings instant joy to any viewer -- the face is alive, vibrant and full of love, a source of pure energy.
Back to pottery. A room full of Hamada, Kawai and Leach, and then another room of their contemporaries and apprentices that includes Tatsuzo Shimaoka, Takeichi Kawai, Michitada Funaki and Tsuneji Ueda. As you walk through the passageways, keep your eyes peeled for a ounded Tanba tsubo (jar) sitting in a small alcove. It dates from the Muromachi Period (1392-1573), and has a rich red-brown body with a flowing natural green ash glaze, a masterpiece from that ancient kiln. Not far away is a rare Atsumi tsubo with a sky-blue glaze that dates from the Heian Period.
"On reflection," Yanagi writes in The Unknown Craftsman, "one must conclude that in bringing cheap and useful goods to the average household, industrialism has been a service to mankind -- but at the cost of the heart, of warmth, friendliness and beauty. By contrast, articles well made by hand, though expensive, can be used in homes for generations, and thus considered, they are not expensive after all."
I'd like to add that not only have we paid the price Yanagi mentions, but in addition the environment is a shambles and most people's eye for beauty has been dulled by too much information and advertising and not enough quiet time. Here's a good chance to test your eye for simple beauty by reflecting upon what Yanagi himself chose for inclusion in the Mingeikan.
The Japan Times: Feb. 12, 2000
(C) All rights reserved

Visit the web site of the Mingeikan (Japan Folk Crafts Museum)
This is the museum that Yanagi established.
.