Click artist name to jump to exhibition
INTRODUCTION
June in Japan is known for rain that carries over well into July; it's the rainy season, known as tsuyu. Tokyo alone gets on average 185.2 mm of rain in June (the yearly average is 1,714 mm for the entire nation) with whole weeks passing without one speck of sunshine. The rain does create a splendid green landscape but getting around concrete Tokyo battling millions of umbrellas is no cakewalk. Yet, to see a few exhibitions recently, this fearless ceramic reporter had to do exactly that -- battle the elements and crowds -- to find the Holy Goblet. Well, actually I wasn't on such a sacred quest, I just wanted to see four of my favorite potters whose last names, coincidentally, all start with K (Kako, Kato, Kubota, and Kumano).
---
Kubota Yasuyoshi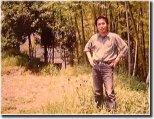 First on the list is Kubota Yasuyoshi. Kubota has been gaining quite a name for himself these days, especially after receiving the Mainichi Shimbun Award at the 16th Japan Ceramic Art Exhibition. It was for a gorgeous white porcelain vase with flowing lines titled "Hakuji Ryusen-mon Henko." (See below photo)

The ryusen -- flowing lines --dance over the crispy-clean white body in ways unseen in Japanese ceramics before. Ryusen plays a large role in most of Kubota's work and this is where he excels. In the recent exhibition there were many fine pieces ranging from small sake cups and tokkuri to large henko (round-shouldered pieces). He also made some elegant hanging vases. Some of the works were faceted, but I didn't think they work as well. They also bore too much of a resemblance to Maeta Akihiro's hakuji (hakuji means white porcelain). The exhibition was well received and many pieces were sold.
Hakuji
Ryusen-mon

Sake
Vessels

Hanging
Vase

Faceted
Vase

---
Kato Yasukage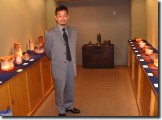 Next stop was Kuroda Toen Gallery in Ginza to see my good friend Kato Yasukage's Shino Chawan Exhibition. As I've written before, Kato recently changed his name from Shoji to Yasukage and also became the 14th-generation potter in his distinguished family. His chawan (tea bowls) belie his age and most folks think a much older man made them; they have great character and dignity. The pastel blends he gets are always a joy to gaze upon and I've never seen another Mino potter achieve these colors. He loves to take a carving spatula to all his works, including sake cups and flasks -- must be some samurai spirit left in him. Kuroda's second floor gallery is a bit narrow but it does allow one to take in all the pieces at once, unlike the larger and sometimes cavernous department store galleries. I only foresee Kato's work getting better as he reaches his forties in a few years and I expect his chawan to only deepen in their warm personality and strength. For more on this artist, please visit:




Above: Chawan by Kato Yasukage
Below: Sake Cups by Kato Yasukage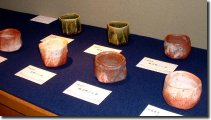 ---
Kumano Kuroemon


Strength is something Echizen potter Kumano Kuroemon has plenty of! His work has such energy bouncing off it I found it hard to walk away from even his sake cups. They weren't that small at all. I mean a few could have been used for tabi-jawan (tabi-chawan or "traveler's tea bowl") -- they were huge! Kumano is a soft-spoken "gentle giant" and he lets his work do most of the talking. They are fired to intense temperatures often beyond most potters' realms; he says into the 1500-celsius range. Many of the works had fortuitous kiln-roof or shelve drips on them in sky-blue tones. A riot of colors, such as can be seen in the close-up photo below of a large serving bowl, danced over some of Kumano's creations. A thrilling body of work that didn't attract that much attention possibly due to the soccer madness that filled Japan. I would rather fill a Kumano sake cup any day for that thrill never dies or disappoints. Learn more about Kumano Kuroemon by clicking here.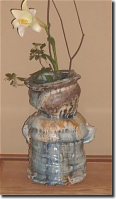 ---
Kako Katsumi


The youngest of the K lot is Kako Katsumi, who was showing at Ikebukuro's Tobu Department Store. What a mouth-full I-ke-bu-ku-ro (ee-kay-boo-coo-row) is! On top of that, Tobu is like a mini-city and it takes a hell of a long time to find the gallery. I did, eventually, and Kako-san was all smiles as I walked in. After I wrote about his shuki (sake vessels) for a Japanese web site (see English version here), it seems that many Japanese shuki fans came and snapped up guinomi and tokkuri. There were a few left and I particularly liked his very shibui kohiki ones (shibui means refined, kohiki is a style). His "ice-blue" kohiki was also pleasing, especially this time of year. He also debuted a few carved hanaire (hanging flower vases), which I found quite nice. His sense of proportion and lines is very astute and he's not afraid to try new glaze effects and surface textures. One of his new forms reminded me of a tanuki (magical raccoon)!
| | | |
| --- | --- | --- |
| | | |
| Sake Vessels | New Form | New Glaze Effects |
I was very pleased that I could help him to "'be discovered" by Japanese ceramic collectors and I only look forward to good things from him as well. You can read a bit about his shuki here.

For more on Kako Katsumi, please visit: