Both this site and our sister e-store gallery at www.japanesepottery.com have received encouraging words and positive feedback from our viewers and customers.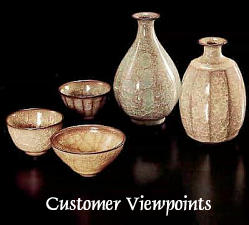 Here, on this page, we present the voices of our viewers and customers. We look forward to your continued interest in this site. If you have any comments, good or bad, please send them to:
---

To date I've purchased twenty pots from Robert Yellin, and have never been disappointed. I can't recommend his online store too highly. His photos and descriptions are thorough, packing and shipping are impeccable, but best of all, from my point of view, is his discerning eye for contemporary Japanese pottery. I sit back here in California in "collector's bliss," knowing that Robert is constantly scouring Japan for beautiful and moving works of ceramic art, his knowledge and passion well reflected at his sister site, e-Yakimono.net -- the best resource for information in this field on the www."

William Bayer, San Francisco


---

We received the Iga Tsubo just this week. It is beautiful and in perfect condition. Thank you for taking such good care in packing it. I must say the piece is far more beautiful than the pictures led me to believe. I hope to do business with you in the future.

S. Cooke in San Diego


---

I have know Robert for many years and have visited him in Japan. I find Robert to be warm, kind and truly an authority on the subject of Japanese Ceramics. I trust him and his judgement implicitly.

Rick Mahaffey, Tacoma, Washington


---

Robert Yellin is the best resource that anyone could find for contemporary Japanese tea and related ceramics. He is honest and fair in his business dealings, and very knowledgeable. He gives freely of his knowledge which, for this beginner is a gold mine of free information often not available any where else. He is arguably one of the most important dealers in this field, because he brings these items to those of us who are not Japanese with a great deal of expertise and generosity. His prices are very reasonable, and he is a delight to deal with.

Mark W., Omaha, Neb.


---

I live in Guam and visit Japan frequently. I have been a collector of Japanese art for many years and I was introduced to Japanese pottery by you in one of your articles for Daruma magazine. We met by e mail and since then I have had the pleasure of many hours expanding my knowledge of Japanese pottery with your help. I consider myself a person familiar with Japan but I could not have entered the world of Japanese pottery without your expert guidance. Since we first had contact your web site and now e ykimono net have come on line. For those of us who are not living in Japan these resources have been very helpful. I recently was in Honolulu and had the chance to visit a local potter who was telling me of the difficulty of gaining access to Japanese sources because of the distance and language barrier. He was excited to hear of your web sites and I am sure you have gained at least one more enthusiastic fan from Hawaii. Keep up the good work.

Ladd Baumann


---

Thanks for the chawan just received, it more than surpassed my expectations. The description given on the japanesepottery site was very accurate and the standard of photographs illustrating the items is very good with nothing concealed. I feel I can buy from this site knowing that the items have been carefully selected and accurately described by someone who really knows what they are talking about.

Mark Radburn, UK


---

I first became aware of www.JapanesePottery.com from the colorful comments Robert Yellin has provided the ceramics community regarding contemporary Japanese pottery on the online discussion forum 'ClayArt'. Since then, I make a point of visiting the site regularly as well as the companion site www.e-yakimono.net. Both sites provide useful research information as well as superb examples of the current body of work coming out of Japan. I find the web sites easy to navigate, and I am constantly delighted with the new and insightful content. I have been fortunate enough to work with Robert to acquire several stunning examples of contemporary Japanese ceramics that I would have otherwise never been exposed to. These transactions were handled promptly, professionally and I would have no qualms in ordering another piece on-line. The packaging was more than adequate and shipping was extremely reasonable considering the long journey from Japan to the states.

Stephen Sell / Pittsburgh, PA


---

The two chawans I've ordered from your web site arrived here in Colorado in perfect condition (web site actually did not do them justice), on-time and in perfect condition. I was more than a little nervous ordering over the web since pottery is such a tactile art. Not to mention a basic apprehension about e-mailing credit card numbers half way around the world. Have very much enjoyed working with you and would be delighted to have anyone contact me at krjaffe@hotmail.com with questions.

Ken Jaffe


---

I am so pleased to find reasonably priced Japanese pottery for sale from someone who knows about chado and also understands the pottery process. I ordered a beautiful chawan and Robert was kind enough to make arrangements for me to receive it in a short period of time so that I could use it for a special tea gathering. When I received my chawan, it was exactly like the picture on his website and his description of the bowl was very accurate. I was so pleased! I look forward to doing business with Robert again.

ST, Bellingham, WA


---

During this last year I purchased over a dozen pieces from japanesepottery.com. Not once have I been disappointed. Every piece has met or exceeded my expectations. I have also used the web to search for similar pieces at comparable prices. I discovered that the prices on japanesepottery.com were lower than the few other comparable pieces advertised on the web. Most other web sites, including most auction sites, sell poorer quality pieces at higher prices and with no history or provenance. And, those other sites that have similar quality usually offer the work of only one or two artists.

E.M. in New Hampshire, U.S.A.


---

As a collector of Japanese ceramics it was a pleasure to find a comprehensive website such as e-yakimono.net to satisfy my needs for information and research. Robert Yellin does a wonderful job with his articles on contemporary potters and gives a western perspective to Japanese pottery. His assessments of the local exhibitions, auctions and galleries offer honest opinions of the quality of works offered (sometimes with a bit of irreverence which make the observations more fun). The sister website japanesepottery.com offers a wide array of contemporary , vintage and antique Japanese pottery with variety enough to please everyone from the amateur to the advanced collector. Prices are very fair and they do an excellent job of packing and shipping.

Both of these websites are exemplary in their presentation, accuracy and depth. The transactions are honest and quickly executed. By all means start by whetting your appetite at e-yakimono.net and then satisfy your hunger at japanesepottery.com, a very satisfying experience for anyone loving Japanese pottery.

R. H., Illinois


---

The Bizen vase arrived in perfect condition. I felt a strong connection to it immediately--a deeply satisfying inner peace and thrill -- and it is wonderful to hold and enjoy. It was made in the same spirit as my mother would appreciate. Its subtle beauty will remind me of my mother's calm and loving presence and her tremendous love of nature's endless and sublime beauty, an appreciation which she instilled in me. Thanks so much for helping me find it and for sending it to me. I also thank you immensely for your efforts which made this possible. Best of luck to you in the future, and I expect our paths will cross again.

Daniel Ryan, Ph. D., Senior Research Fellow in Biology
Caltech (California Institute of Technology)


---

Just a short note to tell you what a great site eYakimono is...came in for lunch and to check my email when I decided to check your store site...Got as far as the Yakimono site and now its time to return to work on our kura... I guess I'll have to settle on an apple and orange for lunch. Can't wait until this evening when I can spend some quality time on your websites. What a gold mine.

Aloha! Mike

I apologize for inundating your in-box with my e-mails however I had to write to tell you that I just spent the last two hours reading your stories in the Gazette section of the eYakimono website. I used the more honorific "Robert" instead of "Rob" as I am in awe of your work. When I opened Furutani Michio (1) I immediately connected with Furutani san, in that he and I dress alike. When I retired from my very Nihon-jin office attire job, I vowed to never change out of my shorts and tank top. I also have a full beard although mine is not as full and is quite gray. When I realized that I was reading a memorial piece, tears came to my eyes, such a loss. Your piece on Heiwajima brought a hearty belly laugh because it brought back fond memories of hours and days spent there and other flea markets in the Tokyo and Kyoto areas. I actually gasped when I saw the picture of the tsubo in your article on Takaya Nakatsuka's kiln opening, what beauty, what strength. I'm sure that I'm not the first to suggest this, but I think you should compile off of your articles into a book. I'm sure it would be a great seller here in the US as a window into Japanese Pottery. Again, Domo for sharing your world with us. Mahalo, (thank you) and Aloha Ke Akua! (God bless you)

Mike, Hawaii


---