Click here for
index to all
Yellin stories for
The Japan Times




Yellin's gallery
sells pieces from
the kilns of Japan's
finest potters

A dream of living pots

By ROBERT YELLIN
for The Japan Times, Sept. 11, 2002
Takita Koichi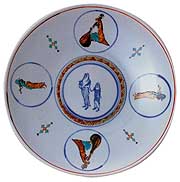 Graceful painted dish
with Asian motifs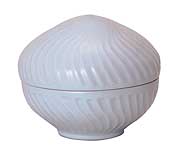 Fluted hakuji pot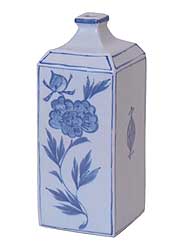 Square bottle


Takita Koichi looks more like a Zen monk than a world-renowned ceramic artist. His shaven head and glowing demeanor exude the sense of a man who has attained enlightenment while playing with mud.

Even when I literally bumped into him at the Japan Folk Craft Museum in Tokyo a few months back, he said such an "accident" was a fortunate way to meet -- indeed, we are all linked together in some way, whether we are conscious of it or not.

Takita has been making pottery for more than 50 years and he's currently having his 19th Osaka exhibition at Umeda Hankyu, Sept. 11-17, 2002.

The potter does have a mantra that has helped him attain spirituality in life, and thus in his work as well. It goes like this: "To be modest in creation, to be reserved in pattern, no intimidation in form, avoid ornate color tones."

Actually, these are the words of the founder of the mingei (folk craft) movement, Yanagi Soetsu." I always say those words when I work on a wheel or draw on pots with a brush," Takita says of his mantra. "Pottery making is a world of craft and in such a world things have to be practical. To be practical as a food utensil, it has to be modest. If an emotion is expressed on a pot, the pot is no longer a work of craft. That defeats its function as a food utensil and will create a lack of harmony in the lives of people. The shape has to be natural and healthy.

"Yet, a person has worldly desires. They want to stand out in a crowd of people. The same for a pot where the design ignores the shape and tries to get attention by having ostentatious colors. But, pottery, which is a tool of everyday life, should not be odd or flashy because it is a partner in life, such works I wish to create."

These sentiments remind me of the words of the late collector-writer Shirasu Masako, who thanked a Korean Yi Dynasty white porcelain jar for giving her "50 years of dreams." Why not be inspired by the items, people and thoughts we choose to live with? Such is the positive power of presence that subtly shapes our lives and consciousness. Equally, I firmly believe that if a person chooses to live with cheap, discardable, soulless objects, they will likewise take on these qualities.

Luckily, Takita's works share a common clay thread with Shirasu's Korean jar. In fact, Takita works in many styles linked in spirit to white porcelains of the Yi Dynasty (1392-1910) called hakuji. Takita's hakuji have a simple elegance of form: gourds, square bottles, fluted and faceted pots that suit the pearly white surface. Some of the works have a faintly blue tinge, reminiscent of seihakuji (bluish-white porcelain). The potter also employs overglaze enamels (uwa-etsuke), overglaze gold decoration (kinsai) and a lapis lazuli glaze (ruri), the latter being much deeper on his earlier works of the 1960s and 1970s.

Some pieces in the exhibition have deftly painted Asian women, birds, floral motifs and even some frogs. Though charming, these frogs are a little disconcerting when they look up at the diner from Takita's smaller food dishes. Takita has great command of the brush and this can be seen on his ceramic tiles and canvas paintings as well as his ceramics.

Takita's skill with the brush -- and much more -- comes from his studies with two of Japan's legendary potters, Tomimoto Kenkichi and Hamada Shoji, both designated living national treasures in 1955. He is also paying tribute to Hamada with a recently published book. Fittingly, it has a Zen title, "Kino zaian, Kyo fuzai" -- "Here today, gone tomorrow." Many of Hamada's works live on in collections around the world, but his insightful words are slowly disappearing. Takita hopes that publishing the book will help to keep the words, and the teachings they impart, as much alive as the pots are.

Takita was given the Tochigi Prefecture Cultural Prize in 1998, honoring his work over the decades -- work that is indebted to Yanagi's mantra that the potter silently recites every time the wheel turns in his studio: keep the pots alive.

The Japan Times: Sept. 11, 2002
(C) All rights reserved

.