ORIBE OVERSEAS
Pottery to Get on a Plane For

By ROBERT YELLIN
for the Japan Times, November 26, 2003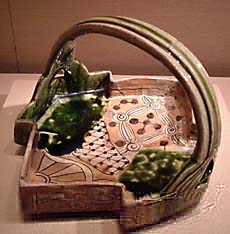 Tebachi by Oribe Furuta
Photo Robert Yellin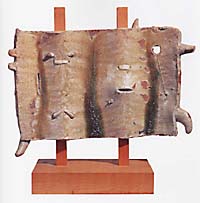 by Noguchi Isamu
Shigaraki Ware
"The Curtain of Dreams"

Photo courtesy of
Aethur M. Sackler Gallery
Smithsonian Institution
Isamu Noguchi Foundation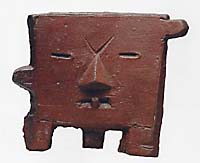 Bizen Work
Photo courtesy same as above

Two unprecedented Japanese ceramic exhibitions now taking place far from Japan's shores show just how influential are the artistic ripples from this grand potting paradise. Distanced by centuries, but just a dozen New York City blocks, are two of the greatest Japanese definers of clay: eclectic Oribe Furuta (1543/4 to 1615) is uptown, while earthy Noguchi Isamu (1904 to 1988) is in a snug venue downtown.

"Turning Point: Oribe and The Arts of Sixteenth-Century Japan" is at the Metropolitan Museum of Art; the Japan Society is hosting "Isamu Noguchi and Modern Japanese Ceramics: A Close Embrace of the Earth." Both exhibitions run till January 11 (2004) and both highlight masterpieces that make the trip from Tokyo well worth it (or if time or money don't permit, then at least take the time to contact relatives and friends a little closer to NYC to alert them to this rare chance).

The Oribe exhibition is about how different artistic genres and foreign cultural influences met and meshed together to create the style we know as Oribe. Such pottery is characterized by its asymmetrical forms, lively designs and whimsical charm. Odd, then, that it was born out of the somber mood of wabi tea ware that emphasized symmetrical forms, such as Raku tea bowls, and more somber color schemes.

To make something clear before moving on: Oribe was not himself a potter. He was more of an "artistic director," and it's really not clear to what extent he played a hand in the creation of the ceramics that bear his name. Certainly, it's extremely rare to find a Japanese style of pottery named after a nonpotter. Most pottery styles in Japan are named after the firing location -- usually a city name, such as Seto -- or after a potter proper, such as Raku or Ohi. See our GUIDEBOOK for details on all these styles.

With its copper-green glazes and avant-garde designs more evocative of Joan Miro than Zen, Oribe ware burst onto the late-16th-century tea scene like a fireworks display. Yet it was Oribe's understanding -- indeed mastery -- of wabi-cha that gave him the skill and creativity to develop his own style of pottery. (Hakaku is the term used for the act of mastering prescribed rules only to toss them to the wind.) Evidence of this is found in the exhibits -- on show are wabi-cha tea bowls, such as the lucent red Raku tea bowl named "Yugure (Twilight)," as well as Oribe's own darlings in his unconventional style.

Above photos by Robert Yellin

These pieces are showing at the MET alongside more than 150 works in a variety of media. Shino ware, textiles, lacquer ware, screens and hanging scrolls are all used to illustrate the various influences that played over the surface of Oribe ceramics. For example, designs found on many serving vessels (by far the most common form of Oribe ware) have motifs such as flowers or geometrical patterns taken from tsujigahana textiles.

Some screens depict the arrival of Europeans -- dubbed namban (southern barbarians) by the Japanese -- who brought with them Christian teachings and gunpowder. A few of the tea bowls have a cross painted on the front, leading some scholars to speculate that they were used in Christian rituals, or later on in hidden ceremonies after Japanese Christians were forced underground.

There are many highlights in this exhibition, yet tops for me were the seven classic clog-shaped Black Oribe tea bowls from the Momoyama Period (1573-1615). Such artistry makes me wonder if I'll ever be able to look at contemporary ceramic expressions again.

For American-born Noguchi, it was part art and part self-searching that brought him to Japan three times to get close to clay. Noguchi was one of the 20th century's greatest designers, renowned for his works in stone and bronze, and for his artful lighting. Yet he was fascinated by clay, especially Japanese clay, and visited this country in 1931, 1951 and 1952 to mold and give shape to that searching passion.

His father was the Japanese poet Yonejiro Noguchi (1875-1947) and his mother the American writer Lenie Gilmour (1873-1933), and in a sense Noguchi came to Japan to discover his roots. During his two trips in the '50s, however, he created ceramic art that turned the then-stuffy Japanese clay world upside down.

Kazuo Yagi (1918-79), the "father of modern Japanese ceramics," wrote of the designer:
"It was with Noguchi that I first began to feel a close connection to sculpture in terms of the actual process of formation. When I saw Noguchi's ceramics, I was struck dumb -- I'd never expected this!"
And what is on display still has the power to make the heart leap: Stoneware, abstract images of Daruma, mu (nothingness), children, centipedes, journeys, ghosts, policemen and lovers all find ceramic expression here -- and all startle the viewer with their piercing honesty and poetry.

Noguchi loved Japan and its clay. In 1952 he wrote:
"I have only made pottery in Japan, never elsewhere. I think the earth here and the sentiment here are suited to pottery."
Noguchi understood the beauty of his materials and brought out the sleeping forms within them, whether in stone, paper or clay. The power of his work lies simultaneously in this intuitive understanding and in his probing, visionary intellect.

Being an American, Noguchi was an outsider in the art world of Japan and thus free from its constraints. This is evident from the impact he had on his Japanese contemporaries, whose works are showing alongside his at the Japan Society. Essayist Bert Winther-Tamaki notes in the excellent book accompanying the exhibition that:
"Noguchi's biculturalism was both deeply disturbing and highly attractive because it was an extreme manifestation of perspectives of Euro-American modernity that were shared by many Japanese artists."
Ikebana master Sofu Teshigahara (1900-79) also noted that Noguchi:
"demonstrated something truly new within the framework of what had been done long past in the form of roof tiles, earthenware and Bizen [pottery]."
The exhibition space at the Japan Society is quite small (unlike the Arthur M. Sackler Gallery at the Smithsonian where the exhibition was first shown) and the third room in particular is mind-boggling for the concentration of extraordinary works squeezed into it. The works on show here, by Yagi, Osamu Suzuki and Shindo Tsuji among others, defined modern Japanese ceramic sculpture. These works have a spirit that is unique in Japanese ceramic art -- as had the soul-searching Noguchi himself.

For more details, see www.metmuseum.org and www.japansociety.org

The Japan Times: Nov. 26, 2003
(C) All rights reserved