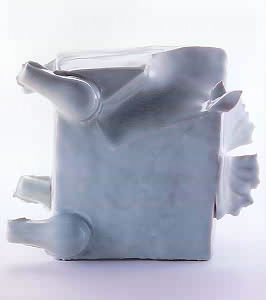 Article from
The Japan Times
by Robert Yellin

Japanese ceramics can be classified into at least three categories, those being Tea related wares, Mingei or folk styles, and purely sculptural forms. The latter is the newest member and can trace its roots to 1948; that's when Sodeisha was formed.

Sodeisha, alongside its antithesis the Mingei Movement, is one of the most influential ceramic groups ever formed in Japan. Three young Kyoto ceramists, Yagi Kazuo (1918-1979), Yamada Hikaru (b.1924), and Suzuki Osamu (b.1926) were the force behind Sodeisha and it was their visions that have set the course for ceramic non-functional forms in Japan ever since.

In the post World War II environment of Japan, a dissatisfaction was rampant amongst many of the young artistic community. The partial destruction of existing values offered those disillusioned creative minds the opportunity for fresh ideas to be planted and that was the scene that the founders of Sodeisha had as their stage. They had as their unwritten laws that they would not submit work to official exhibitions like the Nitten, to avoid being judged on others criteria, and not to copy antique wares of the past. That was the basic credo, quite bold and naive. A major hurdle in the beginning, believe it or not, was whether or not the mouth of a work should be closed or not-if left open it gives the feeling of a common vessel, and thus to close it was the only way to have it taken seriously as ceramic sculptural art. Suzuki reflects, "Looking back now, I think I plunged into this unprecedented adventure without reflecting what it really meant, and later on reflection I gradually realized the importance of this matter when seen in the light of the great tradition of the Gojozaka kiln(a large kiln in Kyoto)."

Suzuki's early works made in the late forties and early fifties do have openings and bland titles like 'Vase with two openings' that have white bodies drawn on with a black slip. Many of the designs on these early works are abstract like that of a Klee painting and point the way for Suzuki's next development; purely sculptural forms with similar geometric patterns, aboriginal-like markings, and letters or numbers stencilled on to the clay body.

Starting in 1954 with his three-legged box with white slip and black design, a noticeable maturation in his work is easily visible.


He began to call these works earthen figures or clay images and found in them an association with powerful Jomon jars and simple Haniwa tomb forms of millenniums past; particularly the form of a horse. It is in this series of work that Suzuki is most identified with. The simple linear and slightly curved forms have a grace and elegance that also show the warmth of the clay. He uses a Shigaraki clay which is very evident in his early works such as 1959's Wild Samurai or 1963's Clay Figure. Around 1965 Suzuki covered the Shigaraki body with a brownish red slip that has become his favored color along with his bluish white porcelains. In 1967 we see the birth of Suzuki's Horse series that is a trademark of his prolific career. The forms are very subtle yet full of spirit, although after seeing a few (there are dozens in this show), I gradually had my fill. I particularly enjoyed 'Chinese Horse' with large block body and angled head, the poetic-looking 'Horse in Snow' complete with snowflake stencils. The head of the horse is brilliantly depicted as a single downward curving indention in the clay - an understated masterpiece of twentieth century Japanese ceramic sculpture.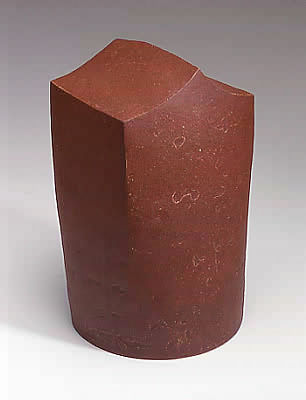 Photos (above and below). Exhibited at the Barry Friedman Gallery in New York in April 2001. Suzuki's forms are organic, and the monochrome tone of each piece allows the viewer to focus on the form; always with a slightly rough surface, rounded with edgy borders.




Apart from horses and other animal forms, Suzuki also has clouds, boats, and wind as inspirational wells. Contact with terra cotta works of Isamu Noguchi and Shindo Tsuji were two other powerful influences for the young Suzuki.

Bluish white porcelain (seihakuji) also form part of Suzuki's reprotoire and again utilises the same themes as his muted Shigaraki forms as well as some functional forms such as vases and bowls.

The similarity of color and form of much of Suzuki's work does grow a bit tedious on the viewers eyes, especially his output from the nineties that lacks the power and charm of his earlier work.

Robert Yellin