Mitsukoshi Gallery Entrance

As I wrote in the review about Nakatsuka Takaya, there are many venues different from the west where Japanese potters exhibit. In Tokyo to have a solo exhibition at Tokyo Mitsukoshi Department Store's sixth floor gallery is a goal of many potters and not an easy place to get into. Up and coming Celadon (seiji) potter Minegishi Seiko (1952 to present) had his second exhibition there from Dec. 5 to 11, 2000.

I went on the opening day and, as usual with sake utensils (shuki), they were almost all sold out even though the exhibition opened only a few hours before I arrived. I was lucky to have four nice guinomi (sake cups) left to choose from and as I was twirling them one by one over in my hands and discussing them with some other gentleman, a hand reached out from behind me and plucked up all the placards. What nerve I thought! But this avid Minegishi fan would have bought them all if he had the chance. He walked out of the gallery with four stunning guinomi while Minegishi and myself were left stunned.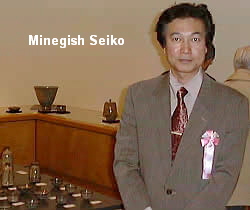 The shuki table


That's how it works in Japan, if you can get that little card before others than you have the rights to buy it - no petitioning, calls for lawyers or whatever.

Yet I was glad to see that Minegishi was doing well; he happens to be a favorite of mine even though I'm not a big seiji fan. I'm attracted to his forms and brilliant glaze; the latter giving his work the feel of precious gems.

A total of about eighty pieces were on display and these included tsubo (jars), koro (incense burners), kabin (vases),mizusashi (fresh water jars), and kake-hanaire (hanging wall vases). Celadon doesn't really work well for shokki or tablewares.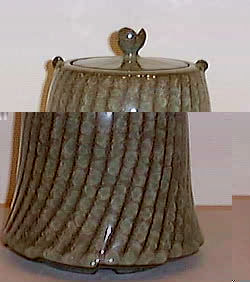 mizusashi

Minegishi excels in a decorative technique called shinogi. It's where he carves deep lines into the bisqued-fired ware before applying the thick seiji glaze. The sharply cut low relief ridges allow for the glaze to pool and form concentric circles. Also, crackling known as kan'nyu plays a major role in the delightful feel of Minegishi's works.

A charming mizusashi had the perfect balance and flow with the shinogi lines cut with a diagonally flowing motion.

Two small ears adorned the shoulders on both sides and a tulip-shaped knob topped it off. The perfect mizusashi for a new year's tea ceremony I thought.

Minegishi balances grace and power and some of his new koro had the feelings of small pagodas or extraterrestrial spacecrafts; some looked like they were ready to take off!






Koro- incense burner

But indeed they were very well rooted to the ground on three sturdy legs and well-proportioned with two 'skirts' and the pagoda-like lid.

Some covered jars were a bit more sedate than the koro and even had little birds frozen in time on the shoulders modelled after Chinese Song period celadons.

Two of his larger jars had differing tones to the emerald color- one was quite pale while the other was glistening and dark. Minegishi told me that he was working on how to control his kiln more to get these effects whenever he so desires - it's not easy at all he said. I know that he's done thousand of tests on firing celadon and he's still not 100% satisfied- but he's close.





Not all the shapes worked though. He had a few that looked like folded paper in a cone shape and they were quite thinly potted. I also think he can improve his kake-hanaire forms as well.




Kake-hanaire, hanging vase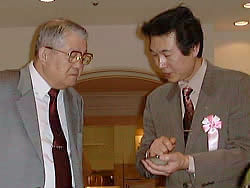 Minegishi explaining

Minegishi was pleased with outcome- 80% of the work sold which isn't easy these days here in Japan. He's been invited back to Mitsukoshi and I look forward to that exhibiition in another few years.

Minegishi's kiln is called Fusou-gama which means 'walking and creating.' I only foresee this talented potter to continue to do just that.

by Robert Yellin


Learn More About Minegishi Seiko