Kimura Yoshiro and Nagatochi Hiromasa
Story by Robert Yellin
First Published Honoho Geijutsu #55, Summer 1998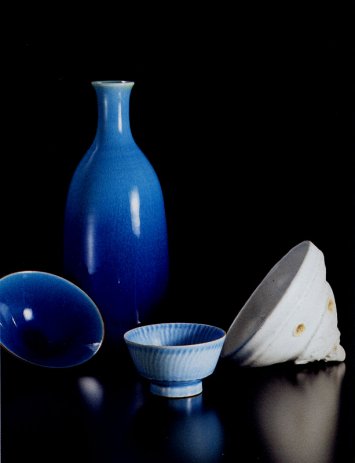 Kimura Yoshiro (blue vessels)
and Nagatochi Hiromasa (shell-shaped guinomi)
Photo courtesy Honoho Geijutsu
The heat of summer is probably bouncing off all the concrete in Japan right now and you're most likely reading this magazine in an air-conditioned room trying to beat the heat. I sometimes feel that we humans are in a boxing match against nature. But no matter how hard we punch, nature will always win -- so instead of punching it out with nature in an effort to keep my body temperature comfortable, I think thoughts and visualize images that will affect my mood and my body temperature.

In summer I think 'cool' and instead of complaining I chug a glass of mugicha (barley tea), or slurp some somen (thin noodles), or listen to the sound of a glass bell or just look at these sake utensils -- it usually helps me beat the heat.
The power of thinking is limitless and so subtle, so naturally when I look at Kimura Yoshiro's so blue ceramics in this summer heat, I feel and think 'water' and thus I'm refreshed. I have to admit the first time I saw his work I was a bit startled, I almost had to put on sunglasses. Yet over time I 'got' the brilliant blue color Kimura has produced on top of his flawlessly thrown pieces. His larger sculpted forms are full of vitality and strength while his smaller forms are quieter, more traditional. The tall tokkuri is a very standard shape reminiscent of an Edo-period tokkuri. Gently sloping shoulders are covered with a shallow water blue which deepens in tone as it moves down the body. Full of cold sake it would have beads of cool sweat that would fill my being, and my cup, with a coolness that takes the edge off the summer heat.

Kimura has captured the essence of the Mediterranean in his work -- I can imagine sitting in a white villa atop some cliff overlooking the Aegean sea sipping cold Japanese sake from Kimura's cup. A summer daydream !!

I've always lived near the sea -- the Atlantic and Pacific oceans and now Suruga bay. As a young boy living in Florida, I would sometimes walk on a Gulf of Mexico beach and pick up the most wonderful shells. I was enraptured with their shapes, colors, patterns, and was pleasantly surprised when I found this shell-shaped cup and wood base by Nagatochi Hiromasa at a Tokyo exhibition. At first I couldn't see the shell designs as it was sitting on its base and a big smile appeared on my face when I picked it up and turned it over to discover the spiral twist and shell motif. This was a conch guinomi! I could smell the salty sea and hear the splashing of waves in Nagatochi's conch cup just like I did when I picked up a conch on that Florida beach some thirty years ago and put it to my ear. I wonder if Nagatochi got the idea for this cup after taking a walk on the beach near his Hagi home.

It's not only a fun cup but it also fits its purpose of being a fine sake cup. The white glaze allows for the color of the sake to be more easily discerned -- a bit yellow or clear like a crystal stream. It would appear that Nagatochi's cup would feel awkward in the hand but this is not the case. My fingers wrap comfortably around the spiral while my forefinger and thumb curl around the lip. Like all good guinomi it has an even balance. The wooden base comes in handy when you need a free hand or want to pace yourself.

So now I offer to you, the artificially cool and comfortable air-conditioned reader, the coolness that can be found in thoughts and in the non-electricity guzzling things that we choose to live with. Get out your uchiwa (fan), get out into the summer's heat and feel the healthy sweat of being alive. And, of course, pick up a cool guinomi or tokkuri.
My spirit is a shell washed up upon the shore of life
My life is but a small shell adrift in the ocean
A small ocean of sake fills Kimura's and Nagatsuchi's vessels
Let's go swimming!

LEARN MORE