Kondo Takahiro
Serenity in White
Jump Directly to Photo Tour (37 Pics)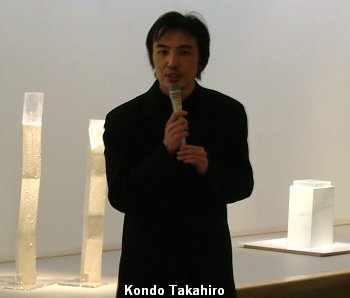 Before my eyes was serenity in white.

Soft silver rain gently fell upon white porcelain, crowned with icy glass. A new morning in ceramics was dawning.

Or was it?

I first met Kondo Takahiro (1958 - ) during the opening party of Fujihira Shin's solo exhibition at the Paramita Museum in rural Mie Prefecture. It was a beautiful September afternoon, with not a cloud above. Ripening rice fields could be seen enwrapping the scenery in a sea of green.

The party was colored with an eclectic mix of potters and overzealous Fujihira fanatics, including myself. Familiar faces were few, so I found myself quietly absorbing Fujihira's new work in singular silence. This did not faze me, however, as I prefer to see art alone and without banter (unless it's the second time I view something). I wish a first impression to be as serene and natural as can be.

First impressions are often overrated. We are fickle things, and our very own moods can ruin the impressions of people who had been perfectly pleasant.

But at the same time, the subtle and pristine innocence of a first impression can be both breathtaking and unforgettable. That childhood memory of watching snow fall from moonlit skies is a poignant one. And it is special because it was the first one. First kiss, first love, first car, first album: all are ephemeral and, at the same time, eternal. Likewise, both the viewing of art and our first meetings with friends and loved ones may be brief encounters that can, in a sense, transcend time.

Impartiality when reviewing something is desired, but often a futile impossibility. But with this as a given, I still wish to try to see something with a clear and open mind.

Hence, to make the most of a first impression, I enjoy viewing works alone and in silence.

As I was hopping from one piece to another, I noticed a man talking up a storm with an acquaintance of mine. It happened to be that the next piece on my "to view" list was the one that they were confronting. I could have avoided them, but as my acquaintance caught me from the corner of her eye, she beckoned for an introduction with the man she was chatting with.

Kondo Takahiro, with a grin, said hello.

Kondo was born the grandson of Kondo Yuzo, a Living National Treasure for the art of sometsuke (cobalt underglaze porcelain). His father, Hiroshi, was also a potter.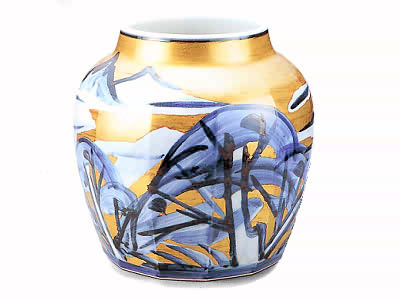 Piece by Kondo Yuzo, Kondo Takahiro's Grandfather
Coming from the grand Gojozaka pottery tradition of Kyoto, Kondo's path to pottery could be said to have been pre-ordained. But this was not the case, as Kondo was both a national table tennis champion in his youth, and a serious student of literature at Tokyo's Hosei University. After such respectable credentials, he eventually settled into the life of a porcelain potter.

I had known of Kondo and his work. Some were fascinating, such as the series of work decorated with a misty blue and silver glaze, while others fell flat underneath the weight of contrived ambition. But in my eyes, he was an interesting artist, nonetheless.
Piece from Kondo Takahiro's 2001 Exhibition

Click here for many more photos from this earlier exhibit
Ever jovial Kondo knew my name, and had heard from my acquaintance of my time at Oxford. Feeling comfort through a British connection, he proceeded to tell me of his life-changing experience at the Edinburgh College of Art in Scotland (having been sent there in 2002 by the Japanese government on a Artist Fellowship). There, he said, he had seen the cutting edge of contemporary art, and was creatively enlightened by the allure of the vivacious Brit Art movement. Such names as Damien Hirst and Jake and Dino Chapman were mentioned in that conversation. "Ceramic art should be propelled to the level of internationally renowned fine art, and be at a level where it can simultaneously challenge it," Kondo emphatically exclaimed, eyes intently gazing at some unseen object floating in midair. Warning bells went through my head.

I told him that he had an interesting idea, and that I would someday love to discuss it with him over a few drinks in Kyoto.

Months passed until I saw him again.

I met Kondo for the 2nd time last week (Jan. 2005) in his latest exhibition at the Kyoto Takashimaya Department Store. And if success was to be measured monetarily, this exhibition was sheer triumph. Red stickers, indicative of a purchase, were abundantly dotted through the show. (Click Here for Photo Tour of Exhibit)

The opening night was a cocktail party saturated with the Kyoto art mafia; critics, potters, and customers alike, in the gallery hall of Takashimaya, wined and dined to their own chatter, as Kondo's pots glistened silently in the background.

Kondo's exhibition, dubbed Shiro no Seijyaku (白の静寂) or "Serenity in White," was a notable affair for the fact that the artist had taken two materials, porcelain and glass, and transfused them into a single, viable and vibrant, work.

At first glance, porcelain and glass might strike one as an odd coupling, and the similarities or connections between the materials may be difficult to discern. However, porcelain and glass have some fundamental points of agreement.

Porcelain is made from clay.
Glass is made, more or less, from sand-esque silica.
Both these elements are found within earth.
Earth. Add the tremendous life energy of fire. Fire.
Behold, as porcelain and glass are born.

Fire can give and take life.

And in regards to sand and clay, it can bring out a metamorphosis of epic, and beautiful, proportions.

But the simple marriage between the two materials does not in itself ask for attention, and notable does not necessitate a satisfactory affair. Merely combining two mediums as a show of technique, virtuosity or novelty will not make for memorable work. And if glass ultimately trumps clay as the primary raison d'etre for making a particular piece, then the work, as ceramic art, should be deemed a failure.

In the realm of ceramics, I believe glass should only be used to accentuate and broaden the possibilities of clay, rather than having glass overtake clay. Besides, if glass is used as the predominant material, can we even consider the work to be pottery? Mixed media, perhaps. But not pottery.

Commendable is the fact that Kondo did not name the exhibition "Serenity in Glass," but "Serenity in White." Porcelain is the materialization of white, embodying the color of a fresh start, a blank page, of tabula rasa. From white, are born the colors of rainbows. It is the beginning of all things, and allows us to start afresh. I believe Kondo the artist needed to start anew, and challenge himself from conventional notions of pottery. We should not be blinded by glass when we view Kondo's new series, for glass did not bring serenity to his soul, but the pristine innocence of a material that he had grown up with and known all along.

Porcelain.

In a sense, Kondo was returning to his roots.
Hence, the title "Serenity in White."

Much of Kondo's mixed media ceramics contained a natural balance between glass, glaze and porcelain, and this harmony expresses Kondo at his most melodic. Glass acts like glaze, giving the porcelain a new sense of focus and rhythm, and one must grant that Kondo has come a long way from when he first debuted his glass porcelain works at Yufuku Gallery last year. This time, Kondo has developed a unique and deep world that is not simply dependent on novelty or technique. The perfect example of such flowing naturalness is exhibited in the series of works entitled Mist. Kondo's original glaze, called Ginteki (silver droplets), coated the whites of his porcelain like morning dew on white lilies. The glaze in itself can lower one's defenses, yet the crystal glass and the smoothness of the porcelain make for something greater and even more memorable.

As lids, thick glass blocks (each block being surprisingly heavy) covered the holes atop of Kondo's vessels. Take the tops off, and you have a vase. Many of his pieces were also ceramic boxes, or simple objet made more for capturing and coloring a space, rather than for utility. Many of his works really did define the spaces that they were placed in, with a tranquil but riveting energy.

Yet, as one might tell from the photographs (see Photo Tour below), some of Kondo's forms were rigid and contrived, and failed to give rhythm to the materials used. This is unfortunate, as Kondo obviously has good conceptual ideas and creativity. If Kondo could transpose such creativity into more fascinating forms, I think we might see truly revolutionary work being born from his hands.

Kondo, during his reception speech, mentioned that he wishes to try other glazes, in particular his blues, in future works featuring glass. The color blue, a Kondo family favorite, is also a Kondo family forte that I believe Kondo can and should use to his advantage.

But in regards to this exhibition, I think Kondo aptly exhibited a wonderful balancing act between the subtlety of materials and their characteristics. No work was blatantly loud or disparaging. It will be interesting to see where the possibilities in his latest experiments will take the artist. I believe Kondo has the flair to pull off even greater work, as long as he keeps a level head and does not fall prey to his own conceptual ambitions, as evident in the conversation we had at the Fujihira exhibition.

Conceptualism in ceramics is the name of the game today. Those potters who not only express themselves through clay, but who express deep questions and commentaries of the world we live in, rack up a bunch of brownie points with modern-day intelligentsia.

Which is fine with me. But some potters only seem to express their egos. Miwa Kyusetsu XII is a case in point. Peel off the gold, and you find the clay of Hagi weeping below the surface.

Surfaces.

The problem with a lot of potters is that most of their concepts are but skin-deep. They can exhibit extreme technique and control, but it is so very PDA -- personal display of affection (for one's own talents). They do not summon the question of why clay is used, nor do they give a satisfying reason behind their premature, or even immature, conceptualism. Self-expression can be realized by many mediums. The creator is not a potter, but more a sculptor, if clay was used only out of sheer convenience. Clay must come first.

And at this latest Kondo exhibition, porcelain was first and foremost.

Kondo is at his best when, like in "Serenity in White," he opens his ears and listens to the materials at his fingertips, without selfishly manipulating them for self-gratification. I look forward to a greater breadth of work and glazes from Kondo. And then, perhaps then, Kondo's dream of re-writing ceramic history might be realized.

Gambatte, Kondo-san.
story by Aoyama Wahei
PHOTO TOUR OF WORK BY
KONDO TAKAHIRO
All photos by Aoyama Wahei
Click any image to start the tour.