ABOUT THESE
SERIAL STORIES
Written by Robert
Yellin, these serial stories about Sake
Drinking Vessels
first appeared
in Honoho Geijutsu
between 1997 & 2001
(# 49 thru # 68).

In 2002,
the series was
picked up by
Yakimono.net, our
Japanese language
sister site.



Sake Vessels
Shapes Guide
A photo tour of
sake cups/flasks




Yellin's gallery
sells pieces from
the kilns of Japan's
finest potters




Published in Honoho Geijutsu Issue # 65, 2001

A Whole New World
Pieces Bought on the Web
Photo Courtesy Honoho Geijutsu
As I sit here on this first day of 2001 and think about my life on this shima-guni (island country), I've come to believe that this Edo-period term is way out of date. We can basically travel anywhere in the world we want to and the only real shima-guni these days is the earth. But I believe I have discovered a new shima-guni and it sits right here on my desk: the computer.

Since most of the world operates in English, and with the Internet also being dominated by that language, if a person cannot use English in a proficient manner than their computer world indeed does become a new shima-guni; they are isolated from the world just like the Japanese were in the Edo period. The computer is changing the world, and my world as well, in untold ways. One way for me is that I can find good shuki - sake utensils, from across Japan and the world.

Both of these pieces were bought off an Internet web site. Hard to believe, but true, and that's the wave of the future. Of course it's nice to walk into a gallery and hold pieces in person. But when something looks good from across prefectures or oceans, and the photos are of good quality, it's quite easy to tell if a piece is good. These two are quite good.

The tokkuri is from the current Heisei period and the hai-sake cup is from the Kamakura period (1192-1336). Using my computer I not only get to acquire good pieces from so far away without jumping on a train or plane, I also get to time travel in a sense - I can sit here and buy online anywhere in the world no matter the time in the other location.

In my library I have the directory for the Mino Ceramic Art Association book and a few years ago I was checking it out and I remember coming across a really interesting work by Kato Yoji (1958 -) entitled Seichi; it left an impression in my mind. Then just last year I was surfing the net and came across this quartz-flecked tokkuri and again was attracted to the shape; it looks like an overweight turtle! But the balance and tones are quite pleasing and the stone bursts on the surface actually feel good in the hand, like a massage. The lip is sharp and tight and pours well. The tokkuri is accentuated by a medallion on one side that reminds me of Okamoto Taro's sun series; particularly his black sun works. The reverse side has been left in its natural clay state.

A tinge of gold flashes on the base. I like how the clay has been left with a soft tsuchi-aji and how the simplicity of the design fits well into the form. After using this piece I wish to see more of Kato's work and wonder if I'll find some more on the Net. Maybe I'll just have to go to Gifu to pay him a visit. The convenience of the net is good but nothing beats face-to-face communication.

The Kamakura yamahai (pictured below) is described as being 'close to heaven' for it was fired on top of a stack of similar cups. This left a pleasing green glaze that deepens when filled with sake.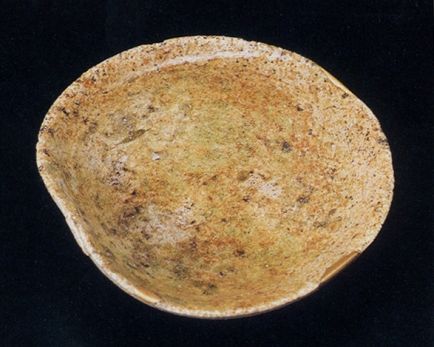 I have a few other Kamakura hai in my collection but this one is different. First, it has much sharper lip and taut body. Secondly, the kodai has a crinkle pattern unlike the others. And lastly, it was purchased over the Internet; imagine that, an eight hundred year-old piece flowing through centuries and finally ending up for sale in the cyber world - simply amazing!

Which is what I anticipate the 21st century to be as well: simply amazing, in one way thanks to computers, and good shuki bought over the worldwide web.
by Robert Yellin
published in Honoho Geijutsu Issue #65, 2001
photos courtesy of Honoho Geijutsu