Published in Honoho Geijutsu No. 62 2000

Harada Shuroku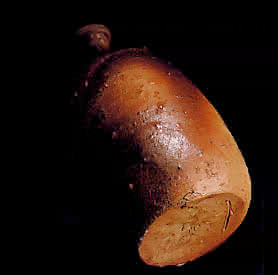 Photo Courtesy Honoho Geijutsu #62
Sake Vessels by Harada Shuroku
I think that it's a good thing to be close to the earth whether in spirit or body. Sitting on Japanese tatami always makes me feeler closer to Mother Earth, literally. That's also the way I feel whenever I hold this sturdy Bizen tokkuri; it gives me energy that radiates from nature.

It has a coloration like that found on a late autumn evening walk through a forest - feet crunching leaves: rusty browns, subtle scarlet reds and soft pale tan hues on one side. The back is crusted with a thin rough ash that runs from brown to black. Small quartz flecks that literally sparkle in the light like a deep winter night sky dot the 'dark side of the moon.' On one side a deep shiso color stretches along like a distant constellation.

Gazing at this tokkuri by Harada Shuroku (1941-) is indeed like peering into a distant galaxy.
Photo courtesy of Honoho Geijutsu No.62, 2000
The form is bold and refined like a tower and the lip is perfectly formed for the pouring of sake - tonight I'm enjoying some Tedorigawa from Ishikawa.

A few stone explosions dot the surface adding character to this already stellar tokkuri- I believe it to be a piece from some years back.

The wide open-faced hai is by someone I can't tell you the name of- I simply don't know. Yet that really doesn't matter, does it?

Sometimes our thinking minds get in the way of purely looking at something- we're always asking superficial questions without trusting our own eye. Who made it? When? What prizes have they won? Where do they exhibit? Are these questions necessary to see beauty. Trust yourself.

The subtle changes in white tones in this hai, amamori, is a joy to see- especially now that it's filled. Can you believe that if this hai was about three centimeters smaller it would be worth about four times what I paid for it? Americans always think bigger is better, not when it comes to a Yi dynasty hakeme hai though.

Yet, I find it to be fine just as it is in it's 'oversized' state- it rests comfortably in the hands and the kodai has a small indention where a finger can grip it. It's a shuki(sake utensils) lover's dream when matched with Harada's tokkuri.
Robert Yellin
Published in Honoho Geijutsu No.62 2000

For More on This Artist, Please Visit: