Published by Yakimono.net March 2002


Hakeme Hai (white-slip cup; artist unknown)
I don't mind cats, not at all. I even had a cat while I was in college and I named him Biko after the South African civil rights leader. Yet, when a cat has babies in a closet in my house and then jumps out one day on to my pottery collection, knocking over a Yi dynasty hakeme hai, that is where I draw the line. Here's what happened:

I live in an old house. Some may call it wabi-sabi, yet I know a few folks who call it boro-boro (falling apart). Whichever -- it does have style though.

One quiet night, I heard the faint meow of a cat and naturally thought it was coming from outside. This went on for a few nights and I really thought the sound was getting louder, and closer. I went outside to investigate but found nothing.

The next night I was sure the sound was not outside but coming from the walls. And not just the walls, but from a high-up, small closet in my study room where I keep many tomobako (signed pottery boxes).

I had to get to the bottom of this and approached the closet with a flashlight. I slowly slid open the door and saw two black kittens in a little nest amongst the tomobako. I'm not sure if I, or the kittens, was more shocked! Yet, where was mom?

Like a lightning bolt, she popped up from behind a tokkuri (sake flask) box and jumped out of the closet scaring the hell out of me. She was frantic and started to jump on, around, and in between all the tea chests, always nimbly missing the pottery. That was quite a sight as she ran out of the room and straight to the front door, and freedom outside.

She did, however, knock over this Yi dynasty hakeme hai (hakeme is a technique in which a white slip is added with a stiff brush).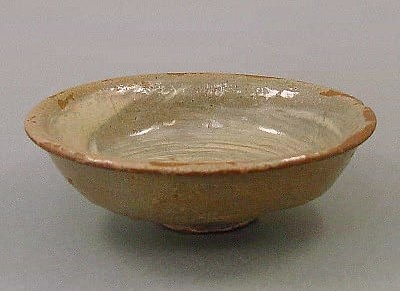 It is a classic piece, a bit large but very good for sake. It leans a bit and has quite a few mushi-kui bits on the lip; these give it character, as does the swift hakeme brush mark. Add to that character now a scar; a small chip on the lip from that fateful day. I shall not have it mended for it does not clash with the ambience found on this great piece.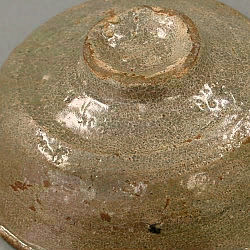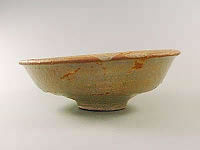 As for the kittens, I put them outside for mom to pick up. The closet and tomobako were not so fortunate as there was hair and kitty wee-wee stains all over many of the boxes!

Kishimoto, Kakurezaki, Nakamura, and Nishioka to name a few. Oh brother.

Such was the fate of this piece, and the small happening one night in the rustic old house I live in.