FEATURE STORY
Fair and flea market pot-hunting in Tokyo Area

By ROBERT YELLIN
for The Japan Times, Feb. 26, 2000


Return to Fairs/Flea Markets Top Menu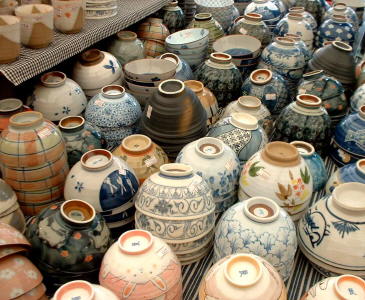 "How can I learn more about Japanese pottery?" is a question I'm often asked. The answer is simple. Get out and see as much as you can.
Department stores and galleries are always a good place to periodically visit, but another way is to haunt the antique markets that can be found throughout Japan. That's one thing that I've done. Have you ever been to one? It's like walking into your grandmother's attic and seeing all kinds of goods from days gone by, as well as some contemporary items. Not only pottery but glass, textiles, toys, baskets and much more. You never know what you're going to find -- sometimes a little treasure, sometimes you walk away empty-handed because nothing caught your eye. I figure that I purchase something about once or twice in 10 visits but I always learn a lot.
And that's the point. The markets are open libraries and allow you to sharpen your eye as well as your knowledge about what is good and what is not. Trust what appeals to you and don't rely too much on the advice of the dealers. After only a short time of observing them I realized that often they have no clue as to what they're selling. "Buyer beware" never rang truer.
A case in point: Just last week I was at the huge Heiwajima antique fair and I was holding up a small jar, discussing it with some friends, when the dealer overheard me and came up to me waving his arms and babbling.
"No, no, Seto, it's a Seto piece, not Shigaraki," he blurted out, to my surprise.
"Well," I replied, "I beg to differ. This is a Meiji Era Shigaraki sweet sake flask."
"No, no," he insisted. "Seto jar for hair tonic."
Just then his son stepped in and tugged at his arm. "Oto-san, the gaijin is right, it's a Shigaraki piece. Come back behind the counter," he said.
"A, so ka," said the dealer and sheepishly walked away scratching his head.
Yes, it does take a few years to become confident in purchasing from often unscrupulous dealers, but without taking that first step of getting out there your knowledge and eye will never be raised to a higher level.
Don't be afraid to buy something you're not sure of. That is important. Again, trust yourself and what you like. From not knowing, you'll seek out information about the piece and it'll be a little teacher for you. That has happened so many times with me; I buy something and research it and broaden my understanding of the complex world of Japanese pottery. Think of the price as a form of tuition. To really get a grip on the pottery world you have to "go through college" (I think I've graduated twice).
Walking around the open stalls and eyeballing the wares at markets is also a lot of fun in and of itself. Pick up the pieces, look them over, ask questions.
Check for repairs to items, especially around the lips or shoulders of pots. Sometimes the repairs are well camouflaged: I often take a coin and tap it on the piece, listening for any changes in sounds. If one place tings while another spot pings, it most likely has been repaired, thus reducing the value.
At larger fairs like Heiwajima, look around before purchasing -- you might find the same item for a lesser price. Another case in point: I saw a small Bizen tea canister for 15,000 yen at one stall and an identical one for quadruple that a few booths away.
I bought a few pots this past weekend from Heiwajima - a large Shigaraki kenjo chatsubo, a presentation tea-leaf jar dating from the Meiji Era, that I bought for a song. It has a fine beige glaze and a base with a white crackled glaze.
A pair of lovely Meiji Kutani tokkuri (sake flasks) still in the original box I picked up for a few man. As a matter of fact, if there was no box with these tokkuri I wouldn't have bought them. The box adds historical value: The label on it dates it to Meiji 23 (1890), and it was meant for an exposition in Tokyo.
I also purchased a small hohin teapot by Shunko Nishimura (1886-1953), a very influential Taisho Era and Showa Era Bizen potter who is only known by connoisseurs and a very few dealers. Lucky for me, for I purchased this charming piece for a fraction of what it would sell for in Okayama, the home of Bizen ware.
I don't know where the tall tokkuri is from but I believe it to be from the late Edo Period -- it will certainly lead me to discover something new.
The markets at temples and shrines almost always begin at sunrise and the veteran hunters are there at the crack of dawn. For the novice it isn't necessary to get up so early, though; as a matter of fact, later in the day is probably better. In the morning the dealers are confident, but as the day progresses and they're faced with the prospect of lugging that big jar or chest back home, a reduction in price is a better solution.
It's all right to haggle over the price. I usually give a counter offer of about a third of the asking price and take it from there. Some dealers ask ridiculous prices, thinking to take advantage of the unknowing gaijin. I once bought a small Kutani cup for 500 yen after I laughed at the initial 8,000 yen price.
Don't be too tightfisted, though, or you'll probably only collect pieces that really aren't that good. Sometimes you get a bargain (horidashimono), but other times the dealer is steadfast, and if you want it there's no choice but to pay up. Do. It's better to be satisfied than to look back a few weeks later wishing you'd bought that piece that you can't get out of your mind.
Below is a list of a few markets around Tokyo and other places. If you don't see one in your area, please check out the WHERE section of this site, or search this site using the above search box. Or e-mail me and I'll see if I can find one in your area -- markets are held all over Japan.
Heiwajima is a very large gathering of dealers, about 250, that takes place five times a year. To get there, take the airport monorail from JR Hamamatsucho Station and get off at Ryutsu Center.
Togo Jinja. The first and fourth Sunday of each month; just a five-minute walk from JR Harajuku Station
Arai-Yakushi. The first Sunday of each month, near Arai-Yakushi Station on the Seibu-Shinjuku Line
Nogi Jinja. The second Sunday of each month, near Nogizaka Station.
In Shizuoka, near Shizuoka Station. The second Sunday of each month at the small shrine across from Seibu department store near Shizuoka Station.
Toji Temple. In Kyoto, on the 21st of each month -- a big market.
The Japan Times: Feb. 26, 2000
(C) All rights reserved
.