Published by Yakimono.net July 2002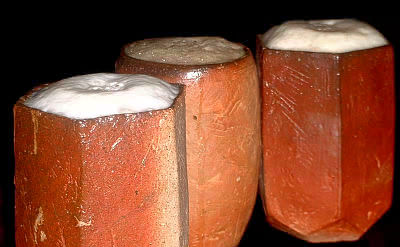 Bizen Beer Mugs by Hoshi Masayuki

It's about five o'clock on a hot summer day and my mind is thinking -- beer!

Now Japan has some of the best beer in the world, with most brands surely beating America's Miller or Budweiser, as those are about as "light as a feather" when it comes to taste, or lack of it. Now though with all this Happoshu here I wonder what is happening to the beer lovers of Japan! I would say boycott the stuff, as we don't want the brewers to make more happoshu and less of the good brews. Happoshu, by the way, is a beer-like low-malt low-cost alcoholic beverage. It contains less than 25 percent malt content, and because of a tax loophole, is taxed at less than half the amount imposed on regular beer. Japan's Liquor Tax Law defines beer as an alcholic beverage containing 66.7% malt content.

A few years ago, there was a ji-biru ("local" beer, or microbrew) boom and a few good smaller brewers were born. Yet, as with many fads that take Japan by storm, large companies get involved only for the quick buck and they pack up as soon as the interest and profit is gone. These companies just hopped on the ji-biru bandwagon, opened a restaurant, and were gone within a year. Here in Numazu, I can think of two ji-biru places that opened, had terrible beer, and closed their doors within a year's time. Later on in this article though I will introduce a handcrafted microbrewery in Numazu that makes some of the best beer in Japan, or for that matter, the world!

Cold glass mugs are the choice for most beer imbibers and it makes sense for the coolness of the touch, and the delight one gets in viewing the golden tones of most brews.



Yet, I remember seeing an article in the 1989 magazine Togei to Kyodo Ryori (Seijinsha) showing a hexagonal Bizen biru-joki with this frothy delightful head! Hey, this looks like a fine way to drink beer I thought and immediately investigated on how to get one, or two, of the very "cool" mugs. It turns out they were the work of Bizen's Hoshi Masayuki and he was kind enough to send me a few after I contacted him. They have Hoshi's fine tsuchi-aji (clay flavor) and a pleasing red tone that deepens in color when a chilled brew is poured within. The lip is surprisingly easy to drink from, sort of like a six-sided Ki-Seto hai.

Many folks told me that the head in a Bizen mug becomes softer and the bubbles tinier. Is this true I thought? Sounded like someone saying if I ate wakame my hair would turn blacker! Yet, the head in Hoshi's mug is different than a frosted beer glass and actually tastes better. The only problem I have with Hoshi's mugs, or any ceramic mugs, is that I cannot enjoy the splendid color that beer offers.

On the other hand, master brewer Bryan Baird pointed out that such an opaque mug (like Hoshi's) focuses ones attention on subtle flavors and not so much on the color. Oh, pardon me; Baird-san is the owner and brewer of The Fishmarket Taproom in Numazu -- that's where these photos were taken. I delighted in drinking Baird's outstanding brew -- he usually has six originals on tap -- in Hoshi's mug. I found the flavor profile of Baird's beer actually changed in a Hoshi mug when compared to a glass. Makes sense, for that's how it also works with nihonshu (sake).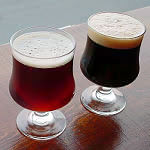 Photos by Bryan Harrell (above, below)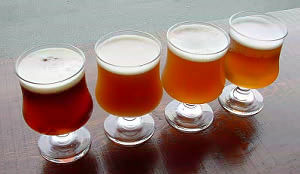 During the scorching days that await us, nothing like a fine beer can end a day's work. It becomes all the better from a clay mug, and almost heavenly when the beer is handcrafted with the finest ingredients, the utmost care and love, and dedication to one's craft; Hoshi and Baird -- a great way to end a summer day.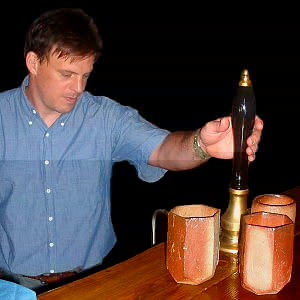 Above - Bryan Baird pouring his handcrafted beer
THE FISHMARKET TAPROOM IN NUMAZU
Tel/Fax: (055) 963-2628
BAIRD BEER WEB SITE
Open from 18:00 pm on weekdays
Open from 12:00 noon on Saturday and Sunday
Closed on Tuesday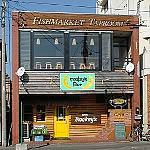 For more on the The Fishmarket Taproom in Numazu
and owner Bryan Baird, please visit:

Baird Beer Web Site (English & Japanese)
Map to Baird Beer & The Taproom
Article in The Japan Times (July 16, 2004)
Pub Review from Bento.com