Why Perfection Isn't Enough
Japan Ceramic Art Exhibition (Nihon Toji Kyokai)

By ROBERT YELLIN
for the Japan Times, June 11, 2003
Jump to Photo Tour of Exhibit (30 photos)

Hagi tsubo by Yoshiga Hatao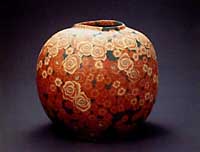 Neriage jar by Ito Sekisui V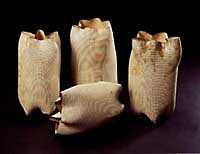 "Whispering Winds"
by Sakaguchi Kimiko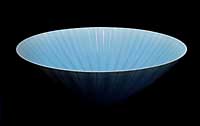 Grand Prix
Prizewinning Celadon Bowl
"Katsura-no-Miya"
by Ishibashi Yushi

Light, cool, sleek and refined describe the large celadon bowl that won one million yen and the Grand Prix "Katsura-no-Miya Prize" at the 17th Biennial Japan Ceramic Art (JCA) Exhibition. This juried exhibition showcases some of the finest works in this "pottery oasis" of Japan and offers a tasty smorgasbord for any yakimono enthusiast. The exhibition has finished showing in Tokyo but will make a short stop in Osaka at the Daimaru Museum, Shinsaibashi, June 12 to 17, 2003.

It seems that porcelain works -- celadon being porcelain -- are the flavor of the moment, as a set of octagonal hakuji (white porcelain) dishes by Ogiwara Takehisa took top prize in the jitsuyo toki (practical pottery) section of the three-part exhibition. The three sections were:
Jitsuyo toki (practical pottery)
Dento (traditional)
Jiyuzokei (free forms)
Coincidentally, a spiraling white porcelain jar also won a major award in a different exhibition recently, the Tanabe Museum's Modern Tea Forms Exhibition.

No serving vessels, except maybe glass ones, impart as cool a feeling in the midst of summer as those made of porcelain. Perhaps the exhibition judges wished to offer visitors a cool contrast to the sizzling summer heat they just stepped in from, as well as a chilled-out ambience in which to enjoy this selection of Japan's ceramic best.

The JCA award exhibition was started in 1971 to commemorate the 100th anniversary of the founding of the Mainichi Shimbun and grew to become one of Japan's most prestigious ceramic events. This year, more than 1,001 ceramic works were submitted for consideration, and only 200 pieces were chosen as worthy of inclusion by the panel of 18 distinguished judges.

In total, though, 227 works are on display. The additional 27 are from invited artists, including no less than five Living National Treasures. In this illustrious group, works that floored me included a black, conical object titled "Mudai" by Kyoto's Akiyama Yo (see photo at top left).

Akiyama is interested in how organic materials disintegrate in nature and finds inspiration in patterns such as those found on leaves, shells and roots, or in the texture and cracks of clay walls. He has a novel technique for creating the crumbly fissures and crevices characteristic of his work: He applies the naked flame of a burner to the outside of his pieces. His blackened ceramic sculptures are immensely powerful -- indeed, they're a landmark in Japan's ceramic history.

Also in this elite 27 is a breathtaking chiseled Raku chaire (tea caddy) by Raku Kichizaemon VX, a mottled Hagi jar, somewhat resembling the Matterhorn, by Yoshiga Hatao, and a floral neriage (marble ware) masterpiece of a jar by Sado Island's Ito Sekisui V.

Considered numerically, the dento section is the largest of the three categories, with 648 pieces, followed by the jitsuyo toki, with 184 serving vessels, and lastly the jiyuzokei, exhibiting 169 forms.

Though numerically the smallest, the jiyuzokei section nonetheless spans a wide range of shapes, from billowing pillows to twisted obi -- and even a realistic beer can. Darkness glows out of an oval piece called "Damaru (Silent)" by Kawakami Tomoko, while another avant-garde offering has a ceramic Earth hovering over a heap of twisted and crushed cans. I'm sure we can all pick up the message intended there.

The jitsuyo toki section is not as strong as it's been in past years. The variety has dwindled while the color schemes have become more uniform. We find either white or brown-tinged dishes that scream out to be used -- only then will their true beauty be revealed.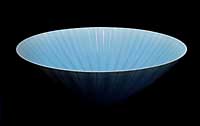 And so back to the award-winning celadon bowl (see photo at right). Made by Kyoto-based artist Ishibashi Yushi, it measures in at 20 cm in height and 58 cm in diameter -- and clearly it's not meant as a quaint table center. The vessel is immaculately thrown, and the viewer is mesmerized by the soft powder-blue glaze that has stripes of various lengths ringing the bowl. A piece like this is incredibly hard to fire, as all kinds of accidents can occur in the kiln: cracking, warping and running of glazes, to name just a few.

This is a well-crafted, calculated work, as are the majority of the pieces on display. Likewise, the represented ceramicists are highly skilled, sophisticated artists. Each jar, plate and chawan in the dento section is sheer perfection. This being so, there are few signs of the wabi-sabi aesthetic that regards such "flaws" as stone bursts, cracked lips and unevenness as part of the beauty of imperfection.

In fact, the majority of the works showing here speak more of technique than of spirit. They are impressive, but not inspiring, and do not hold one's attention. To be sure, I "ooohed" and "ahhhed" at many pieces in the JCA exhibition, but then I also do that at a fireworks display. Whatever the cause of the exclamations, whether a neatly turned bowl or a skyrocket, their endearing qualities fade all too quickly. Not much lingers.

What truly fascinates me about Japanese ceramics is what I find in Akiyama's "Mudai" -- an inner strength and intense subtlety that draws me in. It is impossible to tire of such a work, and only with time will its true nature be penetrated.

Such pieces are in the minority at this exhibition, but don't be deterred from going. Even with few works of genius, the JCA roundup still offers visitors the lively visuals of decorative ceramic artworks, and a myriad of colors and designs that will tingle your senses.


CLICK HERE FOR
30 MORE PHOTOS

The Japan Times: June 11, 2003
(C) All rights reserved
Story by Robert Yellin

LEARN MORE ABOUT JAPAN'S AWARD SCENE
For much more, please visit the PHOTO TOURS page. It includes links to other wonderful photo tours, including tours of Japan Ceramic Society events, Living National Treasures, Contemporary Artists, How the Japanese Rank Their Potters, plus other visual resources.