Published in Honoho Geijutsu # 64, Fall 2000

Abe Hitoshi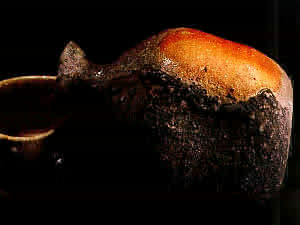 Photo Courtesy Honoho Geijutsu #64
Drove down to Abe's place today
the art of living
amongst clay walls
bamboo grove, scattered pots
I wrote those words in 1987 after I had been to Abe Hitoshi's house in Ohito on the Izu peninsula. I will never forget how I felt I that day - me, being only a few years out of California, had finally touched a piece of the Japan that I had come to see. Abe lives in a very serene setting, one that offers a bit of a timeless space not so far from the rapid tracks of the shinkansen (bullet train). In a 300-year-plus old thatched roof house, Abe invited me to sit round his hearth to enjoy a cup of whipped green tea and I felt like time was standing still in a very sacred space.

Maybe I'm being a bit of the romantic here, but that's okay and necessary. If we all become opportunist, pessimists, or whatever, the joy of a simple cup of macha will be buried under the need to make ends meet and that is something the human spirit can not afford.

I've been back to Abe's many times since that first visit in 1987 and I have picked up quite a few shuki items, even a few plucked straight out of a kiln opening. The tokkuri pictured below is one such piece that went from the kiln god's hands into mine. I was first attracted by its form; the cute dimpled sides begged to be held and I was fascinated by how the ash stopped in a straight line on the side next to the rich 'clay flavor.' After holding it in my hands once I felt I was holding the earth with its rotating cycle of day and night. As the other side of the Earth is now night (or day), so will our night be the other side's day; this tokkuri illustrates that point and is a little Earth in itself, born out of the cosmic 'Big Bang' of Abe's anagama.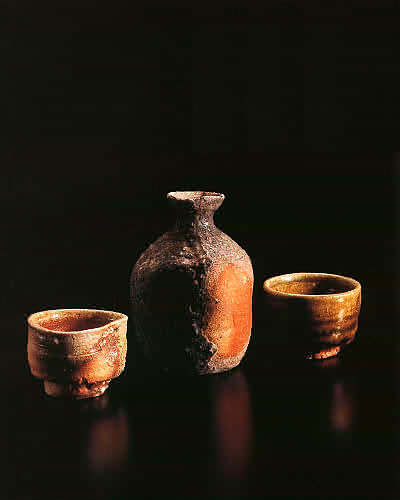 courtesy of Honoho Geijutsu #64


Abe fires mostly Shigaraki wares but also adds some glazed pieces in his kiln. The green glazed guinomi reminded me of photos of Ko-Agano pieces that I had seen and especially a 17th century guinomi that was fired in the legendary Kamanokuchi kiln. Again, like the tokkuri, it has its own atmosphere; light 'clouded' patches contrast with clear emerald 'skies.'

It's often a good idea to step outside one's own circle, whether it be a physical place or a spiritual realm, and look back from the outside to whence you came. Many new horizons can be seen and I bet that's how many Korean potters felt when they were firing the Kamanokuci kiln; all so new and unknown. Fresh, like the deep summer green freshness of this glazed guinomi.

Recently I've been collecting guinomi with little pinched oval shapes that fit in the curve of a hand, between the thumb and forefinger. Abe's Shigaraki guinomi is a perfect example of one, plus it has such an inviting 'sandy beach' mikomi and reds (hi-iro) that might resemble a sunset on some distant beach.

And back outside my circle I go again. Into the space in the bamboo grove around Abe's place, the quiet space around his irori, the infinite space of the universe, and the enclosed space of Abe's refined utensils that invite me to explore the limitless space of my mind.

Robert Yellin

Honoho Geijutsu #64, Fall 2000

For more on Abe Hitoshi, please click here.