The world is abuzz with things that fade too soon.
My portable MD player broke the other day.
Now it only plays out of one earphone.
I'm seriously contemplating buying an Ipod.
But then again, I think to myself: how long will that last?

The world that surrounds me is full of things that will be obsolete in a couple of years. I didn't even know what an MD was some years back, as we only had CDs. Now, we are cursed with more technology, more mass production, more plastic, and more Starbucks on every street corner.

We are under the illusion that Capitalism has brought us more choices, yet slowly and surely we begin to realize that those choices are simply variants of the same crummy card. When I was at Oxford, I was somewhat dismayed to find that the medieval town's center was decked with Burger King on one side of the street, Kentucky Fried Chicken and the infamous Golden Arches on the other.

There were even two Starbucks stores, only a minute within one another. I yelped for help, but everyone's senses were drowned in the fixated glee of a mocha frappuccino.

Speaking of Starbucks, I also graduated from NYU, in the East Village of New York.


Click any image
to view larger photo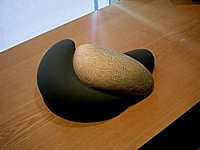 Above: Akagawa Mihoko



Above: Fujihira Shin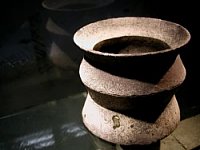 Above: Mihara Ken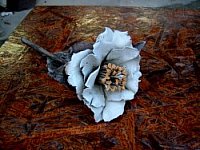 Above: Sugiura Yasuyoshi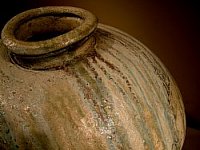 Above: Tsujimura Yui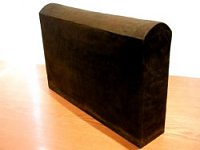 Above: Uchida Koichi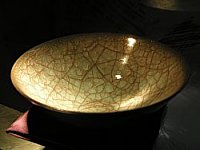 Above: Uraguchi Masayuki


Pieces by Uraguchi,
Mihara, Akagawa, & Uchida
are available for purchase
at Yufuku Gallery in Tokyo


The East Village used to be decent.

They had these old coffee shops on every other corner (not that I ever drank coffee, as I was always a tea person). But when I panged for a jive, I could have coffee at these places without a label smacked on the cups, and I could actually get to know the person serving me coffee, without some uniformed personnel teething you with a pasty smile dictated by some corporate manual.

Those shops have been surmounted by the henchmen from Seattle. They've been bought out, and sent astray. And yet again, another urban neighborhood falls prey to the faceless nature of globalism.

And then I ask: is anything of man's making perpetual?

Off the top of my head, I can give you two.

Ideas, one, and pottery, second.

Ideas go beyond the mortality of man.

Plato's Republic sent shockwaves to this wide-eyed kid from Japan, thousands of years after Athens' fall.

Ideas remain, as long as there are things that let them live. As long as there is something or someone there to remind us, we will: unless some evil empire takes away the right for us to unlock the wisdom of peoples long passed. Lest we become dull, uncurious sheep. Or both.

Pottery, as well, is perpetual.

Of course, there are monuments of architecture, Chinese bronzewares and other mystic relics from ancient civilizations, which have remained virtually intact throughout the ages.

Yet these other functional art forms find it harder to stand the tests of physical and practical perpetuity.

Without renovating it with electricity, gas and running water, living in a wooden abode from the 16th century can be difficult. We can try, of course. Likewise, it is impractical to actually make use of a sword from the Momoyama Period in Heisei Japan. Not only is the use of a Japanese sword a criminal offence in the 21st century, the times themselves have changed. We Japanese find ourselves in a relatively peaceful era, a time where weapons have been abandoned for the cell phone and a business card. In other words, don't just go out and kill the guy, talk to him.

But a Sueki cup from the Kamakura Period can still quench out thirsts, just like it did in the days of old. An Oribe plate from the Momoyama, I can still eat from. The difference with pottery, then, is that pottery helps facilitate the most basic life elements of man, such as dining and drinking. Pottery came about to make our lives easier. It needs no updates, like the aforementioned house. And such fundamental needs and wants of mankind will not change. We can dream under the stars without a roof over our heads. But when we have no food or water, we're on the brink. And besides, clay is earth. And earth will forever be beneath our feet. Or so we hope.

Giant Shigaraki jars filled with tealeaves, nuts, and berries.
Echizan jugs filled with cool water taken from a nearby stream.
A Bizen bowl used to grind seeds and vegetables.

From mere necessity, such wares blossomed into something beautiful. We decorated sake jars because sake was a gift from the heavens. Sake cups were also sacred Shinto tools. And with the evolution of Japanese cuisine, we Japanese understood that beautiful food looked even better on beautiful pottery. And hence, we heightened our awareness to the aesthetics of it all.

This article is the first in a weekly column that I've received the extreme privilege and honor of writing, from none other than my dear Sensei and friend, Robert Lee Yellin. I dedicate this column to him, his teachings, and his pursuit of happiness within the sublime beauty of a clay cup. It will be a column that contains my ramblings and musings on the state of Japanese ceramics today. I will not partition the traditional/functional forms of pottery from the contemporary/sculptural. Most of the information (and opinions) I will be writing about, you might not find anywhere else, at least in English. I wish to be as candid as possible, without falling too deeply within the quagmire of merely vindicating personal tastes or preferences (although I will be unafraid to put my two yen down when blunt honesty is duly desired). In other words, this column is for sincere fans of Japanese pottery, those who wish to know more about the present and past state of what is considered contemporary Japanese pottery, and for those who do not have the means of assembling such information in their native tongue. For you, I write.

Aoyama Wahei


(Like we do in Japan, this article will feature the family name before the given one in regards to people. Japanese words will be written in English phonetically and in Italics, yet I will try my best to insert a simple English translation next to such words.)

Up Next Week: just a bit on Takiguchi Kazuo or Akiyama Yo, maybe even Fujihira Shin, as I'm swooning for Kyoto at the moment.

If this column receives any inkling of popularity, I hope to make a message board, so that we can all share opinions amongst one another. 'Till then, please cope with emailing me directly.

Please email me with your opinions.