Click here for
index to all
Yellin stories for
The Japan Times





Learn more about
porcelain styles
1,200 YEARS OF JAPANESE POTTERY
At the Suntory Museum of Art
From Nara Sansai to Imari, Nabeshima, Ninsei and Kenzan
In TOKYO until February 3, 2002
Open 10 am to 5 pm (entry until 4 pm)
Across from Akasaka-Mitsuke Station on 11th floor of Suntory Bldg
Closed Monday (except Dec. 24 and Jan. 14) and during yearend holidays (Dec. 25 to Jan. 4) and Jan.15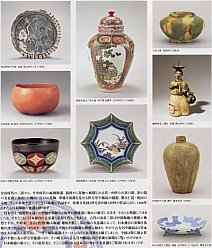 A Note From Robert:
I was given permission to take some photos inside the gallery. Click here to jump immediately to the photos, or continue to learn more by reading the below article, which I recently wrote for the Japan Times.


Adjacent image from
Suntory Museum
Exhibition Catalog.
---
1,200 YEARS OF POTTERY
Diverse splendor in many a jar
Story by Robert Yellin
Article Appeared Originally in:
The Japan Times, December 12, 2001
The depth and variety of Japanese pottery has enraptured the senses for many a season. As the seasons change and the baton of life is passed on, the beauty of older Japanese pottery remains unwithered, even in this winter season and amid all the changes that have occurred within and without. In a sense, the various styles of Japanese pottery are a celebration of the diversity of humanity, showing the beauty that can exist in daily life.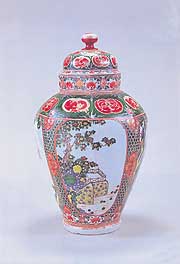 Covered octagonal jar, an important cultural property
(c. 1690-1710)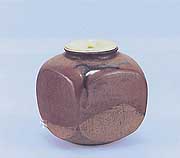 Square tea caddy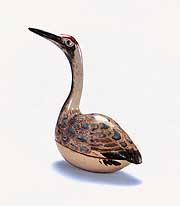 Incense container

Above work by
Nonomura Ninsei
(17th century)

PHOTOS COURTESY
SUNTORY
MUSEUM OF ART


These are the thoughts that passed through my mind as I walked through the current exhibition at the Suntory Museum in Tokyo. Titled "1,200 Years of Japanese Pottery -- From Nara Sansai to Imari, Nabeshima, Ninsei and Kenzan," it offers a glimpse into an aesthetic world created long ago but one that still has relevance today.

Walking into the well-laid-out space, the first object you encounter is a massive Imari octagonal jar with flowers and birds that dates from between 1690 and 1710. It has been designated as an important cultural property -- and rightly so. It was made for export, yet, unlike so many gaudy export designs (like the Imari coffeepot and rooster incense burner in the exhibition), this one has grace and finesse. The birds sit perched on a plum tree set out against a milky-white background. Around the shoulders, a fabulous dragon has been painted, standing out from the reds and greens that surround it. The style is called iro-e (overglaze enamel), a decoration that uses the go sai (five color) scheme of red, yellow, green, purple and dark blue. We can see this bright color scheme on many of the porcelain items on display. The technique draws heavily on Chinese Ming Dynasty porcelains and is credited with being made in Japan by the first Sakaida Kakiemon around 1644.

Yet the exhibition takes a darker turn. A small eighth-century san sai (three-colored) jar sits in royal silence. It's called Nara Sansai and again draws from China and its T'ang sansai wares. It is an example of one of the oldest glazed wares in Japan and was used in temple ceremonies to hold special medicine. Unfortunately, the small jar is the only example in the exhibition, even though the Nara Sansai name stands out in the exhibition's title.

Large medieval stoneware jars are next. Their robust forms and natural-ash glazes still captivate the senses. Particularly enthralling is a jumbo Shigaraki tsubo that is the epitome of this type of farmers' ware, brought in from the barn to the tea world. One section faced the fiery kiln flames and was blessed with a large deposit of ash that melted and dripped down the front in deep olive tones. This is a masterpiece -- as are all the jars on display, including a 13th-century Echizen sutra jar, a 14th-century Seto jar incised with a peony, a 15th-century Bizen jar with a wavy pattern around the shoulders and a 16th-century Tokoname jar that has a plum flower carved into the upper half. All of these incised pieces are extremely rare and almost never come on the market.

Around the corner, and we enter the tea world. An open-faced Seto chawan from the 15th-16th century reminds us of the Zen monks who went to China centuries before. The legendary Toshiro, also known as Kato Shirozaemon Kagemasa, went to China with the Zen monk Dogen around 1223. Upon his return in 1228, he established the first Seto kiln and began to make glazed wares in a Chinese style, imitating Chinese celadon.

Tea bowls in the exhibition are few in number, but those they have are special. There's a late 16th-century Black Seto winter bowl; Dounyu, the third-generation Raku potter, is represented by a fine, black chawan showing a white mountain, called yamazato (mountain village); and a rare Hon'ami Kouetsu red Raku chawan named jukushi (ripe persimmon).

One of the finest tea caddies I've ever seen is in the next case. It's a square, dark-chocolate glazed chaire by one of Kyoto's greatest potters, Nonomura Ninsei. It dates from the 17th century and sits next to another "brownie" (as they were called by 19th-century collector Edward Sylvester Morse) from the Takatori kilns in Kyushu. Food vessels for kaiseki (elaborate, many-coursed meals) follow, and you'll see the finest examples of Shino, Oribe and Karatsu wares.

The lovely Kakiemon wares are next, nabeshima representing the most graceful of all Japanese porcelains, and the exhibition finishes off with fine examples of Edo Period Kyoto wares from the hands of Nonomura Ninsei and Ogata Korin as well as some charming Ko-Kiyomizu wares. All in all, it's a splendid way to see the development of Japanese pottery -- and one that will leave you wanting to discover more.

Another celebration is that of the beiju (88th birthday) exhibition of Bizen's living legend, Rokuro Nakamura, in Shibuya at Kuroda Toen from Dec. 14-19. Nakamura studied with the first Bizen living national treasure, Toyo Kaneshige, and is an expert in bringing out the tsuchi-aji (clay flavor) of Bizen's rice-paddy clay. He excels in shuki (sake vessels), as does his son Makoto, who is also exhibiting. Kuroda Toen is located on Meiji-dori on the first floor of the Metro Plaza. Call (03) 499-3225 for more details.

For those who still want more, shino expert Kazu Yamada is showing at Nihonbashi Mitsukoshi until Dec. 17, followed by Bizen's Masamune Satoru from Dec. 18-24.

Finally, a gift idea for those of you still undecided what to give your loved ones. "The Book of Tea," written by Okakura Kakuzo (Tenshin) around 1906, is a masterpiece of Japanese aesthetics; it enriches the lives of all who read it and is widely available in bookstores.

Happy holidays to all readers!

The Japan Times: Dec. 12, 2001
(C) All rights reserved
---
Photo Tour
Click thumbnail to see larger image.

Entrance

Heihei

Seto

Kenzan Box

Ko-kutani-zara

Koetsu-aka-raku

Nanban Plate

Ninsei Pieces

Tetsu Seto

Mino

Nabeshima

Imari View

all photos by
Robert Yellin

Suntory Sign

Window View