Summer sees ceramic talents in full bloom

By ROBERT YELLIN
for the Japan Times, July 10, 2002
Crunchy powerhouses of protein and vitamin E, sunflower seeds are much consumed in the West though their health benefits have never really been appreciated here in Japan. When it comes to pottery, we sometimes see himawari (sunflowers) painted on porcelains, but I've never come across a ceramic one complete with pop-out seeds -- until I saw a recent piece by Yasuyoshi Sugiura. The seeds on Sugiura's sunflower looked so real I almost tossed a few into my mouth!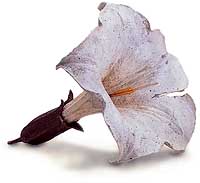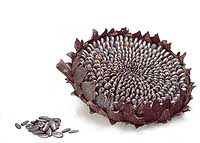 Yasuyoshi Sugiura's ceramic Angel's Trumpet (top) is deceptively realistic; his himawari (above) has platinum-painted seeds that look good enough to eat.

PHOTOS COURTESY OF NIHONBASHI MITSUKOSHI

Now the sun is approaching its strongest and its life-giving rays tug at the stalks of sunflowers. Real himawari will be lifting their heads skyward in a matter of weeks. For those of you who can't wait, however, and would like to see Sugiura's sunflower -- and a whole array of clay blooms -- head over to Nihonbashi Mitsukoshi's sixth-floor gallery for his "Tou no Hakubutsu Shi (Ceramic Natural History Exhibition)," showing until July 15, 2002.

Inside Sugiura's himawari are 410 ceramic seeds, painted for the most part in platinum and silver before being fired. They were fired separately from the flower, then placed into its clay encasement, the leaves of which are already wilting. He's playfully left a few seeds in a pile near the himawari, as if to tempt viewers to do a taste test.

Sugiura is a ceramic artist of great sensitivity and also of strength. His works can be delicate, as with his ceramic garden, or strong, like his tall stone-like installations that often sit in real gardens. One display he did a few years back at the Ibaraki Prefecture Ceramic Art Museum was titled "Ceramic Forest" and consisted of spiraling ceramic ropes sandwiched between ceramic slabs and piled up for a few meters to form the forest. At his last Mitsukoshi exhibition, two years ago, he focused on seashells and other marine life. This year it's flowers and seeds.

Lilies, camellias, artichokes, nankinmame (peanuts) and lotus seeds, plus many more, blossom or lie scattered around the often staid department gallery. I particularly like the "Angel's Trumpet," a few of its wide-open white petals propping the piece up, its stamen and anther looking realistic -- as do all the flowers on view in a stroll through Sugiura's lovely clay garden.

For more on Sugiura, click here.
---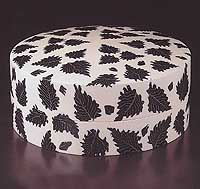 A tobako (above)
and tsubo (bottom)
by Koyo Matsui

The complex art of
neriage (marbled) ware.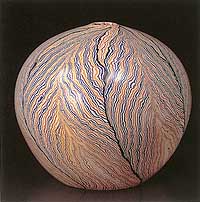 PHOTOS COURTESY OF NIHONBASHI MITSUKOSHI


Matsui Koyo
In another gallery on the same floor, new life is being breathed into an ancient Chinese ceramic style by a second-generation potter -- in this case the son of a living national treasure. It's not always easy being the first son of a famous potter. I've heard of the pressures these guys experience, especially if they follow in the potting footsteps of their fathers. One Bizen potter, the second-born son of the famous Kaneshige family, said of his first-born older sibling, "The pressure on my brother is tremendous, yet I can basically do as I please."

So how can a first-born overcome such a burden?

By transcending it, letting it go and finding influence in one's home, not bondage. It helps if your home also happens to be a temple, for the daily reminders of the "no-mind" as they say in Zen, are all around. That's how it must be for ceramic artist Matsui Koyoi. His father is the world-famous living national treasure Matsui Kosei, who was awarded his title for his colorful neriage (marbled) wares based on a technique from eighth-century Tang China.

Koyo has outdone even his father these days, leaving behind his father's often gaudy and overly kaleidoscopic style and bringing a more refined aura to the neriage realm.

I hate to say it, but many of his father's works these days are overly ostentatious. Koyo's work, though, is usually less showy and more dignified in nature. A tobako (ceramic box) in the exhibition is subdued with black leaves falling silently over the white body. A large tsubo (jar) has the same motif, with the leaves grouped in threes.

Matsui was born in 1962 and started learning pottery from his father at Gesshu-ji Temple in 1985. Neriage is a painstaking, labor-intensive style, and works take a long time to complete. A potter places layers of different-colored clays together to form sandwich-like layers. He then carefully carves and slices the stack into the designs and shapes he has mapped out. Since the process is so time-consuming, very few potters take it on; it might be a style suited only to a Buddhist monk's nature. Matusi's exhibition, as with Sugiura's, ends on July 15.

Nihonbashi Mitsukoshi, 1-4-1 Nihonbashi Muromachi, next to Mitsukoshi-mae Station on the Ginza and Hanzomon subway lines, (03) 3241-3311.

The Japan Times: July 10, 2002
(C) All rights reserved

LEARN MORE

.