The Pure and Silent Voices of Shino

By ROBERT YELLIN
for The Japan Times (June 10, 2000)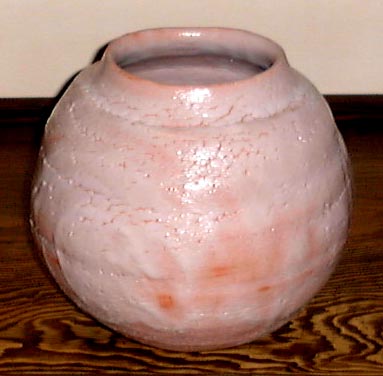 Shino Tsubo by Kato Kozo
Shino pottery, so pure and calm, has since its birth in the late 16th century tugged at the heartstrings of the Japanese. A Shino chawan (tea bowl) figured prominently in Yasunari Kawabata's masterpiece novel, "A Thousand Cranes." There is a divine presence in the best of Shino wares. When one gazes down into a Shino chawan filled with emerald matcha (green tea), it is an uplifting experience.
The name Shino is thought to have been taken from Shino Sohshin (1444-1523), a master in the art of incense. Another theory is that the name comes from a tea caddy in Shino's possession that was called "Bamboo Grass," which is also pronounced "shino."
There are other theories as well and no one seems to know for sure.
Shino lovers have a chance to see two contemporary Shino masters this week, Sakai Kobu in Osaka and Kato Kozo in Tokyo. Sakai is from Toki City while Kato is from neighboring Tajimi, two locales in Gifu Prefecture that share the honor of being the birthplaces of Shino pottery.
Sakai Kobu
Sakai is relatively unknown even though he's been potting for close to 40 years. Maybe his obscurity comes from the fact that he had no illustrious teacher above him introducing him to all the "right" contacts. On the contrary, Sakai is self-taught, and this accounts for much of his originality; no sensei to emulate.

He digs all his own clay, mixes all his own glazes and fires all alone in the hills of Toki City. Near his workshop are the ruins of old Momoyama Period kilns. The winds and silent voices of potters long gone coming from those forgotten, weed-infested kilns have been his best teachers. What impresses me the most about Sakai are his footrings (kodai). Sounds strange, I bet. Yet the carved foot of a chawan is where the skill of the potter is most often seen. Those of you who have been to an o-cha-kai (tea ceremony) might have noticed that quite a bit of scrutiny is given to the kodai. There are a dozen or so terms to describe the different kodai styles.
Sakai's footrings are totally original, full of strength and spontaneity. They have the look of a stern yet friendly Daruma.
The way he glazes his pieces is unique. Instead of underglaze iron paintings, we see two or three different glazes combined together to form pictures of branches, or a brownish Tenmoku glaze with white flashes giving off the aura of an aurora borealis. Quite fascinating. Why should he just copy masterpieces of the past, Sakai asks? He lives now and wants to write a new page in the annals of the magical history of Shino pottery.
Sakai may be ahead of his time, but the story he is writing will surely captivate audiences in times to come.
Kobu Sakai until June 13, 2000, in Osaka, at Daimaru Umeda department store's 11th-floor art gallery. About 70 pieces will be on display for sale.
Kato Kozo (Click here for more on this artist, including photos)
Now turning to Kozo Kato we find the antithesis of Sakai. Kato trained under the legendary potter Arakawa Toyozo (1895-1985) and follows in the same vein as his mentor. Kato makes classical Shino, plain and simple -- no great innovations or improvements.
Don't get me wrong. His work is stunning, and highly reputed. A Kato pot was presented to the Emperor on his succession in 1990, and Kato was named a Gifu Prefectural Intangible Cultural Property in 1995 for his Shino and Black Seto (Setoguro) wares.
Still, one has to wonder how much of that is on merit alone and how much because of his pedigree.
Either way he does make some lovely Shino chawan that have wonderful organic shapes and splendid fire-color (hi-iro) around portions of the body. The Setoguro chawan are more taut and stiff-shouldered, with a low-cut kodai. Also take notice of his mysterious Ki-Seto.
Looking through the exhibition catalog I found some very rare Setoguro mizusashi and hanaire, rare due to the fact that most potters past and present don't represent these shapes in those color schemes. Now I know why. Although Kato's intentions are good, the work falls flat and would have been better left in the shard pile.
Don't let that deter you from seeing a few modern classical Shino chawan. Let your eyes capture the purity that lives within them.
Kozo Kato June 13-19 (2000) in Tokyo, at Nihonbashi Mitsukoshi department store's sixth-floor gallery.
The Japan Times: June 10, 2000
(C) All rights reserved
.