IMARI'S HERITAGE
An art collector's dream on display

By ROBERT YELLIN
for The Japan Times, Feb. 13, 2002
"In the mid-1950s, I saw an irresistible inflow of Western culture, mostly American, into war-devastated Japan. I witnessed a fading of our culture, which had been passed to us from generation to generation. As I watched the change, I felt a sense of fear that our next generation might not know what their ancestors had created and achieved. This was why I started collecting antique wares that represented their wisdom. I dreamed of a place to display them in public."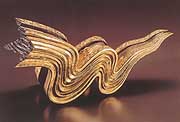 Ryuko No. 6 (2002)
by Ryosaku Miwa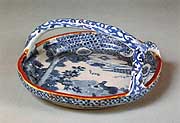 Bowl with bridge handle
(mid-17th century)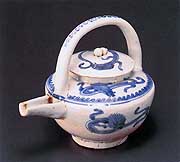 Wine pitcher
(17th century)

PHOTOS COURTESY
RYOSAKU MIWA/TOGURI
MUSEUM OF ART


These are the words of Toru Toguri, who realized his dream by establishing the Toguri Museum of Art in Shibuya in 1987. The museum houses one of the finest Japanese porcelain collections in the world, with more than 7,000 pieces of perfection in clay, making it a must-see for any pottery enthusiast.
Toguri must be downhearted, though, at the continuing loss of Japanese culture since his lofty goals first took flight. Japan once boasted a refined aestheticism that found meaning in simple pleasures and gave insights into a holistic view of man's relation with nature. Now, sadly, Japan has become a throwaway, wasteful society that has lost the ability to see profound realities in the everyday.
The current Toguri exhibition, "Old Imari Ware, Graceful Banquet," takes us back before all that. Imari is the name of the port from where much ceramic ware was shipped. The pottery was made, however, in nearby Arita, where the first Japanese porcelain was created around 1610.
Early Imari porcelains are characterized by simple, underglaze blue designs (sometsuke) that draw on Chinese motifs; these are called Shoki Imari and were made from the early 17th century. There is an elegant charm in these early wares, which often show rabbits or landscapes on the milky-white porcelain. Shoki Imari pieces are avidly collected even today, with the cylindrical, wide-lipped soba-choko being the favored shape, and still easily found at antique shops.
In the middle of the 17th century, Imari wares took a colorful turn. Enameled wares found popularity among tea masters, who took a fancy to the overglaze enameled style (iro-e) called Ko-Kutani.
The next change came in the late 17th century, with the refined Kakiemon style and the kinran-de (red-and-gold overglaze) Old Imari style. A further porcelain style, known as Nabeshima, was for the exclusive use of the Nabeshima clan, and such pieces were also given by clan members as gifts.
All of these styles can be easily identified among the exhibits, and the museum has thoughfully labeled all works in English.
Much of the porcelain on display originally came in sets, usually of 21 pieces (the last being a spare). For reasons of space, or the dispersal of the original set, works are here displayed only singly or in groups of five.
Notice the originality of the artisans as you move through the exhibition. There are small dishes in the shape of butterflies, rabbits or even myoga (Japanese ginger); others bear designs of quails under millets or brawny, effortlessly leaping tigers. The latter are wonderful to see on display -- though I'm not so sure I'd enjoy eating off a plate with a tiger staring me down.
Porcelain didn't reach the commoner's table until the early 18th century, when the introduction of mass production brought costs down. Even so, better items were expensive. Exhibited is one covered bowl from a set of 20, alongside the original box recording the set's cost in 1804: 140 monme. In those days, that would have bought 210 kg of rice, 850 liters of sake, 70 pieces of yokan bean jelly or 14 meals in a restaurant. At today's prices, we're looking at about 140,000 yen. Even so, porcelain had become much cheaper than it was at the beginning of the Edo Period.
It wasn't only the Japanese who took a fancy to porcelain, but Europeans as well, beginning in the 1650s when the Dutch East India Co. shipped samples of Arita porcelain to Holland.
This triggered a porcelain craze in Europe, and orders flooded in. Demand was so great that it took two years just to fill one particularly huge order of 64,858 pieces.
Ostentatious collections of Japanese porcelain became fashionable in Europe. Both Burghley House and Hampton Court in England boasted wall-to-wall displays. A 1688 record at Burghley House itemizes "2 Doggs, 2 Lyons, 2 Staggs, 2 Blue and White Birds, 1 Heathen God with many arms, and 2 figures with Juggs at their backs" -- and these were merely those found "Over Ye Chimney in My Lord's Dressing Room." All the works listed were Imari porcelains.
What most foreigners associate with the Japanese ceramic world are those export wares, but the wares that appealed to the Japanese -- and are collected at the Toguri -- were not so gay in design and shape. The pieces exhibited here never made it onto a Queen's mantlepiece, but may have been used on a daimyo's table -- and later on those of common folk throughout Japan.
"Old Imari Ware, Graceful Banquet" runs till March 27, 2002, at the Toguri Museum, a 10-minute walk from JR Shibuya Station, behind the Tokyu department store at 1-11-3 Shoto. (A detailed map can be found by visiting the museum's site and clicking the "Information" button.) Admission is 1,030 yen. Closed on Monday.
The Japan Times: Feb. 13, 2002
(C) All rights reserved

For more on Japanese porcelain, please see our Guidebook.