NINSEI AT THE NEZU
Hold your breath and turn the wheel

By ROBERT YELLIN
for the Japan Times, March 10, 2004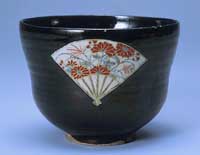 Ninsei Nonomura's tea bowls reveal a range of influences, including elements from Korea and Kyushu, but also show the master's many innovations.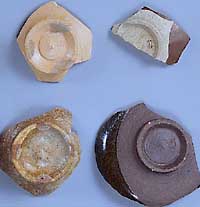 Ninsei's skills are most clearly revealed in the kodai (feet) of the bowls.

Photos courtesy of
Nezu Institute of Fine Arts

"Ninsei's Chawan and Masterpiece Chawan" runs until April 11, 2004. Admission 1,000 yen, closed Mondays. The Nezu is a short walk from Exit A5 of Omotesando subway station in Tokyo. For more, please visit:

www.nezu-muse.or.jp

Kyoto. The name conjures up images of courtly nobles and stoic Zen temples -- and yet so much more of Japan's cultural identity was born in that ancient city. In the world of ceramics, one of its glorious contributions has been Kyo-yaki, or Kyoto pottery.

Ninsei Nonomura is the father of Kyo-yaki. Ninsei was active in the mid-17th century but he still has a major influence on the way Kyo-yaki is made today. He is best-known for his expressive tea-storage jars and dainty kogo (incense containers). However, he also made some brilliant chawan (tea bowls).

Any visitor to Kyoto has, I'm sure, seen bowls with designs like those Ninsei created. What most folks have not seen are the originals, as they are kept in various museums and private collections throughout Japan and are rarely displayed.

This is what makes the current exhibition at the Nezu Institute of Fine Arts so exceptional. In "Ninsei's Chawan and Masterpiece Chawan" the viewer is treated not only to an incredible 39 Ninsei chawan, but also to other masterpieces of Chinese, Korean and Japanese chawan from the Nezu collection -- a total of 73 chawan that are all simply to die for.

This is the first time that so many Ninsei chawan have been displayed together. To achieve this, the Nezu has drawn on museums and private collections nationwide. Items on show include no fewer than six designated important cultural properties, including two by Ninsei, and the same number of designated important art objects (one by Ninsei).

Nonomura Ninsei (birth/death dates unknown) was born in Tamba, one of Japan's early pottery centers. The name Ninsei is derived from an element of his birth name, Seiemon, and the "ni" of Ninna-ji, where his kiln was located (now a World Cultural Heritage Site).

Not much is known about the potter until he moved to Kyoto, sometime around 1647. However, we do know that prior to the move he studied in Seto, perfecting his technique with glazes and tea-caddy forms.

In Kyoto he established the Omuro Kiln and maintained close ties with Kawamori Sowa (1585-1656), a renowned tea master of that age, and one who believed that Ninsei's ceramics embodied the concept of kirei-sabi (refined beauty; click here for a few more details on kirei-sabi). Ninsei made his ceramics -- and collectors acquired them -- under the watchful eye of Kanamori.

The Nezu exhibition explores Ninsei in a way never done before, showing works that influenced him. Among them, I was certainly surprised to see the influence on Ninsei of Korean chawan of the Choson Period (known in Japan as the Yi Dynasty, 1392-1910).



Teabowl with pampas grass
design in overglaze enamels.
Photo courtesy Kitamura Museum

Teabowl with lozenge design
in overglaze enamels.
Photo courtesy MOA Museum of Art

When a tea aficionado thinks of a Korean chawan, the bowl he or she might visualize is often the antithesis of Ninsei's colorful overglaze enamel ware chadogu (tea utensils). Korean chawan are subdued, buff-toned and somber. Yet sitting side by side in one case are a goki Korean chawan (shaped like a covered lacquer rice bowl and with a highly cut foot) and a Ninsei near-copy, called an utsushi. The striking resemblance offers viewers a whole new way to think of Ninsei.

Also on display is a chawan with a glaze called namako (sea cucumber) that resembles Kyushu wares such as Takatori or Karatsu. This is the only example of a Kyushu influence in the exhibition. There is, though, more borrowing in evidence on some of the notched-foot chawan -- again, a Korean influence. Ninsei, like all artists, borrowed from and adapted existing styles, creating from them a new harmony, his own "clay score."

Of course, there are breathtaking examples of Ninsei's innovative genius. He was the first potter ever to use a stoneware body painted with overglaze enamel designs. Until then, overglaze enamels were only ever applied to a porcelain body, as on Arita or Kutani ware. Ninsei, who was always experimenting, loved to prove wrong the "experts" who said something couldn't be done!

A case in point is the four chawan that first greet you as you enter the exhibition hall. All are supreme examples of Ninsei's originality, in this case of the way he focused on traditional themes such as waves or foliage, and then applied splashing glazes, often turning the chawan over to so do using a counter-drip cross flow. These works are defining moments in Japanese culture.



Teabowl with floral scroll design in overglaze enamels.
Photo courtesy Nezu institute of Fine Arts

Teabowl with full moon and autumn grassdesign in overglaze enamels.
Photo courtesy Nezu Institute of Fine Arts

Ninsei also took ideas from Muromachi ink scrolls, painting motifs onto pottery in an iron-underglaze brushwork called sabi-e. At times, as on a chawan depicting Mount Fuji, he painted a thin white slip to create the mountain and then used sabi-e to form the outline. Some chawan with black glazes have a lacquer feel, with fan- or heart-shape white clay "frames" (roundels on the chawan that act as a canvas for the enamel designs). It still baffles the experts as to how he created these masterpieces.

Another first in the pottery world was Ninsei's use of a stamp to designate his work. Within the foot of all his works is his Ninsei stamp.

Another aspect worth mentioning is the pure whiteness of the clay Ninsei used and his pristine and skillfully carved kodai (foot). As I've written before, on glazed works the beauty of the clay, something the Japanese highly value, is seen only on the unglazed kodai. Also evidenced there is the skill of the potter -- the kodai is his signature, of sorts. Ninsei was trenchant in the way he wielded the kodai-carving tool.

So brilliant was Ninsei that not even his own son came close to matching his skill.

One episode that would have made Ninsei turn over in his grave concerns his son and namesake. Ninsei's works were ordered by various lords throughout Japan, one such being Maeda Sadachika, lord of Kaga Province in present day Ishikawa Prefecture. Upon receipt of 13 incense burners made by Ninsei II, the lord described them as "extremely coarse" and sent them back. Oh, the shame.

One hanging scroll is also on display. It was calligraphed in 1656 by the monk Kosetsu Soryu (1595-1666) and alludes to Ninsei's acceptance as a lay priest and also to his "heavenly" skills. The metaphor speaks of heaven and earth in a jar, of holding one's breath and "turning the wheel," of finding "sky-emptiness" in an instant. That instant remains within Ninsei's work and can be felt by all of us. It's the instant of recognition that beauty is here right now. There's no better way to discover it than by turning your own "wheel" -- or, perhaps, by viewing Ninsei's exquisite chawan.

"Ninsei's Chawan and Masterpiece Chawan" runs til April 11. Admission 1,000 yen, closed Mondays. The Nezu is a short walk from Exit A5 of Omotesando subway station. A map and other information can be found at:

www.nezu-muse.or.jp

Special lectures on Ninsei (in Japanese) will be held March 20 and April 3 at 1:30 p.m. A gallery talk in English will be held March 27 from 11 a.m.; please contact the museum for further information.

LEARN MORE