Exhibition Review
Miwa Kazuhiko at Takashimaya
Tokyo, February 2001
The Miwa family is one of Hagi's most renowned potting clans with the current master Kyuusetsu being the eleventh generation. The Miwa's are known for their splendid and powerful Hagi chawan (tea bowls) that have become synonymous with the beauty of the Way of Tea.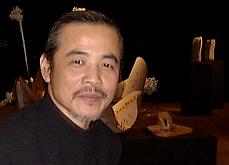 Yet not all Miwa's are content to make only chawan. The third son of Kyuusetsu, Miwa Kazuhiko (1951-) had his ceramic path take a certain twist when he was only thirteen. On a trip to see the 1964 Tokyo Olympics he also took in an international ceramics exhibit that included twenty-seven American ceramists. He was awestruck, especially by Peter Voulkos's power. This encounter made him turn his vision toward the US where he eventually ended up studying at the San Francisco Art Institute from 1975-1981. He was following many other original and now successful Japanese potters in finding liberation in the US. These include his older brother Ryosaku, Nakamura Kinpei, Yanagihara Mutsuo, and Morino Taimei. When one is born into a certain circle, the only way to truly see that encompassing space is to step out of it and that's what all these gentlemen did.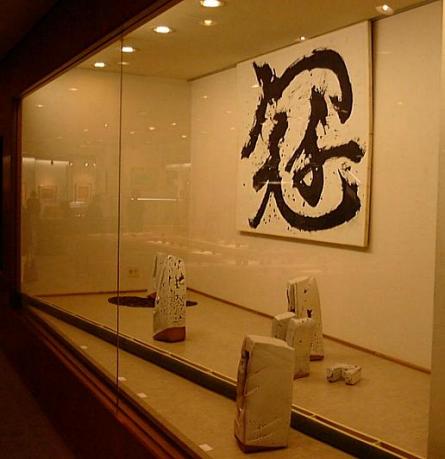 Miwa's recent Tokyo exhibition was a cooperative affair with the avant-garde Ikebana artist Nakagawa Yukio. Walking into the Takashimaya gallery I was quite surprised that the two had transformed the otherwise static space into an installation setting with the walls of the room shrouded in black. On the floor were low tables on which most of the flower vessels were set, some in groups while a few were set up slightly higher alone on pedestals. What was strange to see though was the lack of flowers.

Instead, Nakagawa had set sheets of white paper in the sliced openings and then scattered red berries within the paper receptacles and around the table (see below two photos). Indeed, it was different and quite shocking in that the two had used a different medium -- paper -- to compliment the Hagi pieces instead of a red rose.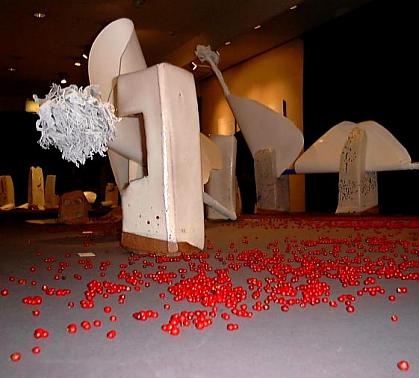 Other pieces were set on top of Nakagawa's calligraphy and the crisscrossing of black lines under Miwa's work was like having the eye following a meandering river in the distance.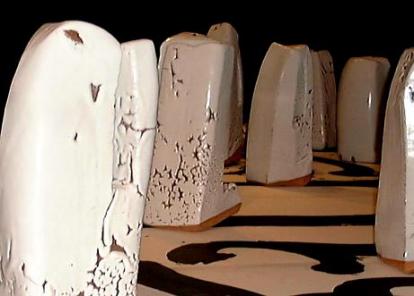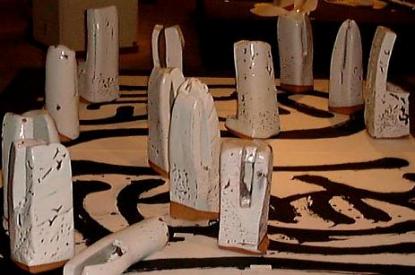 One linked together like a stick pony that was a popular toy in the US many years ago.


One linked group actually did look a horse. Hmm...Nakagawa was certainly having fun.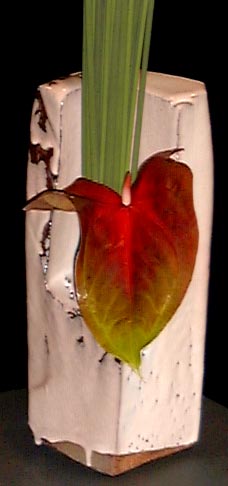 There were a few pieces that had more traditional arrangements and these were done by a young lady Ikebana teacher; they stood out amongst Nakagawa's challenging arrangements. Many of Miwa's pieces had a similar look and of course used the famous Miwa white Hagi glaze.

I had hoped to see a wider variety in form, maybe something a less chunky and more than just a tuning fork shape. Yet, the beauty of the glaze with the gritty orangey exposed clay base offered a nice contrast from the snowy white bodies. Also, within the similar forms Miwa had carved and bent a few different ways to give them individual character, albeit that was hard to see at times.

Miwa Kazuhiko is challenging what it means to be Hagi potter from the great Miwa family and in doing so challenges us as well. He does it with style and class.
Photos and story by
Robert Yellin


For more on this artist, please visit:
Reshaping Japan's Ceramic Landscape
WHAT IS
HAGI?