Yellin's gallery
sells pieces from
the kilns of Japan's
finest potters
A Homage by Tom M. Aoyama
(Yufuku Gallery Owner)
Tokyo, February 2001



"Madame Coullery died yesterday evening, Saturday October 28, 2000" - I read in a fax sent from Switzerland. I did not expect her death and could not realize what had happened. Then, one line that Madame Jeannine Lyon, one of her friends, told me when I visited Laussane, Switzerland last September came to my mind. She said, "Tom, Mathe (Madame Coullery) is not well."

I visit Madame Coullery every time I travel to Switzerland, but I was unable to call upon her that September.

Madame Marie-Therese Coullery was born in 1929 in Geneva, Switzerland. She was once curator of the Ariana Museum, a museum of ceramic arts in Geneva, and had also been longtime secretary general of the International Academy of Ceramics.

The Japanese government presented her an award in 1998 for her contribution to cultural exchanges between Switzerland and Japan. All who work in ceramic fields or are interested in European ceramics recognize how much she dedicated her efforts into international ceramic arts. Of course, she is well known in Japan having visited more than 50 times!

My first meeting with her was in 1991 at the Ariana Museum. That was before opening my gallery, Yufuku, in Tokyo. I was looking for an opportunity to have a Japanese ceramic arts gallery in Chicago because my main business at that time was also in Chicago. I wanted to know her opinion about my plan. She was very gentle and courteously took me on a tour of the museum which was under renovation then. She carefully explained her duties concerning this work. I understood the situation surrounding the museum seemed not so favorable, but I appreciated her efforts to accomplish her tasks to finish this renovation. After talking about ceramics in Europe, Japan and my plan, Madame Coullery advised me nicely, but firmly, by saying, "Monsieur Aoyama, if you want to open such a gallery of Japanese ceramic arts, it is better for you to open it in Tokyo before Chicago." She was right. I felt that she could penetrate the substance of that kind of business. She was so generous of mind in understanding Japanese culture especially Japan ceramics.

She convinced me and I opened a gallery in Tokyo in 1993. Since then, I have always respecting her existence in ceramic fields and her words on ceramics.

A few months passed after the opening of my gallery and one day I went to a soba (Japanese noodle) restaurant for lunch located nearby. Like other big cities, any restaurant in downtown Tokyo is very crowded during lunchtime. That soba restaurant was no exception, but I found a table and sat down. When I looked up, I was surprised to see Madame Coullery's there. "Bonjour Madame," I said. I still can imagine how surprised she was too. I encountered her again by 'accident' in Tokyo. I explained the soba restaurant was very close to my gallery and I took her there. She was very happy to see a new gallery devoted to ceramic arts.

As a side note, soba also means close or nearby in Japanese.

To be honest, I have been very lucky to meet with her and talk about the ceramic arts of Japan, Europe, America and foods as well. My many dining experiences with her in Japan and Switzerland, and with her friends in Switzerland, are one of my most precious memories in life, if I may say.

One late summer day, we had a fine meal in a restaurant on Lake Leman (Geneva) with Jeannine and Rene Lyon, gallery owners in Lonay, near Lausanne. Before eating we strolled around the lakeside together in the still twilight, we talked on and on about ceramics. It was a very good appetizer before the meal.

Another day near Nyon, the city where a porcelain exhibition is held every three years, Jeannine took Madame Coullery and myself to a small restaurant located next to the tiny local airport. As matter of fact, this Triennial Exhibition was inaugurated by Madame Coullery almost 18 years ago to promote porcelain art works.

It was very significant that Mr. Shigekazu Nagae received the Poisson d'OR, literally golden fish, Grand Prix of this exhibition in 1998; he was the first Japanese grand prix winner.

I still remember what we discussed in that restaurant. When I told them about my concern for my 2 year-old daughter's future marriage, Madame Coullery said, "Monsieur Aoyama, your daughter's life is not yours." She was right again.

Another day in Japan, we also had a good meal in a Tokyo restaurant. The food was French with a Japanese flavor. Madame Coullery enjoyed the meal very much and by using only chopsticks; she did quite well! We talked about foods in the world. "Monsieur Aoyama, when we partake of such delicious food it makes me appreciate, and want to talk about, the pleasures of exceptional cuisine." I wholeheartedly agreed with her again.

The last time I met her before her passing was in Geneva in May 2000. It was when Mr. Nagae gave a lecture at an applied art school in conjunction with his solo exhibition organized by Galerie le Vieux-Bourg, the gallery owned by Jeannine.

Madame Coullery attended the lecture and told me, "Your ceramist is good." She also added that I have truly good taste, I was humbled. I did not find her health bad at all at the lecture. After the lecture finished art professor Madame Setsuko Nagasawa took us all to a bar. We talked again about ceramics and that was my last conversation with her.

Three months after her passing I returned to Switzerland in order to make a visit of condolence; I was unable to attend her funeral.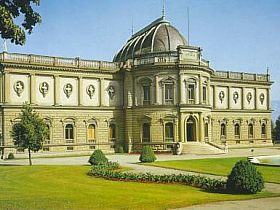 I had asked Jeannine to take me to the Ariana Museum where a memorial exhibition in homage of Madame Coullery was held. We met Mr. Robert Blottler, the curator who succeeded Madame Coullery, and he told me how Madame Coullery had supported the museum's activities. I had the honor to look at one of Nagae's works displayed in this exhibition.

I saw a belfry in the garden of the museum. The bell was a replica of the bell that Geneva had returned to Honsenji-temple in Shinagawa, Tokyo.

Jeannine explained, "We shall ring this bell and think of Madame Coullery," then she rang it. I rang after her......gong......and the boom of the bell traveled over the Ariana garden and reminded me that Madame Coullery was still there. "Adieu Madame Coullery," listening to the fading bell, I prayed for her repose.