Koyama Kiyoko
Female potter smashes tradition

By ROBERT YELLIN
for the Japan Times, Jan. 19, 2005
In Japan it is quite rare to find women wood-fire potters, who make their work in a traditional anagama (tunnel kiln) or noborigama (chambered climbing kiln).

The reasons are historical, as women were not allowed to do such work for fear of insulting the kiln gods. This has changed to a degree, but there are still very few women wood-firers, although there has been a large increase in women studio potters, who use either a gas or electric kiln.

In fact, a recent issue of Honoho Geijutsu (The Art of Fire) magazine had a feature on the leading women potters in Japan today, and out of 42, not one is a wood firer. Forty years ago, the hurdles would have been enormous, especially in male-dominated ceramic towns such as Bizen or Shigaraki. But there is one outstanding female Shigaraki potter and her name is Koyama Kiyoko.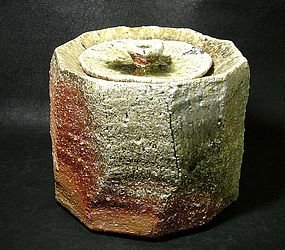 Ceramic Pot by Koyama Kiyoko
Her life is now the basis of a new film titled "Hi-Bi" (starring Yuko Tanaka and directed by Banmei Takahashi), which opens nationwide Jan. 22 ("005).

Koyama was born in 1935 in Sasebo, Nagasaki Prefecture, and went to work in Shigaraki, Shiga Prefecture, when she was just 18 to learn the art of pottery decoration. She established her own kiln some years later, and here's where her story begins. First her husband -- also a potter -- taunts her and tells her she can't fire an anagama properly. He then leaves with a younger apprentice, and Koyama is on her own with two young children. They are constantly in a state of poverty, and often Koyama's teacher stops by to check to see if the electricity has been left on, or not. Yet she lives for clay and although her kids ask her if she likes to be bimbo (penniless), they see she has no other choice; clay is in her blood.

The film shows the long, long hours necessary to make the pots. Koyama did this in solitude with less than favorable results. Her kids question her when she smashes pots freshly unloaded from the kiln: "These are fine," they say. "Why are you doing this?" For an answer she shows them an ancient shard, plucked from behind the kiln roof and one that sparkles with the natural shizen-yu (ash glaze); she will settle for nothing less. She increases the length of the firings, until a full two weeks have passed -- quite an extraordinary feat.

The results? Magical, with intense rivulets of shizen-yu gracing the pots; she lets out an earth-shattering shout of triumph: "Yoosha!"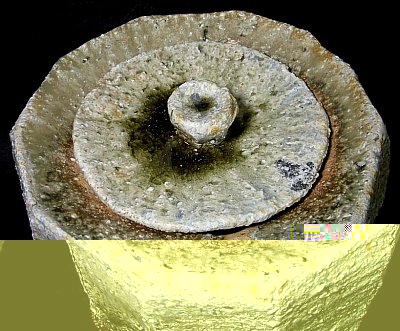 Above & Below
Shigaraki Mizusashi by Koyama Kiyoko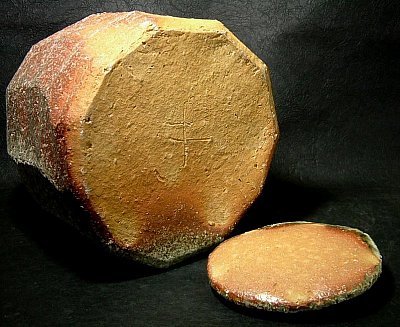 Once the pot is under her belt, the once forbidding local potter association -- all men -- invites her to join. She's on her way. However, her story takes a drastic turn after her only son Kenichi (1961-1992), who has decided to become a potter and eventually take over the family kiln, suddenly becomes ill with leukemia. The remainder of the movie deals with Kenichi's treatment and the need to find a bone marrow donor, who appears in the form of his aunt. Kiyoko, family members and friends, take to the streets to raise funds. It becomes Kiyoko's relentless pursuit, to make the nation aware of this terrible disease.

It wasn't going to help Kenichi though. Although the film shows him continuing his own pursuit of pottery -- making the heavenly works called tenmoku (iron-glazed, conical shaped tea bowls) -- he was in fact dying with each passing day. He has left us with some stunning tenmoku chawan (tea bowls).

In Tokyo, "Hi-Bi" can be seen at Cine Switch, Ginza (Ginza, 4-4-5, tel. 03 3561-0707) or Shinjuku Musashino Kan (tel. 03 3354-5670, www.musashino-k.co.jp). More about "Hi-Bi" is at www.hibi.cn, which shows listings for other areas of Japan where the movie can be seen.

Kiyoko continues to raise awareness of leukemia and also continues to create outstanding pottery. To commemorate the movie and her life, an exhibition of 100 new works will be held from Feb. 9-15 (2005) at Ginza Matsuzakaya department store's fourth floor gallery. This is not to be missed.

The Japan Times: Jan. 19, 2005
(C) All rights reserved
LEARN MORE