Click here for
index to all
Yellin stories for
The Japan Times

LEARN MORE
Karatsu
Exhibit 2004

Karatsu
Photo Tour
60 Photos !

What is
Karatsu ?

Karatsu
Markings




RECONSIDERING KARATSU
Look again at potting traditions

By ROBERT YELLIN
for the Japan Times, Nov. 13, 2002
"The Little-Known Karatsu Wares of the Edo Period" exhibit runs through Dec. 15. Admission 1,000 yen, closed Monday. The Nezu Institute of Fine Arts is a short walk from Exit A5 of Omotesando subway station in Tokyo. A map and other info can be found here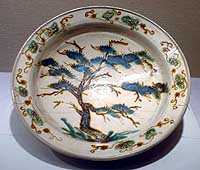 The Nezu Institute of Fine Arts
is showcasing Karatsu ware,
including this large matsu plate
(above) and a vibrant green-brown
platter (below)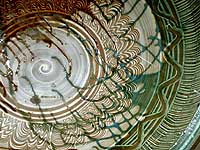 Another wonderful exhibition titled "The Legacy of Modern Ceramic Art -- Part 1: From Artisan to Artist, The Evolution of Japanese Ceramic Art" is on at the new Museum of Modern Ceramic Art, Gifu Prefecture.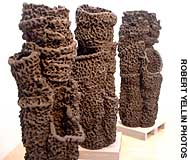 Above: The treasures of the new Museum of Modern Ceramic Art, Gifu Prefecture, include works by Satoru Hoshino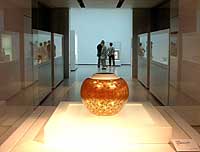 Above: Magnificent jar by
Kenkichi Tomimoto in
overglaze gold and silver

In the world of Japanese ceramics, certain styles have clearly defined identities that have been appreciated down the centuries. Mere mention of Bizen pottery will likely bring to mind a rustic, brown, natural ash-glazed style.

Such ideas and images are often fixed. So I got quite some surprise when I went to the current exhibition of Karatsu ware at the Nezu Institute of Fine Arts and was confronted with large colorful plates. "The Little-Known Karatsu Wares of the Edo Period" introduces items that differ greatly from the subdued Momoyama Period tea works that we have, until now, thought of as characteristic Karatsu. For background notes on Karatsu history, please see our guidebook.

It was actually a big deal for the Nezu to take on this exhibition -- tea wares are considered art, but what is on display is regarded as mingei (folk craft). Not one for getting into semantic debates, I'll leave the "art vs. craft" issue to those who are tethered to the cerebral world. Regardless of definition, though, this exhibition contains pieces that are vibrant, prismatic and, at times, quite superb examples of Karatsu wares that graced the homes and banquet tables of lords and commoners alike throughout Japan and southeast Asia in the 17th century.

Divided according to glaze and design themes, all the wares were fired in the Takeo region of present-day Saga Prefecture. Actually, they were all fired at kilns within a 2-km radius -- quite amazing considering the variety.

The exhibition shows everyday wares with one-tone, two-colored nisai glazes, inlaid Mishima and delightful uchi-hakeme blotted-slip brush marks. I won't go into the techniques here because the exhibition catalog has English essays describing each in detail. I always believe it's best to look at works first and ask questions later -- and see if you can "connect" with a work on a deeper level than language can express.

What I "connected" with were the lively, wavy designs and stylized pine trees that danced over many of the works. Some of the large plates have brown-and-green glazes splashed over the fluctuating lines, creating an effect like that of action painting, where paints are splattered or dripped to create bold, fluid patterns.

Shoji Hamada and the founding fathers of the Mingei movement connected with it, too. Hamada took liberties with the techniques seen on many of the plates. The ladling on of glazes (nagashigake) is one technique that he updated. A few Nezu platters are stunning in the way their glazes contrast with and highlight the intricately incised lines. A white slip used on many of the works discreetly balances out the colorful commotion, while it is in the slip that many of the combed designs were also etched.

The pine tree -- matsu -- has always been a popular motif on Karatsu wares. It is a symbol of prosperity, strength and longevity. The exhibition offers whole rows of large, wide-mouthed kame with gnarled matsu painted in exaggerated sweeps of the painter's brush. Many are cracked from centuries of common use holding water, sake and sauces. It's these kame and platters that stand out in the exhibition -- although there are many other forms and styles to admire.

The Nezu Institute of Fine Arts has broadened the range of what defines Karatsu and, in doing so, has expanded the appreciation for these delightful, hitherto little-recognized mingei ceramic wares.

"The Little-Known Karatsu Wares of the Edo Period" runs through Dec. 15. Admission 1,000 yen, closed Monday. The Nezu is a short walk from Exit A5 of Omotesando subway station. A map and other information can be found at www.nezu-muse.or.jp/gaiyou/gaiyou_e.html. There address is: 6-5-1 Minamiaoyama, Minato-ku, Tokyo, 107-0062, telephone 03-3272-8600.

Another wonderful exhibition titled "The Legacy of Modern Ceramic Art -- Part 1: From Artisan to Artist, The Evolution of Japanese Ceramic Art" is on at the new Museum of Modern Ceramic Art, Gifu Prefecture. The museum, which opened Oct. 12, is located in the Ceramics Park in Tajimi. Set in the side of a hill, the complex was designed by famed architect Arata Isozaki, and is possibly one of the finest ceramic museums in the world. Natural lighting, large halls and fine Belgian-made display cases create the perfect ambience for enjoying the treasures on show.

I must add that there are two museums in the complex, and one is offering a look at award-winners for the Mino International Ceramic Competition. If time allows, I do recommend a walk through this (though I must confess that I couldn't get out of the industrial-design ceramics section fast enough).

The "Legacy" exhibit, though, is a must for any ceramics enthusiast wanting to see for themselves the shift from large Meiji wares, made for export, to subdued tea wares, and then on into avant-garde Modernism that started in the 1950s. A virtual who's who of the last 100 years of Japanese ceramics -- with the notable exception of Tokuro Kato and Rosanjin Kitaoji -- the exhibition winds gracefully from room to room. Magnificent. Highlights include some fine Meiji Era porcelains, a Kenkichi Tomimoto masterpiece of a jar in overglaze gold and silver, Mineo Okabe's mystical celadon, a rare look at Kazuo Yagi's groundbreaking "The Walk of Mr. Zamza" (1954), and a broad scan of modern sculptured forms.

As with the Nezu exhibition, a fine bilingual catalog is available. The Ceramic Park's Web site in English can be viewed at:

www.cpm-gifu.jp/museum/english/ index.html

The Japan Times: Nov. 13, 2002
(C) All rights reserved
---

LEARN MORE ABOUT KARATSU

Karatsu Exhibit 2004

Karatsu Photo Tour -- 60 Photos !

Karatsu Markings

What is Karatsu ?
(our Guidebook)

.