LEARN MORE
Furutani Micho
Anagama Work

Furutani Michio
King of Anagama

Furutani
Michio's Son


GUIDES
Click here for
our Kiln Guide

Click here for
Shigaraki Guide

Click here for
Iga Guide




Yellin's gallery
sells pieces from
the kilns of Japan's
finest potters
Remembering Shigaraki Master
Furutani Michio

I felt a deep sadness when I heard the news that Shigaraki potter Furutani Michio (1946-2000) had passed away on July 20. Actually, it was his wife who told me one day when I phoned. I was speechless, tears welled up in my eyes, and I didn't know what to say. All I could feel was that a great potter and a very special person had been taken away before his time.



On Bali Island
Courtesy Honoho Geijutsu
#53, 1998

Time, I have come to doubt the whole concept. I know that Furutani's work will live on beyond you and me, and that of course, is timeless. I shall always treasure the times I met him, in Shigaraki, at exhibitions and the countless times we talked on the phone. I remember a magazine article a few years back where he was flashing that big and happy smile of his while leaning up against a hibachi and right behind him on a bookshelf was my book- I was so happy that he kept it there. I think when I saw that photo I also had a big smile on my face but not one as beautiful as Furutani's; his smile was like Hotei-sama's.

His pots are the epitome of all that is good is Japanese pottery; form, firing, passion, an understanding of history, modern designs balanced with age-old shapes. His heart was as big as the ocean I had to cross over to reach these shores. His modesty was most welcome in a world where some successful potters live in opulence and forget they owe their livelihood to the earth and the elements.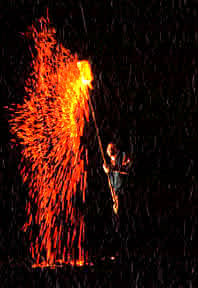 Furutani was very "down to earth" and he never talked down to me but was always appreciative of the great interest I had in his work and the articles that I had written about him. The news of his passing spread on the internet on a discussion group I moderate and the reactions were equally as sad. A few samples, "I'm sorry that Furutani sensei passed away."

"I know from your writings that you felt especially close to him... and you should feel proud that something of this man's great character was so well communicated in your articles."

Or "I just read your JapaneseCeramics eGoups postings about Michio Furutani' s passing. I am very sorry for you and for all who knew him. Your JT article was both fascinating and inspiring."

Another wrote: "I am so sorry to hear of Furutani's death. It had sounded like he suffered quite a lot and for a prolonged time. So while we are all deeply saddened, for him and his loved ones, it was probably time. What a sad ending to such a great talent."

So make the most of every day. Enjoy, be happy.
I guess that is good advice -- like ichi go ichi-e.

The night that I heard the news I sat up very late with all the Furutani guinomi(sake cups) I am lucky enough to own and drank from each one while incense wafted through my house.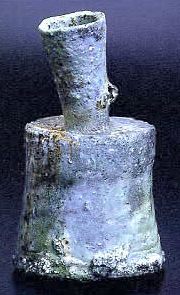 I can't explain in words how deeply this man's work and personality affected me; it's very rare in one's lifetime, I imagine, to meet such a person. His generosity and humbleness will always be lessons for me to learn from and I hope potters will learn from his book (he wrote a book about anagama) and by listening to the stories his pots have to tell.

And now I have only memories flashing in my mind. I was outside today under a huge blue summer sky, big clouds rolling away gently and I thought one might be the spirit of Furutani, moving on to another scene- one where his pain and suffering will be gone and find an endless joy knowing that he brought such beauty and passion into the lives of those who use his pottery in their daily lives, myself being one.

Furutani-sensei, your spirit lives on and I say from the bottom of my heart, thank you and sayonara.

Robert Yellin

LEARN MORE