Review of Reiko Cohen's Echizen Exhibition
Tachikichi Gallery, Ginza, Tokyo
March 14 to 26, 2002

Click photos to see larger images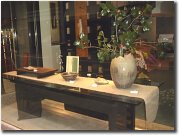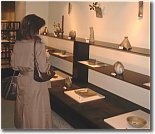 It's quite rare to see an Echizen exhibition in Tokyo these days. I only hear of a handful, if that many, each year. In contrast, you can probably find at least two Bizen exhibitions each week. Even more unusual is to see a fine Echizen exhibition by a woman potter. Echizen is a wild and unruly style that dates back to the Heian period. It's a style which is part of the outdated term "Six Old Kilns" and is probably the lesser known of the group; the others being Seto, Shigaraki, Tamba, Bizen, and Tokoname. See our Pottery Guidebook for details on all these styles.

I had the pleasure to see Reiko Cohen's recent exhibition in Tokyo. Reiko is the wife of the late Ben Cohen. Ben, who hailed from Chicago, set up his Cohen-gama in 1981. He made some wonderful work in original forms that found an audience at his exhibitions throughout Japan. His heart was filled with the old Echizen jars and Rieko told me he used to sit for five minutes in front of old Echizen jars each morning in mediation. For him potting was a spiritual quest. It was quite sad when he passed away in 1992 from ALS while still in his forties.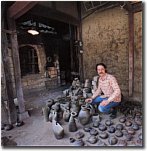 Ben Cohen among his creations
Photo Courtesy of Taiyo Magazine, June 1986


Rieko took over the kiln after Ben's passing. She makes her forms very much in Ben's style. His canteen-shaped hanging vases or the plectrum-shaped vases are now part of her oeuvre. Some of her friends have told her to do her own shapes but she wants to keep Ben's spirit alive in her pots. Also, who else would do that if she didn't? That way of creating is very much part of Japan's ceramic tradition: copying your master.

Rieko fires in a noborigama and all the effects on her pots are shizen-yu (natural ash glaze). The depth of colors on some of the pots was breathtaking. Pale greens, ocean blues, chestnut browns and deep purples intermingled in wondrous ways. Some of the works had fortuitous kiln roof drips splashed in their interior. Most of the works were sold on the opening day.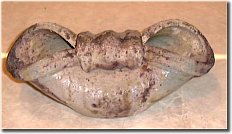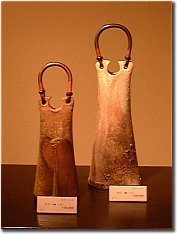 The cherry blossoms are in full bloom now and I placed a spray in a Ben Cohen hanging vase in my office as a way to say thank you to him, and also to Rieko for keeping his vision alive.


Tachikichi is a small ceramic gallery in the heart of Ginza. Be sure to sneak into the Belgium chocolate shop across the street if you ever visit!