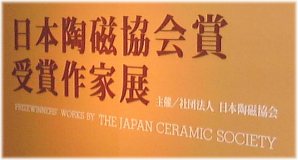 Tokyo Jan. 18 - 26, 2002
Jump Directly to Photo Tour of Exhibition

The 43rd annual Nihon Toji Kyokai Sho Jusho Sakka Ten (Japan Ceramic Society Prize Winners Exhibition) was recently held in Tokyo at the elegant Ginza department store Wako. Taking an elevator up to the sixth floor, of course with the most polite elevator girl I've ever seen, I walked into the large exhibition hall, possibly the best place for a department store exhibition in Tokyo. This year the room was full of mostly smaller works as compared to last year's exhibit. Also, unlike last year, there was no security guard to be seen hovering around Shimaoka's work; the atmosphere was more relaxed. While I was there a constant stream of visitors admired the work, stooping, leaning, and kneeling to get a better view of the works.



My favorites this year were a pair of balls suspended on pexiglass by Kasama-based Wada Morihiro, a conical black work by Kyoto Akiyama Yo, and a stellar chawan by Harada Shuruko who is one of Bizen's best. Other works that stood out in my mind were the wonderful ao-garatsu tsubo by Nakazato Taroemon, the late Sodeisha founder Suzuki Osamu's "Cross" and his set of porcelain oriental zodiac figures; these were quite adorable if I may say so! In addition, an interesting set of namako (sea cucumber) glazed bowls with a tenmoku finish by Yasuda Zenko caught my attention.

I was thoroughly disappointed with the bigger names, such as Tsuji Seimei's lackluster Shigaraki set of books, Tokuda Yasokichi's boring mizusashi, and Wakao Toshisada's oh so contrived set of nezumi Shino bookends.

And then there was the provocative work by last year's winner Ogawa Machiko. It was the showstopper and easily shows why she won the award. It had a power and grace that went beyond style and age. Rich reds of the earth crusted over with a white quartz flecked frosting sparked my imagination into thinking of Ayers Rock or some broad African plain.

On the fourth floor of Wako there was a smaller special exhibition of her work and all sold out on the first day. Right behind the small exhibition space was all the glittering jewelry that the Ginza shoppers desire.

Many pictures of the exhibition can be viewed here. But before you visit the virtual tour, please read the below excerpt from my Japan Times column about the exhibition:


---

The work of ceramic artist Machiko Ogawa is like an ancient memory made of clay, buried centuries ago, waiting to be discovered today. Like forgotten scenes long lost in the maze of the mind, her work reappears as if emerging from a dream; a dream of clay. It looks crumbly yet it is in fact sturdy, oddly enough fresh looking but often covered with crusty frost-like remnants of its primordial birth. The cylindrical works appear to have been dug out of an excavation site and exhibited without further ado.

They touch a nerve in the viewer and are a reminder of the sublime power of ceramics and how they relate, more than any other art form, to the evolution of humankind.

For her primitively modern works in clay she has been awarded the prestigious Japan Ceramic Society Prize. I might add that Ogawa is only the fourth woman to win this award; the others being Kyo Tsuji, Hakuko Ono, and Takako Araki.

Ogawa's work, along with forty-eight past winners, was on display at Wako in Ginza from January 18-January 26, 2002.

---

The Japan Ceramic Society Prize dates back to 1954 when the first prize was awarded to three artists; the now Living National Treasure Uichi Shimizu (for iron glazes), the late Kyoto avant-garde ceramic artist Junkichi Kumakura, and the only person who had the audacity to refuse the award, Seto's Okabe Mineo. His loss.

A total of 14 winners are LNT, many prefectural intangible cultural properties, and basically a who's who of the established Japanese ceramic world, have won the award. Of course, being a politically controlled selection process, there are deserving potters who will not win the award for their "stance" is not in line with the powers to be. So be it. It's best to think positive these days and there's no other way to be when you'll be able to see about 130 works from varied masters. On view will be a colorful box of porcelain eggs from Ko Takenaka, some spinning tops from Akira Yagi, a paper-thin white porcelain figure by Kiyoyuki Kato, and an owl from the hands of Gen Onodera. Now wait a minute before you jump to conclusions. I bet you were expecting meditative tea bowls and round organic jars. They're there as well but the theme of this year's exhibition, if you haven't already guessed by now, is "Asobu Katachi," or Playful Forms; fun to look at, fun to use.


In a way a tea bowl is also an asobu katachi in a more solemn way. And there are some merry tea bowls on display like that of Bizen's Shuroku Harada with a heart lovingly carved on the side or Ryoji Koie's one with a wispy ink stroke floating on the white surface like a feather.

There are also the delightful painted rabbits, flowers, and geometric patterns of Kazuo Takiguchi drawn in a carefree child-like way on his pottery canvas. These are mostly plates, bowls, and sake utensils.

More serious works can be found as well for those not in a playful mood; a splendid Karatsu jar by Taroemon Nakazato Xlll, a somber looking incense burner by Bizen's Togaku Mori, and a fabulous blue jomon-patterned henko jar by LNT Tatsuzo Shimaoka.

Yet for all the playful and non-playful works of ceramic art on exhibit, I can't help but return to the pristine and provocative work of Ogawa. It instills in me a longing for a time gone by, when the earth was pure and few traveled behind the horizon, a place beyond borders, banks, and race; of course this is my dream of clay. A similar ethereal feeling might have been felt by that very first firer of clay and one which can still felt in Ogawa's eternal vessels.

I hope you enjoy the virtual exhibition.

Robert Yellin
Jump to Photo Tour of Exhibition

LEARN MORE ABOUT JAPAN'S AWARD SCENE
For much more, please visit the PHOTO TOURS page. It includes links to other wonderful photo tours, including prior Japan Ceramic Society events, Living National Treasures, Contemporary Artists, How the Japanese Rank Their Potters, plus other visual resources.

Awards Index -- Our Entire Lineup of Online Photo Tours