The Work of Anjin Abe
Bottoms-Up Firing for Top-Tier Bizen
Eiroku Okuiso, Handeshi Kawakita, Zenji Uragami, and Kuroemon Kumano are all names of Japanese ceramists and it took me days to remember each one. I'd bet my last guinomi that many of you have the same problem in putting names to memory; it's no easy feat but worth the effort to help form that list of who's who. And one name worth remembering is that of Anjin Abe.


Abe (pronounced ah-bay) is one of the secret treasures of Bizen pottery. He belongs to no associations and has hardly any contact with other potters. The only exception was his collaboration with the late Masuo Ikeda, a renowned woodblock artist-author who later took up pottery. Harking back to the glory days of Bizen in the Momoyama period, Abe fires Bizen that often mystifies viewers and leaves them wondering how he does it. But for him it's very simple, a fire-pause-fire method that fires the kiln first and then the pieces loaded within; this allows for the temperature in his totally underground anagama to become even from the roof up to the ceiling and that way the flow of the fire in the last stage will not just rise to the hottest parts but will burn intensely and evenly. He prefires by stoking during the day and cooling at night (he prefires the kiln to about 200C) for four or five days. On the last day, he continuously adds pine wood to the kiln for twenty-four hours and then stops the process. It is the intense last burst that fires his pieces to the core.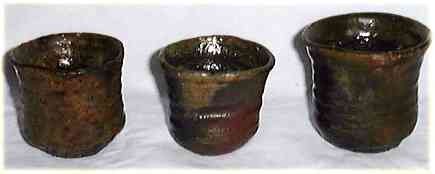 This method is in great contrast to the 7 to 10 day (24 hours each day) firing of almost every other potter in Bizen. In addition, Abe's method cuts down on the usage of red pine wood, thus conserving resources. Many of Abe's pieces have a rich dark purple body that results from him firing the kiln to an intense heat that almost melts the clay. Inside his guinomi and on the exterior of other works can be seen brown spreckled dots known as goma or sesame seeds in Japanese. This effect is caused when red pine ash fuses and melts on the wares body; sometimes it flows which is known as nagare-goma and sometimes little flecks pepper the body and this is called tobi-goma.

Abe had a successful exhibition in New York a few years back and his Bizen is in various museums throughout Japan. His Bizen is without a doubt on the top tier of contemporary Bizen and only two other Bizen ceramists, Tougaku Mori and Shuroku Harada, can match Abe for his Momoyama-era inspired wares.

For more on Abe Anjin:
-- Abe Anjin Exhibition
-- Sake Vessels - A Wonderful Trio
-- Interview with Abe Anjin