Amano Masao Exhibition
An-Un Gallery, Mishima
April 20 to May 12, 2002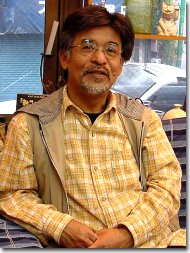 The beautiful Izu peninsula (in Shizuoka prefecture) has no grand potting traditions worthy to mention. Yet, within the last twenty years dozen upon dozens of potters have built their kilns there. Why? One reason is freedom. Unchained from century-old traditions such as Karatsu or Seto (see Primer for more), they are dependant only on what they can create in an original way. Another prime reason is the mild weather that allows them to work all year-round. More in Izu's favor is the reasonable cost of land, its proximity to Tokyo, and of course, the sheer beauty of the land. However, there is no good clay!


Exhibition Sign
That was the conventional way of thinking until Amano Masao came along. Actually it was under the influence of the "clay guru" Yoshimura Shunichi that Amano came to realize that, with the correct kiln and firing technique, basically any clay can be used to create pottery. He said in a recent interview on yakimono.net (e-yakimono's Japanese-language sister site) that he could fire the clay under any concrete road in Tokyo!

(Just a brief note on Yoshimura, he's walked the breath of Japan digging and testing clay for decades. He has a Clay Museum in Yugashima -- small hot spring town in the Izu peninsula -- and has written many books on the subject.)

After training in Kyushu for five years, Amano returned to his native Shizuoka and found an old house in the hills of Yugashima and built his kiln. That was sixteen years ago. At first he fired yakishime, an unglazed high-fired stoneware. (For more on yakishime, click here.) He still does and at the current exhibition there were some interesting yakishime works that blended different Izu clays.
Some akari-lamps (light sculptures; photo below) were also there and they also were in a yakishime mode and quite attractive and mysterious.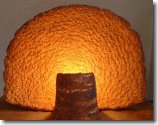 What Amano has created, and can call his own though, is his "Izu Blue" wares. What's quite unusual about these wares is that the azure colors come from the cobalt minerals in the clay. Amano only applies a transparent glaze over the works. They were quite a delight to see with some having ripple effects creating a "small ocean" on the surface. He made these in large round plates, slab plates, cups, pouring vessels and vases. Three Views of Same Plate
The vases work well with their intentions, yet I find it a bit hard to match food with his plates. I do have one Izu Blue plate I bought a few years ago and usually only use it for grilled fish -- it does compliment that.

Amano's pottery is solid and user friendly. It's not trail blazing in forms or design yet there is a freshness found in his blue world.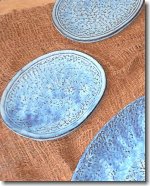 Amano says of what he'd like for the future is to create fun and enjoyable works with his spirit in each one. Shouldn't be a problem for this pioneer of clay.